From Tanki Online Wiki
(((TE)) updated)

 

Line 1:
Line 1:
−

__NOTOC__ __NOEDITSECTION__

+

{{

−

{{see also|Paints|Ranks}}<br />

+

|

−

 

+

|

−

[[File:Tropical_foliage.png|link=|thumb|'''''Tropical Foliage''''']]

+
−

 

+

Tropical_foliage.png

−

=== Description ===

+

|=

−

 

+

|

−

A coating made out of patched foliage collected from a variety of tropical forests. These huge leaves are guaranteed to keep you cool under the hottest enemy fire.

+

|

−

 

+
−

{{note|orange|Note|''This paint was available in the garage during the 2017 Summer Sale celebrations  from 5 to 7 August 2017.''}}

+

=

−

{| width="50%"

+

=

−

|

+

=

−

===Price===

+

=

−

 

+

=

−

'''120 000''' [[File:crystal.png|link=]]

+

=

−

|

+
−

=== Rarity ===

+

A coating made out of patched foliage collected from a variety of tropical forests. These huge leaves are guaranteed to keep you cool under the hottest enemy fire.

−

 

+

|=

−

<span style="color:DarkViolet">✹ '''Epic'''</span>

 
−

 

 
−

|}

 
−

 

 
−

===Available From===

 
−

 

 
−

[[File:IconsNormal_01.png|link=Ranks#Recruit|40px]] [[Ranks#Recruit|Recruit]]

 
−

 

 
−

=== Interesting Facts ===

 
 

*The paint was available for purchase for 120,000 crystals from 5 to 7 August 2017.

 

*The paint was available for purchase for 120,000 crystals from 5 to 7 August 2017.

 
 
 
 
−

=== Appearance ===

+

}}

−

 

 
−

{{PaintPreview|file=Preview_Tropical_foliage.png|500px|link=|type=other|model=Tropical foliage}}

 
−

[[Category:Paints]]

 
---
Latest revision as of 10:17, 28 July 2020
Tropical Foliage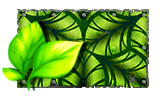 | | | |
| --- | --- | --- |
| Type | | Special paint |
| Price in Garage | | 120 000 |
| Rarity | | ✹ Epic |
Availability
| | | |
| --- | --- | --- |
| Available from | | Recruit |
| Currently obtainable | | No |
| Currently obtainable from Containers | | No |
| Currently purchasable from Garage | | No |
Description in Garage
A coating made out of patched foliage collected from a variety of tropical forests. These huge leaves are guaranteed to keep you cool under the hottest enemy fire.

Tropical Foliage was a paint in Tanki Online.

Interesting Facts
The paint was available for purchase for 120,000 crystals from 5 to 7 August 2017.
Appearance
Click to Preview Texture