Touch of chill
From Tanki Online Wiki
(Difference between revisions)
 

(Updated)

Line 1:
Line 1:
 

__NOTOC__  

 

__NOTOC__  

−

{{see also|Paints|Modules|Ranks}}<br />

+

{{see also|Paints}}<br />

 
 
 

[[File:Touch_of_chill.png|thumb|'''''Touch of chill'''''|link=]]

 

[[File:Touch_of_chill.png|thumb|'''''Touch of chill'''''|link=]]

Line 8:
Line 8:
 

<br>

 

<br>

 

<br>

 

<br>

−

''This paint was available in the Shop as part of a special New Year bundle during the 2018 - 2019 New Year celebrations.''

+

''This paint was available in the Shop as part of a special New Year bundle during the 2018 - 2019 New Year celebrations. ''

 
 
 

===Price===

 

===Price===

Line 17:
Line 17:
 
 
 

[[File:IconsNormal_01.png|link=Ranks#Recruit|40px]] '''[[Ranks#Recruit|Recruit]]'''

 

[[File:IconsNormal_01.png|link=Ranks#Recruit|40px]] '''[[Ranks#Recruit|Recruit]]'''

 
+
 
+
 
+
 
+
 
 
 

=== Appearance ===

 

=== Appearance ===
---
Revision as of 15:56, 14 March 2019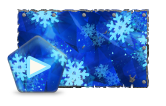 Description
If you're the kind of tanker who remains cool and relaxed even in the most heated of battles, this animated paint is for you. It tells your enemies that nothing can unsettle you. You remain calm as a snowflake and deadly as a blizzard.


This paint was available in the Shop as part of a special New Year bundle during the 2018 - 2019 New Year celebrations. Currently it can only be unlocked by opening containers.
Price
59.90 USD

Available From
Interesting Facts
Touch of Chill was available as part of a special holiday bundle created for the 2018-2019 New Years celebrations. Simultaneously, it was added to Containers permanently.
This paint was added into the game on December 21st, 2018.
Appearance