Titan
From Tanki Online Wiki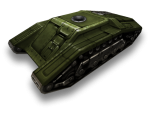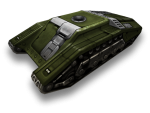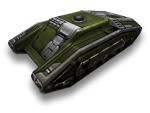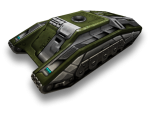 An absolutely gorgeous hull with a huge amount of health! If you have a Titan, you can easily hold strategically vital heights and control drop zones where you can usually find various supplies such as crystals, first aid kits and other useful things. It's a real gift to those who prefer camping to dynamic combat: snipers using higher-modification Titans usually get one of the highest scores in battles.
Description in Garage
Titan alloy armor plates combined with special geometry make this hull highly effective even against large-caliber weapons. With Titan, you can plunge into the thick of a battle without any hesitation. Please note that due to low speed this hull is not suitable for fast attacks behind enemy lines.
Table of characteristics

Protection (hp) — tank's health. Damage dealt by a turret is subtracted from a tank's protection. Once the protection gets to zero, the tank explodes.
Weight — affects tank's stability, i.e. impact force of hits, recoil of its own turret, and partly, ability to move other tanks (this parameter does not affect tank's speed).
Top speed (m/sec) — maximum speed the tank can get to on a straight.
Acceleration (m/sec²) — affects the time it takes a tank to get to its maximum speed and ability to push other tanks.
Reverse acceleration (m/sec²) — anti-inertial acceleration that comes into force when a tank is moving in one direction and a player presses the button of moving to other direction. It works until speed gets to zero. After that, usual acceleration starts working.
Lateral acceleration (m/sec²) — responsible for damping of lateral speed. The less this parameter is, the easier tank can drift. The higher it is, the more difficult it is for a tank to move sideways.
Turning speed (deg/sec) — the maximum speed at which the tank can turn.
Turning acceleration (deg/sec²) — affects the time it takes a tank to get to its maximum turning speed.
Anti-inertial turning acceleration (deg/sec²) — works like reverse acceleration but for left-right turns instead of moving forward/backwards.
| | | | | | |
| --- | --- | --- | --- | --- | --- |
| | М0 | М1 | М2 | М3 | М3+ |
| Available from | Recruit | Master Sergeant | Colonel | Fieldmarshal | Micro-upgrades |
| Price of modification | 100 | +6 000 | +92 900 | +241 500 | +807 799 |
| Full price | 100 | 6 100 | 99 000 | 340 500 | 1 148 299 |
| Protection (hp) | 140,0000 | 190,6471 | 291,9412 | 335,3529 | 386,0000 |
| Weight | 2 600,0000 | 2 991,1765 | 3 773,5294 | 4 108,8235 | 4 500,0000 |
| Top speed (m/sec) | 4,0000 | 4,5147 | 5,5441 | 5,9853 | 6,5000 |
| Acceleration (m/sec²) | 10,0000 | 11,4412 | 14,3235 | 15,5588 | 17,0000 |
| Reverse acceleration (m/sec²) | 10,0000 | 11,4412 | 14,3235 | 15,5588 | 17,0000 |
| Lateral acceleration (m/sec²) | 5,0000 | 6,0294 | 8,0882 | 8,9706 | 10,0000 |
| Turning speed (deg/sec) | 32,0000 | 35,7059 | 43,1176 | 46,2941 | 50,0000 |
| Turning acceleration (deg/sec²) | 50,0000 | 56,1765 | 68,5294 | 73,8235 | 80,0000 |
| Anti-inertial turning acceleration (deg/sec²) | 70,0000 | 76,1765 | 88,5294 | 93,8235 | 100,0000 |