Tanki Trip 2019
From Tanki Online Wiki
(Difference between revisions)
 

(Added Rarity, Available From, Interesting Facts and Paint Preview Model, Fixed Note)

 

Line 3:
Line 3:
 
 
 

[[File:Paint_Tanki_Trip_2019.png|thumb|'''''Tanki Trip 2019'''''|link=]]

 

[[File:Paint_Tanki_Trip_2019.png|thumb|'''''Tanki Trip 2019'''''|link=]]

 
+
 

===Description===

 

===Description===

 
 
 

Do you like summer? Do you like Tanki? Then you will LOVE this paint!  

 

Do you like summer? Do you like Tanki? Then you will LOVE this paint!  

−

{{note|orange|'''This paint was part of a special bundle and is no longer obtainable.'''}}

 
 
 
 
+
 
+
 
+
 

===Price===

 

===Price===

 
 
 

13.99 USD

 

13.99 USD

 
+
 
+
 
+
 
+
 
+
 
+
 
 
 

===Available From===

 

===Available From===

Line 17:
Line 26:
 
 
 

=== Interesting Facts ===

 

=== Interesting Facts ===

−

*This paint was added to the game on August 9th, 2019 as part of the [http://en.tankiforum.com/index.php?showtopic=381847|Tanki Trip 2019 event].<br /><br />

+

*This paint was added to the game on August 9th, 2019 as part of the [http://en.tankiforum.com/index.php?showtopic=381847|Tanki Trip 2019 event].

 
+
 
+
 
+

 

 
 
 

===Appearance===

 

===Appearance===

−

[[File:Preview_Tanki_Trip_2019.png||link=]]

+

Preview_Tanki_Trip_2019.png||link=

 

[[Category:Paints]]

 

[[Category:Paints]]
---
Latest revision as of 20:19, 26 November 2019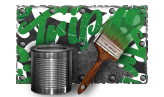 Description
Do you like summer? Do you like Tanki? Then you will LOVE this paint!
Price

13.99 USD

Rarity

✹ Legendary
Available From

Recruit
Interesting Facts
This paint was added to the game on August 9th, 2019 as part of the Trip 2019 event.
The paint was released specifically for the Tanki Trip rally, which took place from August 24 to 29, 2019.
Also, the paint was available for purchase in the Tanki Trip 2019 set.
Appearance