From Tanki Online Wiki
(((ME)))

 

(One intermediate revision by the same user not shown)
Line 5:
Line 5:
 
 
 

On the portal, you can see the game statistics for the players registered on the site. Unlike the official website of the rating, the portal provides data in "dynamics", that is, it is possible to see, for example, a graph of the played time, which will clearly and clearly show how much on a certain day (week, month) a certain tanker has filled hours, experience or crystals earned. In addition to the simulated time, a bunch of other parameters is monitored, but writing about them is boring - [https://tankirating.org/user/Fizzika just go to a player's page] and study the functionality yourself!<br><br>

 

On the portal, you can see the game statistics for the players registered on the site. Unlike the official website of the rating, the portal provides data in "dynamics", that is, it is possible to see, for example, a graph of the played time, which will clearly and clearly show how much on a certain day (week, month) a certain tanker has filled hours, experience or crystals earned. In addition to the simulated time, a bunch of other parameters is monitored, but writing about them is boring - [https://tankirating.org/user/Fizzika just go to a player's page] and study the functionality yourself!<br><br>

−

[[File:TankiRatingGraph.png|link=]]

+

[[File:TankiRatingGraph.png|link=]]

 
 
 

==How to register to add your account profile to the portal==

 

==How to register to add your account profile to the portal==

 
 
−

Check your profile with a search of your nickname - if you are already registered on the portal. If not, then [https://ru.tankiforum.com/messenger/compose/?to=139139 message] from your game account in a PM on the Russian forum to the player named '''sudo'''. The subject and content of the message are not important.

+

Check your profile with a search of your nickname - if you are already registered on the portal. If not, then [https://ru.tankiforum.com/messenger/compose/?to=139139 message] from your game account in a PM on the Russian forum to the player named '''sudo'''. The subject and content of the message are not important.

 
 
 

Within a day, the account will be added to the site. If this does not happen, send a PM to the player [https://ru.tankiforum.com/messenger/compose/?to=808 Fizzika]<br>

 

Within a day, the account will be added to the site. If this does not happen, send a PM to the player [https://ru.tankiforum.com/messenger/compose/?to=808 Fizzika]<br>

Line 15:
Line 15:
 

==Data collection==

 

==Data collection==

 
 
−

The collection of activity data begins from the moment of registration on the portal. After registration, you will receive an "empty" profile, which will begin to update over time. Over time, the profile will be filled with data that will be available to all visitors to the portal. Tracking takes place using an open API from the official ratings website. The service does not require any passwords from your game account, it is absolutely safe to use it.<br>

+

The collection of activity data begins from the moment of registration on the portal. After registration, you will receive an "empty" profile, which will begin to update over time. Over time, the profile will be filled with data that will be available to all visitors to the portal. Tracking takes place using an open API from the official ratings website. The service does not require any passwords from your game account, it is absolutely safe to use it.<br>

 
+
 
 
 

==Portal development==

 

==Portal development==

Line 25:
Line 26:
 

==Online hub section==

 

==Online hub section==

 
 
−

The site has an [https://tankirating.org/online online schedule] for the newest visitors. You can get there by clicking on the "Online Hub" link in the page header. In addition to the CCU schedule, there is a PCU schedule. There will be new features and metrics too, but later.<br>

+

The site has an [https://tankirating.org/online online schedule] for the newest visitors. You can get there by clicking on the "Online Hub" link in the page header. In addition to the CCU schedule, there is a PCU schedule. There will be new features and metrics too, but later.<br>

 
+
---
Latest revision as of 23:00, 17 May 2021
Tanki Rating portal
TankiRating is a portal with game statistics for the game "Tanki Online". This site has nothing to do with official resources and is only a community project.

On the portal, you can see the game statistics for the players registered on the site. Unlike the official website of the rating, the portal provides data in "dynamics", that is, it is possible to see, for example, a graph of the played time, which will clearly and clearly show how much on a certain day (week, month) a certain tanker has filled hours, experience or crystals earned. In addition to the simulated time, a bunch of other parameters is monitored, but writing about them is boring - just go to a player's page and study the functionality yourself!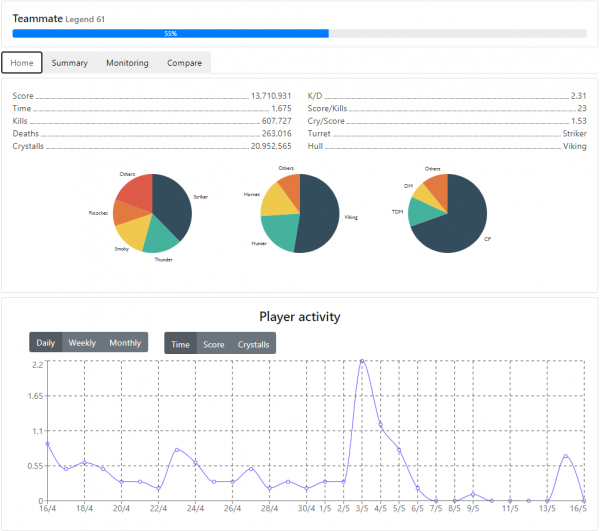 How to register to add your account profile to the portal
Check your profile with a search of your nickname - if you are already registered on the portal, no need to do anything. If not, then message from your game account in a PM on the Russian forum to the player named sudo. The subject and content of the message are not important.
Within a day, the account will be added to the site. If this does not happen, send a PM to the player Fizzika

Data collection
The collection of activity data begins from the moment of registration on the portal. After registration, you will receive an "empty" profile, which will begin to update over time. Over time, the profile will be filled with data that will be available to all visitors to the portal. Tracking takes place using an open API from the official ratings website. The service does not require any passwords from your game account, it is absolutely safe to use it.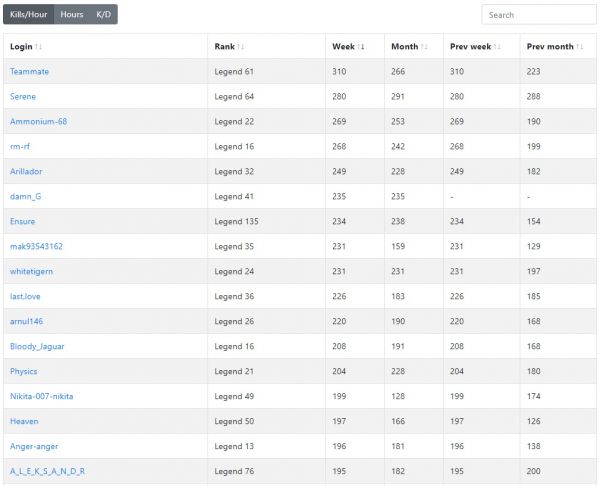 Portal development
The portal has just started up, so brakes, glitches, bugs, and other unpleasant things are possible. The functionality of the site is under development, in the future it is planned to add a couple of cool things to make it even more convenient and informative to use. If you have any suggestions, send a private message to Fizzika in the RU forum :)

If you know how to program / typeset / design and want to help in development - write even more))

Online hub section
The site has an online schedule for the newest visitors. You can get there by clicking on the "Online Hub" link in the page header. In addition to the CCU schedule, there is a PCU schedule. There will be new features and metrics too, but later.