Spangles
From Tanki Online Wiki
(Difference between revisions)
(Added Rarity, Interesting Facts and Paint Preview Model)

Line 1:
Line 1:
−

__NOTOC__ __NOEDITSECTION__ {{RandomText}}

+

__NOTOC__ __NOEDITSECTION__  

 

{{see also|Paints|Ranks}}<br>

 

{{see also|Paints|Ranks}}<br>

 
 
Line 7:
Line 7:
 
 
 

Bring a touch of holiday cheer with this special paint that makes you look like a Christmas tree bauble... if baubles had turrets and fired all sorts of deadly projectiles.

 

Bring a touch of holiday cheer with this special paint that makes you look like a Christmas tree bauble... if baubles had turrets and fired all sorts of deadly projectiles.

 
+
 

{{attention|#DB5553|Warn_Red.png|'''This paint was available in the shop during the 2017 New Year celebrations in a bundle.'''}}  

 

{{attention|#DB5553|Warn_Red.png|'''This paint was available in the shop during the 2017 New Year celebrations in a bundle.'''}}  

 
+
 
+
 

===Price===

 

===Price===

 
 
 

9.99 €

 

9.99 €

 
+
 
+
 
+
 
+
 
+
 
+
 
 
 

===Available From===

 

===Available From===

 
 
 

[[File:IconsNormal_01.png|link=Ranks#Recruit|40px]] [[Ranks#Recruit|Recruit]]

 

[[File:IconsNormal_01.png|link=Ranks#Recruit|40px]] [[Ranks#Recruit|Recruit]]

 
+
 
+
 
+
 
+
 
 
 

=== Appearance ===

 

=== Appearance ===

 
 
−

[[File:Spangles_prev.png|500px|link=]]

+

Spangles_prev.png|500px|link=

 

[[Category:Paints]]

 

[[Category:Paints]]
---
Revision as of 23:54, 21 November 2019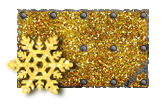 Description
Bring a touch of holiday cheer with this special paint that makes you look like a Christmas tree bauble... if baubles had turrets and fired all sorts of deadly projectiles.

Attention! This paint was available in the shop during the 2017 New Year celebrations in a bundle.
Price

9.99 €

Rarity

Epic
Available From

Recruit
Interesting Facts
The paint was available for purchase in a special offer from December 24, 2016, to January 9, 2017.
Appearance