Runes
From Tanki Online Wiki
(Difference between revisions)
m

Line 3:
Line 3:
 
 
 

[[File:Paint_Runes.png|thumb|'''''Runes'''''|link=]]

 

[[File:Paint_Runes.png|thumb|'''''Runes'''''|link=]]

 
+
 

=== Description ===

 

=== Description ===

 
 
−

Very unlikely, that somebody will decipher the message within the runes on this paint. You can always try, but be careful the battle goes on. <br />

+

Very unlikely, that somebody will decipher the message within the runes on this paint. You can always try, but be careful the battle goes on.

−

{{note|orange|'''This paint could be obtained by reaching 700 stars in the "Star Week" event which took place during the last weeks of September, 2018. Currently it can only be unlocked by opening [[Containers|containers]].'''}}

+

 

 
+

{{note|orange|'''This paint could be obtained by reaching 700 stars in the "Star Week" event which took place during the last weeks of September 2018. Currentlyit can only be unlocked by opening [[Containers|containers]].'''}}

 
+

 

 
+
 
+

 

 
+
 
+

 

 
+
 
 
 
+
 
 
 

=== Interesting Facts ===

 

=== Interesting Facts ===

Line 15:
Line 24:
 
 
 

=== Appearance ===

 

=== Appearance ===

−

[[Image:Preview_Runes.gif|link=]]

+

Preview_Runes.gif|link=

 

[[Category:Paints]]

 

[[Category:Paints]]
---
Revision as of 08:27, 19 November 2019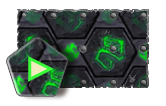 Description
Very unlikely, that somebody will decipher the message within the runes on this paint. You can always try, but be careful the battle goes on.
Rarity

Legendary
Available From

Recruit
Interesting Facts
This paint was added into the game on 25th September 2018, as part of the Star Week event. Simultaneously it was added to containers permanently.
Runes was given to all players who got 700 or more stars during the Star Week event that took place September 25-October 1, 2018.
Appearance