Retina
From Tanki Online Wiki
(Difference between revisions)
(Added Rarity, Interesting Facts and Paint Preview Model)

Line 1:
Line 1:
−

__NOTOC__ {{RandomText}}

+

__NOTOC__  

 

{{see also|Paints|Modules|Ranks}}<br />

 

{{see also|Paints|Modules|Ranks}}<br />

 
 
Line 6:
Line 6:
 

=== Description ===

 

=== Description ===

 

This special paint is a replica of the lively color combination that can be found on a human retina. If started at directly, it can have a rather disorienting effect.

 

This special paint is a replica of the lively color combination that can be found on a human retina. If started at directly, it can have a rather disorienting effect.

 
+
 

{{attention|#DB5553|Warn_Red.png|'''This paint was first available in the shop as part of a special package during the 2017 Tanki Online birthday celebrations.'''}}  

 

{{attention|#DB5553|Warn_Red.png|'''This paint was first available in the shop as part of a special package during the 2017 Tanki Online birthday celebrations.'''}}  

 
+
 
+
 

===Price===

 

===Price===

 
 
 

24.99 USD

 

24.99 USD

 
+
 
+
 
+
 
+
 
+
 
+
 
 
 

===Available From===

 

===Available From===

 
 
 

[[File:IconsNormal_01.png|link=Ranks#Recruit|40px]] '''[[Ranks#Recruit|Recruit]]'''

 

[[File:IconsNormal_01.png|link=Ranks#Recruit|40px]] '''[[Ranks#Recruit|Recruit]]'''

 
+
 
+
 
+
 
+
 
 
 

=== Appearance ===

 

=== Appearance ===

 
 
−

[[File:Retina_Preview.png|500px|link=]]

+

Retina_Preview.png|500px|link=

 

[[Category:Paints]]

 

[[Category:Paints]]
---
Revision as of 08:08, 19 November 2019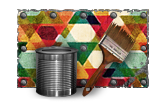 Description
This special paint is a replica of the lively color combination that can be found on a human retina. If started at directly, it can have a rather disorienting effect.

Attention! This paint was first available in the shop as part of a special package during the 2017 Tanki Online birthday celebrations.
Price

24.99 USD

Rarity

Epic
Available From
Interesting Facts
The paint was available for purchase in a special offer from June 2 to June 7, 2017.
Appearance