Red Suit
From Tanki Online Wiki
(Difference between revisions)
Line 1:
Line 1:
−

__NOTOC__ __NOEDITSECTION__ {{RandomText}}

+

__NOTOC__ __NOEDITSECTION__

 

{{see also|Paints|Modules|Ranks|Micro-upgrades of "Red Suit" Legacy Module}}<br />

 

{{see also|Paints|Modules|Ranks|Micro-upgrades of "Red Suit" Legacy Module}}<br />

 
+
 
+
 
 
 

=== Description ===

 

=== Description ===

 
 
−

"You may be wondering, why the red suit? Well that's so bad guys can't see me bleed!" <br>

+

"You may be wondering, why the red suit? Wellthat's so bad guys can't see me bleed!"

−

A unique paint available for purchase from February 19<sup>th</sup> to March 4<sup>th</sup> 2016. Players who purchased this paint will have it in their garage forever.

+
 
 
 
+
 
+
 
+
 

===Price===

 

===Price===

 
 
 

'''115 000''' [[File:crystal.png|link=]]

 

'''115 000''' [[File:crystal.png|link=]]

 
+
 
+
 
 
−

===Available From===

+
 
+

 

 
+
 
+

 

 
+

=== Available From ===

 
 
 

[[File:IconsNormal_22.png|link=Ranks#Colonel|40px]] [[Ranks#Colonel|Colonel]] '''(No longer available.)'''

 

[[File:IconsNormal_22.png|link=Ranks#Colonel|40px]] [[Ranks#Colonel|Colonel]] '''(No longer available.)'''

 
+
 
+
 
+
 
+
 
 
 

=== Appearance ===

 

=== Appearance ===

 
 
−

[[File:Red_Suit_on_tank.png|500px|link=]]

+

Red_Suit_on_tank.png|500px|link=

 

[[Category:Paints]]

 

[[Category:Paints]]
---
Revision as of 07:59, 19 November 2019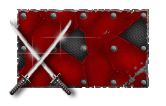 Description
"You may be wondering, why the red suit? Well, that's so bad guys can't see me bleed!"
Price

115 000

Rarity

Epic
Available From

Colonel (No longer available.)
Interesting Facts
The paint was available for purchase for 115,000 crystals from February 19 to March 4, 2016, as part of the Redpool promotion.
Appearance