Red
From Tanki Online Wiki
(Difference between revisions)
Line 3:
Line 3:
 
 
 

[[File:Coloring_red_paint.png|thumb|'''''Red'''''|link=]]

 

[[File:Coloring_red_paint.png|thumb|'''''Red'''''|link=]]

 
+
 

=== Description ===

 

=== Description ===

 
 
 

The red color - the embodiment of rage and courage. It also has the practical application of being able to hide any traces of enemy blood.

 

The red color - the embodiment of rage and courage. It also has the practical application of being able to hide any traces of enemy blood.

 
 
−

{{note|orange|'''This paint can be bought from the in-game garage for 10 crystals'''}}

+

{{note|orange|'''This paint can be bought from the in-game garage for 10 crystals'''}}

−

 

+
 
+
 

===Price===

 

===Price===

 
 
 

'''10''' [[File:crystal.png|link=]]

 

'''10''' [[File:crystal.png|link=]]

 
+
 
+
 
+
 
+
 
+
 
+
 
 
 

===Available From===

 

===Available From===

Line 22:
Line 30:
 
 
 

=== Appearance ===

 

=== Appearance ===

−

[[File:Red 2.png|500px|link=]]

+

Red 2.png|500px|link=

 

[[Category:Paints]]

 

[[Category:Paints]]
---
Revision as of 07:45, 19 November 2019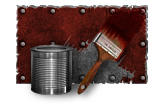 Description
The red color - the embodiment of rage and courage. It also has the practical application of being able to hide any traces of enemy blood.
Price

10

Rarity

✹ Common
Available From

Recruit
Interesting Facts
Costing just 10 crystals, Red, along with Blue and Orange, is the cheapest paint available for purchase in the Garage.
Due to its cheapness and availability, an easily-accessible paint like one this is often required to be equipped in media contests such as Video of the Week - to prevent older content from being used.


Appearance