Prestigio
From Tanki Online Wiki
(Difference between revisions)
Line 10:
Line 10:
 

But every magic trick has a third part, the hardest part we call "The Prestige", which holds the secret behind the miracle.

 

But every magic trick has a third part, the hardest part we call "The Prestige", which holds the secret behind the miracle.

 
 
−

{{note|orange|'''This paint was part of a special promotion with the company, Prestigio. It was only obtainable after purchasing and registering a device from one the specific stores. This paint can only be unlocked by opening [[Containers|containers]].'''}}

+

{{note|orange|'''This paint was part of a special promotion with the company, Prestigio. It was only obtainable after purchasing and registering a device from one the specific stores. This paint can only be unlocked by opening [[Containers|containers]].'''}}

 
+
 
 
−

=== Interesting Facts ===

+

=:[:.=]

−

Paint can be obtained from [https://en.tankiwiki.com/Containers containers] , as well as taking part in the [https://ru.tankiforum.com/topic/148157/?attempt=1 action] with Prestigio.

+
 
 
 

===Available From===

 

===Available From===

 
 
 

[[File:IconsNormal_01.png|link=Ranks#Recruit|40px]] '''[[Ranks#Recruit|Recruit]]'''

 

[[File:IconsNormal_01.png|link=Ranks#Recruit|40px]] '''[[Ranks#Recruit|Recruit]]'''

 
+
 
+
 
+
 
+
 
 
 

=== Appearance ===

 

=== Appearance ===

 

<br>

 

<br>

−

[[File:Preview_Prestigio_transparent.gif|link=]]

+

Preview_Prestigio_transparent.gif|link=

 

[[Category:Paints]]

 

[[Category:Paints]]
---
Revision as of 23:58, 16 November 2019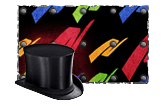 Description
Every magic trick consists of three parts:
"The Bait" — The magician shows you something ordinary.
"The Turn" — The magician takes the ordinary something and makes it into something extraordinary.
But every magic trick has a third part, the hardest part we call "The Prestige", which holds the secret behind the miracle.
Rarity

Legendary
Available From
Interesting Facts
Paint can be obtained from containers , as well as taking part in the action with Prestigio.
Appearance