Portugal
From Tanki Online Wiki
(Difference between revisions)
m

m (added fact)

Line 26:
Line 26:
 
 
 

=== Interesting Facts ===

 

=== Interesting Facts ===

−

*This paint was added into the game for the first time on 10th July 2014, in honour of the 2014 FIFA World Cup. <br /> <br />

+

*This paint was added into the game for the first time on 10th July 2014, in honour of the 2014 FIFA World Cup

 
+

. <br /> <br />

 
 
 

=== Appearance ===

 

=== Appearance ===

 

{{PaintPreview|file=Preview_Portugal.png|link=|type=football|model=Portugal}}

 

{{PaintPreview|file=Preview_Portugal.png|link=|type=football|model=Portugal}}

 

[[Category:Paints]]

 

[[Category:Paints]]
---
Revision as of 07:52, 5 December 2019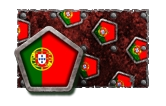 Description
Portugal is a country with a history of proud explorers of the sea and geographical discoveries. Magellan and Vasco da Gama are names known by everyone. The paint "Portugal" is for tankers who feel in them the call of exploration.
Price

6.99 USD

Rarity

Rare
Available From

Recruit
Interesting Facts
This paint was added into the game for the first time on 10th July 2014, in honour of the 2014 FIFA World Cup.
The paint was used as part of the European Cup event in 2016.


Appearance