Parkour Survival Challenges
From Tanki Online Wiki
(Difference between revisions)
(Fixed something)

Line 38:
Line 38:
 

<center>'''Submit your entries via this [https://docs.google.com/forms/d/e/1FAIpQLScCoXxQnE7ycRHzFQ042_JSksd4MDROrnjGDpcMQQXW6boc6g/viewform form]'''</center>

 

<center>'''Submit your entries via this [https://docs.google.com/forms/d/e/1FAIpQLScCoXxQnE7ycRHzFQ042_JSksd4MDROrnjGDpcMQQXW6boc6g/viewform form]'''</center>

 
 
−

'''At 22nd. We <span style="color:#00FF00">start</span> accepting entries for Challenge #5.'''<br>

+

'''At 22nd. We <span style="color:#00FF00">start</span> accepting entries for Challenge #5.'''<br>

−

'''At 28th. We <span style="color:#FF0000">stop</span> accepting entries for Challenge #5.'''

+

'''At 28th. We <span style="color:#FF0000">stop</span> accepting entries for Challenge #5.'''

 
 
 

'''''{{attention|#DB5553|Warn_Red.png|'''<center>Keep the video UNLISTED!</center>'''''}}

 

'''''{{attention|#DB5553|Warn_Red.png|'''<center>Keep the video UNLISTED!</center>'''''}}

 

'''''{{attention|#DB5553|Warn_Red.png|'''<center>Previous challenges can be published now.</center>'''''}}

 

'''''{{attention|#DB5553|Warn_Red.png|'''<center>Previous challenges can be published now.</center>'''''}}
---
Revision as of 21:42, 26 November 2019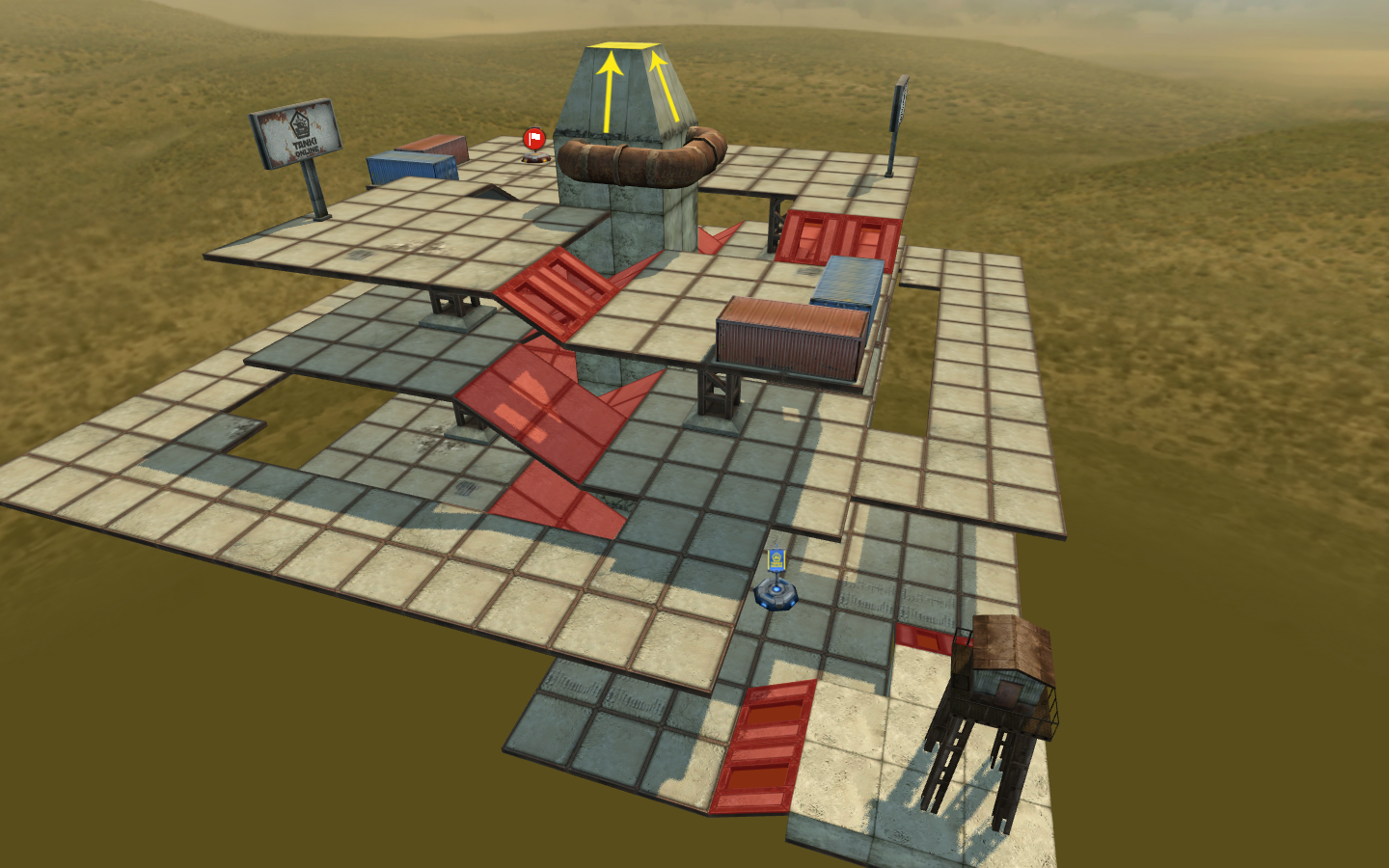 Map: Gravity
Goal: Deliver the blue flag to the top of the building(marked with yellow), without touching any of the ramps.
Rules and handicaps:
Drones: Allowed
Overdrives: Not Allowed
Alterations: Allowed
Mines: Allowed
Paint: Orange
Video entry time limit should not cross 60 seconds.
The jumper AND the helpers cannot touch any ramp AT ANY TIME.
The helpers must be a non-recoil Turret, such as Freeze, Firebird or Isida.
Tank towers up to 3 tankers are not allowed. (2 tanks on top of each other is MAXIMUM)
If a helper felt down of the map or self-destructed, that helper cannot help his teammates once re-spawning.
You can only place 4 mines in total (make sure that it is clearly visible!).
Placing mines and setting up tanks can be done once the flag has been taken. Placing mines before taking the blue flag, is strictly forbidden.
Once the jumper takes the flag, he must NOT drop it until reaching the building marked with Yellow.
Note:
For this specific challenge, you don't need to show the "tanks stats" or the "Settings". We only need the "TAB(Battle members menu)" to show up in the video, as well as the timer of the battle.
In order to prove that your team used only 4 mines, the recorder of the video MUST record with tanki sounds and be close to the team mate who placed the mine(s). The sound should prove enough that you placed the mines needed, and make sure that the sound is clearly hearable.(in case there was another sounds in the video)
Any mines that have been placed with the use of Drones or Alterations, will be counted from the 4 mines that are only allowed.
Prizes:
25.000
110 repair kits
130 speed boosts, double, mines, batteries
The ability to compete in the next challenges.
Submit your entries via this form
At 22nd, Nov 17:00 UTC+0. We start accepting entries for Challenge #5.
At 28th, Nov 15:00 UTC+0. We stop accepting entries for Challenge #5.

Attention!
Keep the video UNLISTED!

Attention!
Previous challenges can be published now.