Night
From Tanki Online Wiki
(Difference between revisions)
Line 1:
Line 1:
−

__NOTOC__ __NOEDITSECTION__ {{RandomText}}

+

__NOTOC__ __NOEDITSECTION__

 

{{see also|Paints|Ranks}}<br />

 

{{see also|Paints|Ranks}}<br />

 
 
Line 6:
Line 6:
 

=== Description ===

 

=== Description ===

 
 
−

An ideal paint for night time operations. You will become a nightmare, an embodiment of horror, flying on the wings of the night.

+

An ideal paint for operations. You will become a nightmare, an embodiment of horror, flying on the wings of the night.

−

 

+
−

{{note|orange|'''The paint first appeared on October 31, 2014 as a festive cover for Halloween, it then returned for sale on July 21.'''}}

+
 
 
 
+
 
+
 
+
 

===Price===

 

===Price===

 
 
 

'''35 000''' [[File:crystal.png|link=]]

 

'''35 000''' [[File:crystal.png|link=]]

 
+
 
+
 
 
−

===Available From===

+
 
+

 

 
+
 
+

 

 
+

=== Available From ===

 
 
 

[[File:IconsNormal_05.png|link=Ranks#Master_Corporal|40px]] '''[[Ranks#Master_Corporal|Master Corporal]]'''

 

[[File:IconsNormal_05.png|link=Ranks#Master_Corporal|40px]] '''[[Ranks#Master_Corporal|Master Corporal]]'''

 
+
 
+
 
+
 
+
 
+
 
 
 

=== Appearance ===

 

=== Appearance ===

 
 
−

[[File:Night_tank.png|500px|link=]]

+

Night_tank.png|500px|link=

 

[[Category:Paints]]

 

[[Category:Paints]]
---
Revision as of 10:40, 11 November 2019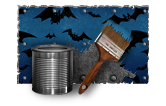 Description
An ideal paint for nighttime operations. You will become a nightmare, an embodiment of horror, flying on the wings of the night.
Price

35 000

Rarity

Rare
Available From
Interesting Facts
The paint first appeared on October 31, 2014, as a holiday paint for Halloween.
Returned on sale July 21, 2016.
Appearance