Mount Fuji
From Tanki Online Wiki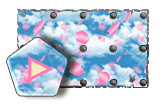 Description
For a long time this paint was known only as a top-secret project and was used only by the samurai tank forces, until they decided the paint instead should bring peace and quiet to other tankers too. Forget everyday worries and enjoy the living beauty of nature.
Price
59.90 USD
Interesting Facts
Mount Fuji was part of a special Shop bundle available during the 2018 Summer Sale event.
This paint was added into the game on 21st August 2018, as part of the 2018 Summer Sale event. Simultaneously it was added to Containers permanently.
Appearance