Modules
From Tanki Online Wiki
Modules
Modules are special elements of a tank, the purpose of which is to protect your war machine from enemy fire. The modules have no visual effect or texture on your tank, however, if you press and hold the R key in battle, you can see which modules your opponents are using, as well as exactly how much protection they provide. You can only use one module on your tank at a time, but nothing is stopping you from changing the modules (as well as any other part of the tank) mid-battle to better protect yourself from your opponents' weapons.
Modules are divided into four categories: Single (protection from one turret), Double, Triple and Legacy Modules, the latter being given to players after the so-called «Disintegration» update, which separated the paints and their protections on the 14th of July 2016.

LGC Modules
LGC (which stands for "Legacy") Modules are those modules given to players after the so-called «Disintegration» update. Among those modules there are certain ones with protection from four turrets at once. The Legacy modules are impossible to obtain now, so they are only in possession of those players who purchased them before the update. They don't have M0-M3 modifications, but can still be micro-upgraded. It's also worth noting that their protection values (with MUs or without) are mostly uneven, unlike new modules. If you see a player with a Legacy module with a certain protection from your turret, it does not mean that they have the same level of protection from all other turrets in their module.

S - D - T Modules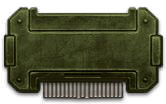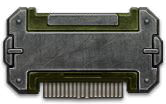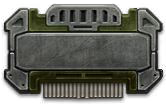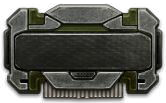 New modules (i.e. those which you can now buy in the garage) have four modifications, each of which has fixed protection values from all turrets in the module: М0 — 10%, М1 — 15%, М2 — 25%, М3 — 35%. Each module of a particular modification can be upgraded to the protection level of the next module using micro-upgrades, while fully upgraded M3 modules provide 50% protection. Keep in mind that micro-upgrading modules at M0, M1 and M2 stages is a lot more expensive than waiting for the next modification to unlock, but it gives you an advantage in battle, since you gain those extra percent of protection at a lower rank.

S - D - T Modules classification
The name of any module available for purchase in the Garage is composed of three components: 1. Group name — Eagle, Ocelot, Lion, etc. Modules with the same name have a similar protective "speciality" and are meant to be used against certain types of weapons – melee range, short range, medium range, long range. For example, "Eagles" and "Falcons" protect mainly from long range guns like Shaft and Railgun, while "Ocelots" protect from short range weapons like Firebird.
Single Modules

Fox — for melee combat
Wolf — for short range fights
Dolphin — for medium range fights
Falcon — for long range fights
Spider — for parkour
Double Modules

Ocelot — mostly for melee combat
Panther — mostly for short range fights
Orka — mostly for medium range fights
Eagle — mostly for long range fights
Panda — for fights on short and medium range
Triple Modules

Badger — mostly for melee combat
Lion — mostly for short range
Shark — mostly for medium range
Grizzly — for melee combat, as well as short-medium range
Ursa — for short, medium and long range
Griffon — for medium and long range
Kodiak — universal protection for all ranges

2. The identification of a module's category by number of protections — For example, all modules with protection from three turrets have a code letter T in their name, in front of the dash.
S — Single — with protection from one turret
D — Double — with protection from two turrets
T — Triple — with protection from three turrets

3. The place number within a category — Latin letters A, B, C, D and so on, after the dash.

Rare Modules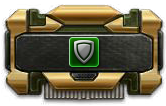 The "Rare Modules" are special, incredibly hard-to-obtain modules that protect from every turret and mines. These modules are given only to specific tankers, as follow:
Spectrum M-A 25% — owners of Champion paint;
Spectrum M-C 15% — owners of Bronze paint.
In addition to these "Rare Modules", there is an unique module, given only to the user sidlob, owner of the Lord paint —

50%.
Modules Tables
Name

M0
1 000

M1
7 000

M2
20 000

M3
50 000

  Smoky

  Dolphin S-A
Master Corporal
Warrant Officer 1
Second Lieutenant
Brigadier

 Firebird

  Fox S-A

  Twins

  Wolf S-A

  Striker

  Dolphin S-D

 Railgun

  Falcon S-A
Sergeant
Warrant Officer 2
First Lieutenant
Major General

   Thunder

  Dolphin S-B

   Freeze

  Fox S-B

  Shaft

  Falcon S-B

  Vulcan

  Dolphin S-C
Staff Sergeant
Warrant Officer 3
Captain
Lieutenant General

  Isida

  Fox S-C

  Magnum

  Falcon S-C

  Hammer

  Wolf S-B

 Ricochet

  Wolf S-C

   Mine

  Spider S-A

Protection

10% → 15%

15% → 25%

25% → 35%

35% →

50%

Micro-upgrades

Single M0

Single M1

Single M2

Single M3
Name

M0
2 500

M1
15 000

M2
50 000

M3
150 000

  Railgun   Shaft

    Eagle D-A
Sergeant
Warrant Officer 2
First Lieutenant
Major General

  Smoky   Hammer

    Panther D-A

 Firebird  Isida

    Ocelot D-A

  Smoky    Twins

    Panther D-C

  Magnum    Twins

    Panda D-D

  Twins   Ricochet

    Panther D-D

  Smoky   Vulcan

    Orka D-D

  Striker   Vulcan

    Orka D-F

  Smoky   Railgun

    Orka D-A
Staff Sergeant
Warrant Officer 3
Captain
Lieutenant General

 Firebird   Thunder

    Panda D-A

  Isida     Freeze

    Ocelot D-B

   Thunder   Ricochet

    Orka D-C

 Firebird   Freeze

    Ocelot D-C

 Ricochet   Magnum

    Panda D-E

 Shaft       Striker

    Eagle D-C

   Freeze      Shaft

    Panda D-B
Master Sergeant
Warrant Officer 4
Major
General

 Ricochet Vulcan

    Orka D-B

  Isida   Vulcan

    Panda D-C

  Twins     Hammer

    Panther D-B

  Isida    Hammer

    Ocelot D-D

 Railgun     Thunder

    Eagle D-B

 Railgun     Striker

    Eagle D-D

 Hammer     Magnum

    Panda D-F

 Shaft     Magnum

    Eagle D-E

 Thunder     Striker

    Orka D-E

Protection

10% → 15%

15% → 25%

25% → 35%

35% →

50%

Micro-upgrades

Double M0

Double M1

Double M2

Double M3
Name

M0
5 000

M1
30 000

M2
100 000

M3
250 000

Firebird  Railgun    Thunder

      Kodiak Т-А
Staff Sergeant
Warrant Officer 3
Captain
Lieutenant General

  Smoky    Twins      Freeze

      Grizzly Т-А

Firebird    Freeze      Hammer

      Badger Т-А

  Smoky    Twins      Shaft

      Ursa Т-А

  Isida      Freeze    Ricochet

      Badger Т-В

  Isida      Magnum    Ricochet

      Ursa T-H

  Shaft      Magnum    Ricochet

      Griffon T-H

  Isida      Thunder       Freeze

      Badger Т-С

 Railgun    Isida    Hammer

      Grizzly Т-В

Firebird    Thunder      Freeze

      Badger T-D

  Shaft     Hammer    Vulcan

      Kodiak Т-В

 Railgun     Thunder      Shaft

      Griffon T-A

 Railgun     Ricochet      Shaft

      Griffon Т-E

   Thunder    Ricochet  Vulcan

      Shark Т-А

Firebird   Twins     Hammer

      Lion Т-А

  Smoky   Railgun    Vulcan

      Shark Т-В

  Smoky    Isida      Thunder

      Shark Т-С

  Twins     Isida     Vulcan

      Ursa Т-F

  Isida     Shaft     Striker

      Kodiak T-J

  Twins     Ricochet     Striker

      Lion T-F

  Isida    Hammer    Vulcan

      Grizzly T-C
Master Sergeant
Warrant Officer 4
Major
General

  Smoky    Twins     Isida

      Grizzly T-D

Firebird   Twins   Ricochet

      Lion T-B

  Smoky   Railgun    Shaft

      Griffon T-B

 Railgun    Shaft    Vulcan

      Griffon T-C

  Smoky     Freeze    Ricochet

      Grizzly T-E

Firebird  Hammer    Vulcan

      Grizzly T-F

  Smoky   Railgun   Ricochet

      Ursa T-B

  Smoky  Firebird  Hammer

      Grizzly T-G

  Twins       Thunder     Vulcan

      Shark T-D

  Isida     Thunder     Vulcan

      Shark T-F

Firebird  Isida     Hammer

      Badger T-E

  Twins    Railgun     Thunder

      Kodiak T-C

  Smoky    Firebird     Railgun

      Kodiak T-H

  Firebird    Twins     Railgun

      Kodiak T-G

   Freeze    Ricochet  Vulcan

      Grizzly T-H

Firebird  Twins       Freeze

      Badger T-F

Firebird  Isida      Freeze

      Badger T-H

  Twins   Ricochet   Hammer

      Lion T-D

  Shaft   Vulcan   Striker

      Ursa T-G

  Twins   Magnum   Striker

      Ursa T-J

  Shaft   Magnum   Striker

      Griffon T-F

  Firebird   Magnum   Vulcan

      Kodiak T-L

Railgun  Thunder    Freeze

      Kodiak T-D
First Sergeant
Warrant Officer 5
Lieutenant Colonel
Marshal

  Smoky   Railgun   Hammer

      Grizzly T-J

  Freeze   Hammer   Vulcan

      Grizzly T-K

  Smoky  Ricochet   Shaft

      Ursa T-C

   Freeze    Ricochet  Hammer

      Lion T-C

   Isida    Ricochet  Hammer

      Lion T-E

  Twins      Shaft    Vulcan

      Ursa T-D

  Smoky  Firebird   Freeze

      Badger T-G

  Isida     Thunder      Shaft

      Kodiak T-E

  Smoky    Twins     Railgun

      Ursa T-E

 Railgun     Thunder    Ricochet

      Kodiak T-F

  Smoky     Thunder     Vulcan

      Shark T-E

  Smoky    Railgun     Thunder

      Griffon T-D

  Firebird    Isida     Striker

      Badger T-J

  Freeze    Hammer     Striker

      Grizzly T-L

  Ricochet    Striker     Thunder

      Shark T-G

  Magnum    Striker     Freeze

      Kodiak T-K

  Magnum    Hammer     Shaft

      Griffon T-G

Protection

10% → 15%

15% → 25%

25% → 35%

35% →

50%

Micro-upgrades

Triple M0

Triple M1

Triple M2

Triple M3