From Tanki Online Wiki
Everybody needs an all-rounder. Something that can perform well in any battle it drops into, that isn't too slow but also isn't too weak. Medium hulls fill this niche, but choosing one can be a difficult process: each have different strengths, and suit different playing styles. Read more about them here, and then decide which one is best for you!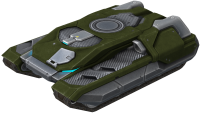 As versatile as it is reliable, Hunter remains the first choice for many veteran Tanki players. Though not remarkable in speed, it isn't slow either, and it boasts the greatest maneuverability of any medium hull.
Thanks to its stable shape and central turret mount, Hunter is compatible with almost every turret and playing style. Hunter has a very good height for almost any gun, being just tall enough to reach high places, and just short enough not shoot over nearby tanks. It's upwards-pointing front treads make jumping from heights relatively safe, though there is a risk of landing on the side. If level-ground combat is more your style, Hunter's high agility makes fighting at close quarters a breeze. As the description of it says, "being so versatile, you will never stay without a job on the field of war."
Hunter comes equipped with a powerful and fast-charging overdrive that complements its ability to pick its way through crowded spaces or rough terrain: a short-range electric pulse that Stuns, removes their supplies, and destroys or interrupts nearby enemy Overdrives.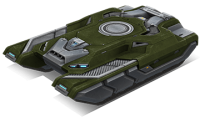 Another popular classic, Viking is the fastest machine there is that can carry around a medium hull's HP.
Viking is best used in medium-to-large maps, since its speed advantage over other medium hulls allows it to traverse large distances effectively. However, the effectiveness of this hull depends largely on the situation its in. If you're under heavy fire, you'll find the low weight to be a nuisance, since you'll frequently get spun around by impact force. On the other hand, if you're cruising around a large map or navigating many elevation changes, the high speed and stability of Viking is indispensable. It's virtually impervious to flipping.
Viking's overdrive, though slow to charge and often difficult to use, is one of the most popular in the game. Upon activation, it briefly turns your turret's attack stats up to the max, allowing you to rip through any tank that stands in your way.
Viking vs Hunter

Before moving on to the next two medium hulls, it's time we address the age-old debate: is Hunter or Viking better?
There is endless discussion about these two tanks, and many people have varying opinions. At its heart, the comparison between Viking and Hunter is a comparison between speed and handling. Undoubtedly, each have huge benefits in different games and situations.
If you need to chase, run, or just generally get around, Viking will get you where you need to go quickly, making it somewhat ironically the better "hunter" of the two. The speed complements its overdrive, allowing you to reach an advantageous position, and then let fly a deadly volley of shots.
However, Hunter outperforms Viking in almost every other respect: it accelerates and turns more quickly, it is is heavier and thus more stable under fire, and it can push harder. Hunter's overdrive, though limited in range, can be activated much more frequently than Viking's.
So, which one is better? It's up to you! Decide what you need, and pick the hull that serves that best. Now, onto the other two medium hulls.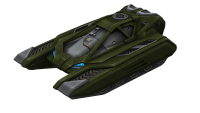 Often viewed as the king of supporting tanks, Dictator is a bulky, slow medium hull with a powerful, if unusual, set of abilities. Though you won't be racing across the map with this hull, you can turn the tide of battle in other ways, most notably by boosting your teammates with your Overdrive.
The first odd thing to notice about dictator is its shape: it's tall and has a large footprint, and it has a distinctive swept-back shape, with the turret mounted on a tall mass of armor opposite long, low prongs. Dictator's shape and size comes with advantages and disadvantages: it can shoot over nearby tanks and obstacles with ease, but sometimes misses targets at point-blank range. It's good at catching golds and obstructing the passage of enemy tanks, but it's also unwieldy at close range and difficult to maneuver. Some love it and some hate it, so it's best just to try it out and see.
Dictator's overdrive has the most varied set of effects of overdrive in the game: it activates all 5 supplies for you and your teammates, applies a brief Supercharge effect to you and nearby teammates, freezes nearby enemies, charges the overdrives of non-dictator teammates in its range by 33%, and adds 10 points to your score for each teammate who benefits from its effect. Naturally this makes Dictator the hull of choice for crowded situations, such as around a point in SGE or defending the base in ASL.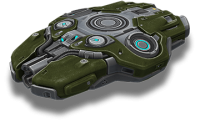 The most recent hull and only hovering medium hull on the scene, Crusader is a unique hull that, once mastered, can be a powerful tool for success in battle.
Though the hovering mechanics can be a bit hard to get the hang of (mouse controls are best), a skilled driver can move crusader smoothly in any direction, regardless of its orientation or direction of fire. This, combined with the fact that it almost never flips, makes it excellent for mobile mid-range combat. And while it can be difficult to ail at long range, and its close range operation can be a bit limited (thanks to its low pushing power, it can be slid around or prevented from turning in the wrong situation), most crusader users find that they can navigate to a more advantageous position with ease.
Crusader's overdrive, a large icicle that freezes and pierces the armor of the tanks it hits, is viewed by some as one of the best in the game, and by others as useless. Though difficult to aim at long range, and dangerous up close, the combination of damage and two powerful status effects can turn a dangerous enemy or two into mush very quickly.
Side-by-side comparison of of medium hull's stats
For a head-to-head comparison, we'll use the maxed out stats of the hulls, as they're the most balanced that way (Mk7s all have the same price and unlock rank) and that's where your hulls will eventually end up anyway. If you'd like more details on the stats of other modifications, check out the individual hull pages, but balance between hulls follows the patterns you see here at Mk7+ very closely.
| | | | | |
| --- | --- | --- | --- | --- |
| Medium Hulls | Viking | Hunter | Dictator | Crusader |
| Protection (hp) | 3 000 | 3 000 | 3 000 | 3 000 |
| Top Speed (m/sec) | 9.50 | 9.00 | 8.50 | 8.50 |
| Acceleration (m/sec²) | 13.50 | 16.00 | 17.00 | 13.00 |
| Reverse acceleration (m/sec²) | 20.00 | 18.00 | 17.00 | 15.00 |
| Lateral Acceleration (m/sec²) | 14.00 | 16.00 | 20.00 | n/a |
| Max turning speed (deg/sec) | 140 | 150 | 120 | 90 |
| Turning acceleration (deg/sec²) | 120 | 120 | 120 | 120 |
| Anti-inertial turn acceleration (deg/sec²) | 360 | 360 | 360 | 360 |
| Weight | 2 600 | 3 000 | 3 600 | 3 600 |
| Power | 1 350 | 1 600 | 1 700 | 1 000 |
| Overdrive charge per battle point (%) | 0.5 | 0.6 | 0.7 | 0.6 |
| Overdrive charge per second (%) | 0.4 | 0.9 | 0.7 | 1.0 |