From Tanki Online Wiki
Master of Parkour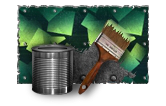 | | | |
| --- | --- | --- |
| Type | | Award paint |
| Rarity | | ▨ Special |
Availability
| | | |
| --- | --- | --- |
| Available from | | Warrant Officer 1 |
| Currently obtainable | | No |
| Found in Containers | | No |
| Purchasable in Garage | | No |
Description in Garage
This paint is needed for taking part in the Masters of Parkour contest.
Master of Parkour is a paint in Tanki Online.

Interesting facts
Paint appeared in the game on November 14, 2014.
Paint appears on sale only at the time of the next competition "Masters of Parkour" at a price of 1000 crystals and for players with the rank of Warrant Officer 1 and above.
After the competition, paint is removed from all but the winners.
On August 27, 2015, with the launch of the "Masters of Parkour 2015" contest, the texture of the paint was changed to Orange.
Before the separation of paints and protections (07/14/2016), the paint had 30% protection against Railguns and 30% off mines.
Starting from the 2015 competition, the paint will remain in the garage with the winners forever, and a new paint will be released on new competitions.
Mr.DEMOH
ALerTs
Jooe
dudealce
The.Last.Champion
KPAH000
jedima
qqqwww10
vivat.toxa
1964_21093
ValeraYusenko
detroit_26
Les_Alterman
Fly_Away
Lost.In.You
NoN-StoP_o_O
SAVAGE1298X
anchk
IKakToTaK
29.05.2001
Y_A_M_A_K_A_S_I
Mr.Nocorog
triton7932
CkuJIoBou_MoHcTp
Best
cpeunaz
Joshcena
007_onex_007
V-19
JekaMIX
MasterRob
TANK_T-30_2011
6epuk
KirkinS
6E3bIM9IHEC
HAPblBAI0Cb
HAPbIBAIOCb
Dsr-11
kventyn
ToTToBblu_urpok
Fearless_Hunter
Newstrike
Death_In_Your_Eyes
TANKIST_N-1
216575
Kungur_TO
lad_jak
Zim25a
KACATbI4
Volchica15
Snayper1998-09
l_PAKOO6PA3HbIU_l
Immortal.flash
UcTo4Huk_CBeTa
andrew_12
yura-222
I.Winner
I.Coca-Cola
Porchyy
Dior_91
KRUGOM_TOHuPOBAH
Sport-S.Men
PANDA135
nik2416
Marten2004
maksim100100
Mehanik_55
dinorak
mtk55
Appearance