From Tanki Online Wiki

Did you know that...
The creation of the first test version of Tanki took four and a half months. First registered player who is not a developer was GlebNikitin. And the first registered account was arts80 which belongs to server programmer Alex Kviring. The first map in the game was the prototype of Tribute.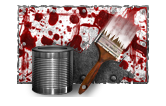 Description
Covered with bloody red stains, this paint is meant to inflict horror upon the enemy. However, highly experienced tankers will probably notice that what looks like blood is actually tomato juice. No wonder the paint is called "Mary".
Price
100 000

Available From
Appearance