Mars WFS
From Tanki Online Wiki

Did you know that...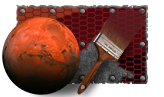 Description
One of three paints created for the WAR for Space event in July.
Often referred to as "the Red Planet" or "the Morning Star", Mars has been a backdrop for many blockbuster movies. Additionally, for a long time, it was believed that this would be where we would discover alien life forms, also known as "Martians".