From Tanki Online Wiki
m (((ME)) Friendlier numbers)

Line 48:
Line 48:
 

  |-

 

  |-

 

  |style="background:#3b445e"|[[File:6809c52f.png|20px|link=]] '''Top Speed (m/sec)'''

 

  |style="background:#3b445e"|[[File:6809c52f.png|20px|link=]] '''Top Speed (m/sec)'''

−

  |<center>12.00</center>

+

  |<center>12.</center>

−

  |<center>11.50</center>

+

  |<center>11.</center>

−

  |<center>11.00</center>

+

  |<center>11.</center>

 

  |-

 

  |-

 

  |style="background:#3b445e"|'''Acceleration (m/sec²)'''

 

  |style="background:#3b445e"|'''Acceleration (m/sec²)'''

−

  |<center>13.00</center>

+

  |<center>13.</center>

−

  |<center>14.00</center>

+

  |<center>14.</center>

−

  |<center>13.00</center>

+

  |<center>13.</center>

 

  |-

 

  |-

 

  |style="background:#3b445e"|'''Reverse acceleration (m/sec²){{hint|i|How quickly you can slow down and stop}}'''

 

  |style="background:#3b445e"|'''Reverse acceleration (m/sec²){{hint|i|How quickly you can slow down and stop}}'''

−

  |<center>18.00</center>

+

  |<center>18.</center>

−

  |<center>23.00</center>

+

  |<center>23.</center>

−

  |<center>14.00</center>

+

  |<center>14.</center>

 

  |-

 

  |-

 

  |style="background:#3b445e"|'''Slide/Drift Resistance'''

 

  |style="background:#3b445e"|'''Slide/Drift Resistance'''
---
Revision as of 18:43, 15 May 2021
Zip! Zoom! Whoosh! When there's a need for speed, you can count on a light hull to get you where you're going. Wondering which one is best for you? Read on to find out!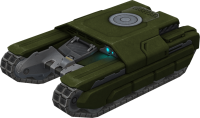 In large maps, Wasp is the a top-notch flag-capturing hull, thanks to its unsurpassed speed and excellent tracking. You can run into an enemy base, grab the flag, and get out before anybody knows you're there - and leave a deadly bomb as a going-away present. It's also good for attacking in any battle mode since you can get to the front lines quickly and keep the pressure on the enemy team.
However, wasp's small size and high speed is a double-edged sword: though it can maneuver well in tight spaces, it is flipped easily by enemy shots or by collisions with other hulls and objects on the ground. Using wasp, it's very easy to have your aim knocked off or be thrown off your direction of travel. However, a skilled driver can avoid these pitfalls by poking the non-central turret backwards around corners, releasing the gas slightly at the crests of ramps, and swerving back onto a planned course.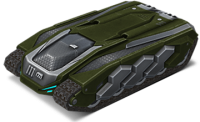 Hornet plays the most like a medium tank of the light hulls - its slightly slower speed and tendency to drift when compared to wasp makes it a little less effective for stealing flags, but it's much more stable, and it allows you to push a bit harder and change direction very quickly. It's like a slightly slower, but more rugged and well-rounded Wasp.
Its overdrive is a dangerous tool, allowing you to spot enemies and their health bars, ignore their armor and protections, and attack them with a strengthened turret. The Scout Radar, as its called, is a popular tool for close-range brawls and long-distance sniping alike.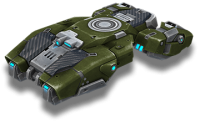 Hopper opens new doors in the tank world: it is the only light hull that has the ability to hover instead of driving on tracks. The hovering ability also makes it harder for the hull to flip, and while the controls take some getting used to, it's ultimately pretty easy to drive for desktop and mobile players alike.
Along with the hovering ability (which lets it strafe side to side), its overdrive allows it to hop into the air, escaping a dangerous situation or avoiding enemies and obstacles. Thanks to its overdrive and its stability, Hopper is the premiere hull for capturing flags and scoring goals.
However, Hopper has some weaknesses as well: it cannot make sudden stops, and falls a bit short of the other light hulls in terms of speed, agility, and precision. Overall, though, its small hitbox and high stability do a lot to make up for these deficiencies.
Comparison
For a long time Hornet and Wasp were the only 2 light hulls in the game. It should be no surprise to anybody here that there is a huge debate about which is better. A surefire way to start an argument is to say "Wasp sucks, Hornet is better" or "Hornet sucks, Wasp is better". Let's go into detail with these two rival hulls, and see if we can settle this debate once and for all.
Wasp and Hornet seem pretty similar at first glance. They're both fast with low health and stability since they're light hulls. As such, they're often interchangeable on the battlefield; a Wasp can fulfill the same role that a Hornet can. The difference between the two hulls boils down to their balance of speed and handling. Wasp is the fastest hull in the game, but is lighter and less stable than hornet. Hornet is a bit slower than Wasp, but it makes up for this with increased acceleration, turning speed, and weight. Hornet users argue that Wasp is simply too fragile and unstable when under fire, and Hornet is more manageable. Wasp users argue that Wasp's speed allows the user to avoid taking damage, which mitigates the less-impressive maneuverability and stability, while Hornet ends up taking more damage because of its larger size and lower speed.
Recently, Hopper came onto the scene. Hopper was introduced into the game, some players didn't like the idea of a hovering hull, though there were those that welcomed it. This hull opens new doors in Tanki, as it is the only light hull with hovering capability. Though a bit sluggish when compared to the other two light hulls, it makes up for this with its ability to move in any direction at will (and of course, its jumping overdrive). Hopper's controls do take some getting used to for those used to playing with tracked hulls, but after a while, it becomes just as intuitive to drive and aim.
Side-by-side comparison of of light hull's stats
| Light Hulls | Wasp | Hornet | Hopper |
| --- | --- | --- | --- |
| Protection (hp) | 2 000 | 2 000 | 2 000 |
| Top Speed (m/sec) | 12.0 | 11.5 | 11.0 |
| Acceleration (m/sec²) | 13.0 | 14.0 | 13.0 |
| Reverse acceleration (m/sec²) | 18.0 | 23.0 | 14.0 |
| Slide/Drift Resistance | High | Low | Very Low |
| Max turning speed (deg/sec) | 130 | 150 | 140 |
| Weight | 2 000 | 2 200 | 2 000 |
| Power | 1 300 | 1 400 | 1 300 |
| Overdrive charge per battle point | 0.6% | 0.5% | 0.7% |
| Overdrive charge per second | 1% | 0.9% | 0.9% |