From Tanki Online Wiki
m

Line 6:
Line 6:
 
 
 

This paint is infused with a liquifying element that makes it twist and swirl in a hypnotic motion. The movement resembles that of the wax mixture inside a lava lamp.

 

This paint is infused with a liquifying element that makes it twist and swirl in a hypnotic motion. The movement resembles that of the wax mixture inside a lava lamp.

−

{{note|orange|'''This paint can only be unlocked as part of the paid [[Passes|Battle Pass]] at Tier 34 of [[Challenges]].'''}}

+

{{note|orange|'''This paint can only be unlocked as part of the paid [[Passes|Battle Pass]] at Tier 34 of [[Challenges]].'''}}

 
+
 
+

 

 
+
 
+

 

 
+
 
+

 

 
+
 
 
 

=== Interesting Facts ===

 

=== Interesting Facts ===

 

*This paint was only available during the first release of Challenges which lasted from 14th December until 25th January (6 weeks).

 

*This paint was only available during the first release of Challenges which lasted from 14th December until 25th January (6 weeks).

 
+
 
+
 
 
 

=== Appearance ===

 

=== Appearance ===

−

[[File:Preview_Lava_Lamp.gif|link=]]

+

Preview_Lava_Lamp.gif|link=

 

[[Category:Paints]]

 

[[Category:Paints]]
---
Revision as of 21:56, 22 October 2019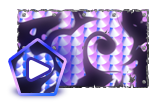 Description
This paint is infused with a liquifying element that makes it twist and swirl in a hypnotic motion. The movement resembles that of the wax mixture inside a lava lamp.
Rarity

Legendary
Available From


Recruit
Interesting Facts
This paint was only available during the first release of Challenges which lasted from 14th December until 25th January (6 weeks).
Paint can also be obtained from the container.
Appearance