Lady
From Tanki Online Wiki
(Difference between revisions)
m

(added price)

 

Line 8:
Line 8:
 
 
 

{{attention|#DB5553|Warn_Red.png|'''This paint is temporary. It will be removed from all Garages at the end of the «Gender War».'''}}

 

{{attention|#DB5553|Warn_Red.png|'''This paint is temporary. It will be removed from all Garages at the end of the «Gender War».'''}}

 
+
 
+
 
+
 
+
 
+
 

=== Rarity ===

 

=== Rarity ===

 
 
 

<span style="color:Salmon">✹ '''Special'''</span>

 

<span style="color:Salmon">✹ '''Special'''</span>

 
+
 
+
 
 
 

===Available From===

 

===Available From===
---
Latest revision as of 02:16, 9 December 2019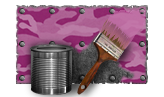 Description
Wearing this paint shows your allegiance to the FEMALE camp in the «Gender War». When purchasing this paint, you will be participating in a star battle against the male camp in Tanki Online. The strongest side will win!

Attention! This paint is temporary. It will be removed from all Garages at the end of the «Gender War».
Price

5 000

Rarity

✹ Special
Available From

Recruit
Interesting Facts
The paint was released on 01.03.2019.
Appearance