From Tanki Online Wiki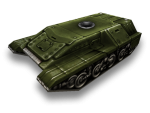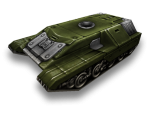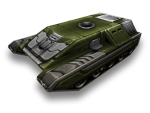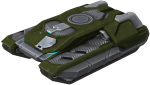 Description in Garage
Hunter is the most versatile hull in the game. It is given to every recruit after completing the registration process. Thanks to its balance between reinforced steel armour plates and low energy consumption, this tank is an all-purpose one. It is good for everybody, from sprinters to snipers. Being so versatile, you'll never stay without a job on a field of war.
Table of characteristics

Protection (hp) — tank's health. Damage dealt by a turret is subtracted from a tank's protection. Once the protection gets to zero, the tank explodes.
Weight — affects tank's stability, i.e. impact force of hits, recoil of its own turret, and partly, ability to move other tanks (this parameter does not affect tank's speed).
Top speed (m/sec) — maximum speed the tank can get to on a straight.
Acceleration (m/sec²) — affects the time it takes a tank to get to its maximum speed and ability to push other tanks.
Reverse acceleration (m/sec²) — anti-inertial acceleration that comes into force when a tank is moving in one direction and a player presses the button of moving to other direction. It works until speed gets to zero. After that, usual acceleration starts working.
Lateral acceleration (m/sec²) ?— responsible for damping of lateral speed. The less this parameter is, the easier tank can drift. The higher it is, the more difficult it is for a tank to move sideways.
Turning speed (deg/sec) — the maximum speed at which the tank can turn.
Turning acceleration (deg/sec²) — affects the time it takes a tank to get to its maximum turning speed.
Anti-inertial turning acceleration (deg/sec²) — works like reverse acceleration but for left-right turns instead of moving forward/backwards.
| | | | | | |
| --- | --- | --- | --- | --- | --- |
| | М0 | М1 | М2 | М3 | М3+ |
| Available from | Recruit | Warrant Officer 4 | Captain | Fieldmarshal | Micro-upgrades |
| Price of modification | 0 | +29 900 | +94 100 | +214 700 | +807 823 |
| Full price | 0 | 29 900 | 124 000 | 338 700 | 1 146 523 |
| Protection (hp) | 90,0000 | 150,4118 | 173,6471 | 215,4706 | 248,0000 |
| Weight | 1 500,0000 | 1 882,3529 | 2 029,4118 | 2 294,1176 | 2 500,0000 |
| Top speed (m/sec) | 7,2000 | 8,2706 | 8,68249 | 9,4235 | 10,0000 |
| Acceleration (m/sec²) | 7,2000 | 8,2706 | 8,68249 | 9,4235 | 10,0000 |
| Reverse acceleration (m/sec²) | 8,4000 | 10,5412 | 11,3647 | 12,8471 | 14,0000 |
| Lateral acceleration (m/sec²) | 7,0000 | 9,6765 | 10,7059 | 12,5588 | 14,0000 |
| Turning speed (deg/sec) | 58,0000 | 72,1471 | 77,5882 | 87,3824 | 95,0000 |
| Turning acceleration (deg/sec²) | 130,0000 | 137,6471 | 140,5882 | 145,8824 | 150,0000 |
| Anti-inertial turning acceleration (deg/sec²) | 130,0000 | 164,4118 | 177,6471 | 201,4706 | 220,0000 |