From Tanki Online Wiki
(((ME)) updated)

Line 163:
Line 163:
 

  |-

 

  |-

 

  |style="background:#2b2b2b"|'''Overdrive charge per second (%)'''

 

  |style="background:#2b2b2b"|'''Overdrive charge per second (%)'''

−

  |<center>1.0</center>

+

  |<center>.</center>

−

  |<center>1.0</center>

+

  |<center>.</center>

−

  |<center>1.0</center>

+

  |<center>.</center>

−

  |<center>1.0</center>

+

  |<center>.</center>

−

  |<center>1.0</center>

+

  |<center>.</center>

−

  |<center>1.0</center>

+

  |<center>.</center>

−

  |<center>1.0</center>

+

  |<center>.</center>

−

  |<center>1.0</center>

+

  |<center>.</center>

 

  |}

 

  |}

 
 
---
Revision as of 01:31, 10 April 2021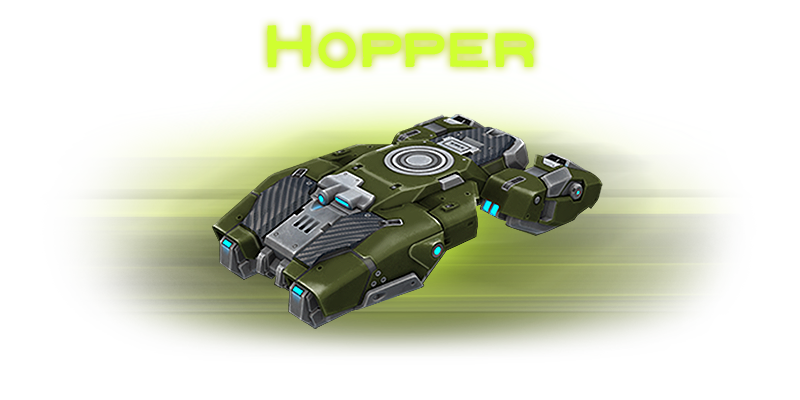 Thanks to the continuous work of its engines, the Hopper hull can hover over the ground at a low altitude. When Hopper is placed under enemy fire, it tries to return itself to a stable position. If the roll limit exceeds a certain maximum, the engines will fail and Hopper will flip.

The uniqueness of the hull movement is that it does not turn, but strafes in a given direction. The hull will perfectly fit mobile gameplay. On a PC, there are two different possibilities to control the hull: keyboard and mouse and only keyboard. When used with just a keyboard and mouse controls disabled, the tank is controlled like any other tank. However, when using a keyboard and mouse, the hull moves forward, backward, and strafes to the side. Strafe direction depends on the current camera position, as does forward, backward, left, and right keys. The hull also turns with the camera.


Description in Garage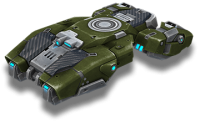 Light hull. It soars above the surface with outstanding maneuverability. Its Overdrive doesn't just stun and set fire to enemy tanks but also toses "Hopper" up into the air so it can jump over obstacles.

The "Hopper" hover tank uses the maximum available antigravity engine resources to let the tanker pursue their dream - flying up to the sky far away from danger. Instead of armor and a defense system, the hull has a detonation jumping engine that can toss your tank up to significant heights. Antigravs provide stability in the air creating enormous tactical opportunities. An opponent who is unlucky to be near you at the moment of your jump will regret it. The detonation engine instantly ionizes the air, stunning and torching everything that crawls on the ground. Are you daring enough to break through the enemy's defenses or perform a surprising escape with the flag? "Hopper" can do both.


Hopper

Мk1 |

Мk2 |

Мk3 |

Мk4 |

Мk5 |

Мk6 |

Мk7 |

Мk7+

Rank Available From

Price of Modification

450

6 000

20 000

35 000

54 000

87 000

130 000

388 000

Overdrives

Upgradable Parameters

Protection (hp)

1 000.00

1 235.00

1 353.00

1 441.00

1 529.00

1 647.00

1 764.71

2 000.00

Top speed (m/sec)

9.60

9.93

10.09

10.22

10.34

10.51

10.67

11.00

Turning speed (deg/s)

110.00

117.06

120.59

123.24

125.88

129.41

132.94

140.00

Turning acceleration (deg/s²)

130.00

134.71

137.06

138.82

140.59

142.94

145.29

150.00

Weight

1 300.00

1 605.88

1 758.82

1 873.53

1 988.24

2 141.18

2 294.12

2 600.00

Power

1 000.00

1 117.65

1 176.47

1 220.59

1 264.71

1 323.53

1 382.35

1 500.00

Acceleration

8.00

9.17

9.76

10.20

10.64

11.23

11.82

13.00

Reverse acceleration (m/s²)

13.00

14.18

14.76

15.21

15.65

16.24

16.82

18.00

Hull turn stabilization acceleration

280.00

298.82

308.24

315.29

322.35

331.76

341.18

360.00

Non-upgradable Parameters

Anti-inertial turning acceleration (deg/s²)

360.00

360.00

360.00

360.00

360.00

360.00

360.00

360.00

Overdrive charge per battle point (%)

0.7

0.7

0.7

0.7

0.7

0.7

0.7

0.7

Overdrive charge per second (%)

0.9

0.9

0.9

0.9

0.9

0.9

0.9

0.9
Table of Characteristics
Protection (hp) — tank's health. Damage dealt by a turret is subtracted from a tank's protection. Once the protection gets to zero, the tank explodes.
Top speed (m/sec) — maximum speed the tank can get to on a straight.
Lateral acceleration (m/sec²) — responsible for damping of lateral speed. The less this parameter is, the easier the tank can drift. The higher it is, the more difficult it is for a tank to move sideways.
Turning speed (deg/sec) — the maximum speed at which the tank can turn.
Turning acceleration (deg/sec²) — affects the time it takes a tank to get to its maximum turning speed.
Anti-inertial turning acceleration (deg/sec²) — works like reverse acceleration but for left-right turns instead of moving forward/backward.
Weight — affects tank's stability, i.e. impact force of hits, the recoil of its own turret, and partly, ability to move other tanks (this parameter does not affect tank's speed).
Power (m/sec²) — affects the time it takes a tank to get to its maximum speed and ability to push other tanks.
Reverse acceleration (m/sec²) — anti-inertial acceleration that comes into force when a tank is moving in one direction and a player presses the button of moving to another direction. It works until speed gets to zero. After that, the usual acceleration starts working.
Skins
Hopper XT

Interesting Facts
Hopper first appeared in the game on September 18th, 2020, as the exclusive property of lead developer Opex-Rah. The following day, it was released publicly for all players in a special bundle. It is the second non-tracked hull in the game.
The release of Hopper was quite a surprise, being first mentioned only a week prior to release, in V-LOG #270.
Hopper's XT skin was released along with the hull and is available in Ultra Containers.
Hopper is the only light hull in the game that can be controlled while in flight. This feature is widely used in parkour.
Hopper's hull, like that of Ares, is just like a magnet. It detonates mines and picks up supply drops just like any other hull.
---
---