From Tanki Online Wiki

Did you know that...
Forester is the most popular of all the paints. In December 2015, the paint was used in battles for a total of 1 258 208 hours. That is equal to 137 years!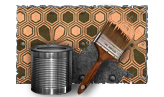 Description
Originally intended as a paint with active offensive properties, "Hive" was supposed to be enriched with special anti-tank bees. However, this plan was dropped due to numerous protests from animal-friendly organizations. As a result, the paint now only retains its color and texture.
Price
120 000

Available From
Appearance