From Tanki Online Wiki
(updated)

Line 1:
Line 1:
−

__NOTOC__ __NOEDITSECTION__

+

{{

−

{{see also|Paints|Modules|Ranks|Micro-upgrades of "Hive" Legacy Module}}<br />

+

|

−

 

+

|

−

[[File:Coloring_Hive.png|thumb|'''''Hive'''''|link=]]

+

|Hive

−

 

+

Coloring_Hive.png

−

=== Description ===

+

|Hive

−

 

+

|=

−

Originally intended as a paint with active offensive properties, "Hive" was supposed to be enriched with special anti-tank bees. However, this plan was dropped due to numerous protests from animal-friendly organizations. As a result, the paint now only retains its color and texture.

+
−

 

+

=

−

{{note|orange|Note|'''This paint is available for purchase. Currently, it can be purchased in the [[garage]] at the rank of [[Master Sergeant]] or above.'''}}

+
−

{| width="50%"

+

=

−

|

+

=

−

===Price===

+

=

−

 

+

=

−

'''120 000''' [[File:crystal.png|link=]]

+

=

−

|

+
−

=== Rarity ===

+

Originally intended as a paint with active offensive properties, "Hive" was supposed to be enriched with special anti-tank bees. However, this plan was dropped due to numerous protests from animal-friendly organizations. As a result, the paint now only retains its color and texture.

−

 

+

|=

−

<span style="color:RoyalBlue">[[File:Icon box royalblue.png|20px|link=]]  '''Rare'''</span>

+

* Paint appeared on , .

−

 

+

}}

−

|}

 
−

 

 
−

===Available From===

 
−

 

 
−

[[File:IconsNormal_08.png|link=Ranks#Master_Sergeant|40px]] '''[[Ranks#Master_Sergeant|Master Sergeant]]'''

 
−

 

 
−

=== Interesting Facts ===

 
−

*Paint appeared on February 6, 2015.

 
−

 

 
−

 

 
−

=== Appearance ===

 
−

 

 
−

{{PaintPreview|file=Hive 2.png|500px|link=|type=garage|model=Hive}}

 
−

[[Category:Paints]]

 
---
Revision as of 14:06, 4 June 2020
Hive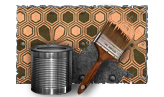 | | | |
| --- | --- | --- |
| Type | | Garage paint |
| Price in Garage | | 120 000 |
| Rarity | | ✹ Rare |
Availability
| | | |
| --- | --- | --- |
| Available from | | Recruit |
| Currently obtainable | | Yes |
| Currently obtainable from Containers | | Yes |
| Currently purchasable from Garage | | Yes |
Description in Garage
Originally intended as a paint with active offensive properties, "Hive" was supposed to be enriched with special anti-tank bees. However, this plan was dropped due to numerous protests from animal-friendly organizations. As a result, the paint now only retains its color and texture.

Hive is a paint in Tanki Online. It can be purchased from the rank of

Recruit in the Garage for 120 000 crystals.

Interesting Facts
Paint appeared on August 12, 2016.
Appearance
Click to Preview Texture