History of the Gold Box
From Tanki Online Wiki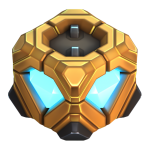 The Gold Box is a bonus drop that appears in battles and adds 1000 crystals to the account of the player that manages to take it. There are drop locations on every map and almost all maps have multiple drop locations. The Gold Box can drop at any moment, whenever the battle fund increases and with a probability of 1/10000 for every crystal added to the fund. The Gold Box drops 30 seconds after the orange notification appears on-screen: "Gold Box will be dropped soon". The look of the box may change depending on celebrations or events happening at the time.

The Gold Box notification siren The media player is loading...

Design

Holiday / Celebration

Reward

April Fools' Day — 2016
Different rewards
International Women's Day — 2016
3 000 crystals
Valentine's Day — 2016
3 000 crystals
New Year — 2016
2 016 crystals
Tankers' Day — 2015
2 000 crystals
Halloween — 2015
1 000 crystals
Tanki Online 6th B-Day — 2015
6 000 crystals
May Holidays — 2015
9 000 crystals
8 000 crystals
7 000 crystals
6 000 crystals
5 000 crystals
StarLadder Championship — 2015
3 000 crystals
April Fools' Day — 2015
Random reward, from 100 to 5 000 crystals
International Women's Day — 2015
3 000 crystals
Valentine's Day — 2015
3 000 crystals
New Year — 2015
2 015 crystals
1 000 crystals
Halloween — 2014
3 000 crystals
Tanki Online at Gamescom — 2014
2 000 crystals
Tanki Online 5th B-Day — 2014
5 000 crystals
New Year — 2014
2 014 crystals
3 000 crystals
Halloween — 2013
3 000 crystals
Farewell to Moon Silence — 2013
3 000 crystals
New Year — 2013
200 crystals
100 crystals
Halloween — 2012
305 crystals
Timeline of events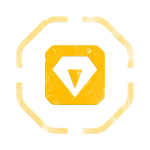 03.12.2009 Addition of the Gold Box worth 1000 crystals.
11.12.2009 Value of the Gold Box reduced to 100 crystals.
04.06.2010 Gold Box drop locations added to all maps.
06.05.2011 In honour of Victory Day for a few days instead of the typical Gold Box there were boxes worth half of the typical value, but their drop rates were almost three times greater than usual. These boxes had a different design.
19.07.2011 Launch of the "Hidden Gold Box" event.
28.02.2012 On Massacre map, one of the Gold Box drop zones was removed. Before, there were two zones and two Gold Boxes dropping with a slight delay between them.
08.03.2012 Notification added, displaying the name of the player that took the Gold Box.
26.04.2012 Gold Box drop algorithm was changed. After this update it could randomly drop at any fund.
18.05.2012 For the first time, (after Massacre) multiple drop zones were added on the following maps: 2042, Boombox, Garder, Sandbox, Silence, Silence 2, Zone.
31.05.2012 Additional drop zones added on maps Polygon, Sandal, Short Bridge, Madness, Iran.
08.06.2012-01.07.2012 During the Euro-2012 football event the value of Gold Boxes was increased to 200, 300, 400 and 500 crystals as the event was progressing.
30.10.2012 «Halloween 2012» event. The value of the special Gold Box, on the Halloween map, was 305 crystals.
13.02.2013 The value of the default Gold Box was increased tenfold (up to 1000 crystals), due to the changes in the game's economy.
29.04.2013 Gold Boxes now drop in the same places as crystal boxes. A notification about an upcoming Gold Box was added.
01.05.2013 The text notification gets a siren to go along with it.
03.10.2013 Start of the «Goodbye Moon Silence» event. On Moon Silence map, the value of Gold Boxes was tripled and its drop rate increased by 1.5 times. The player who took the most Gold Boxes received a bonus consisting of 50 supplies per type.
31.10.2013 Start of the «Halloween 2013» event. Value of Gold Boxes on all maps was increased to 3000.
02.12.2013 During the winter holidays' celebrations «From Christmas to Christmas», the value of the Gold Box was increased to 2014 crystals.
24.12.2013 For the last few days of 2013, the Gold Box value went up to 3000.
31.01.2014 Removal of the bug that caused Gold Boxes to drop on billboards, making them almost impossible for players to reach.
08.02.2014 On maps Arena, Scope, Valley, Opposition, Hill, Deck-9, Pass, Gubakha, Courage and Canyon the Gold Box value was doubled. This was done to attract players' attention towards these rarely used maps.
01.05.2014-12.05.2014 In time for the May Holidays, Gold Box's value was increased to 3000.
02.06.2014 The colour of Gold Box notifications was changed to a brighter orange. This was done to help players differentiate between messages about flags and Gold Boxes' drop warning.
04.06.2014-08.06.2014 For the game's birthday celebrations, the Gold Box value was increased to 5000.
14.08.2014-18.08.2014 During the Gamescom video game exhibition, Gold Boxes' value became 2000 crystals.
29.09.2014 Gold Box texture was changed.
10.10.2014 Complete rework of the Gold Box's shape and texture.
31.10.2014 The Gold Box was turned into a pumpkin. For the 2014 Halloween celebrations its value was increased to 3000.
20.11.2014 Developers launched an experiment in which all crystal boxes were removed from all maps, with the exception of the Gold Box. After this update the Gold Box itself would drop instantly after the siren, without the previous delay.
27.11.2014 The experiment was over after a week and the Gold Box got its delay time back. However, now it dropped exactly 20 seconds after the siren and not at a random time like before.
01.01.2015-03.01.2015 During New Year celebrations, the Gold Box value was increased to 2015 for 3 days.
14.02.2015 For Valentine's Day, the Gold Box value was increased to 3000 for a day and had a special texture.
08.03.2015 For International Women's Day the Gold Box value was set to 3000 crystals for 24 hours.
01.04.2015 During April Fool's Day developers changed the Gold Boxes to contain a random amount of crystals, from 100 to 5000. Besides, the drop chance was doubled. The player named "ALFA-XD" was the first to catch the most valued Gold Box (at 2:22 UTC) and received an iPad as the promised prize.
18.04.2015 From 13th to 17th of April, 38 thousand viewers were simultaneously watching the final matches of Star Series, so to celebrate this the Gold Box value was made 3000 crystals for a day.
05.04.2015-09.05.2015 During the first week of May Holidays, the Gold Boxes's drop rate was doubled and, starting on 5th of May, the Gold Box value was gradually increased from 5000 crystals all the way up to 9000 crystals on 9th of May.
04.06.2015 The game's sixth birthday was a one-day multiplier for the Gold Box: 24 hours of Gold Boxes with 6000 crystals in them.
30.06.2015 The new update, amongst other changes, increased the delay between the Gold Box notification and its appearance from 20 to 30 seconds.
10.09.2015 For Tanker's Day the Gold Box value was doubled for 24 hours.
31.10.2015 Especially for the Halloween event, the unique Halloween-themed map had Gold Boxes dropping 10 times as often. Most Gold Boxes that day (195) were taken by a player named Ti-to, for which he received a "Dream tank". All other players in the TOP10 of Gold Box hunters' list were given crystals rewards.
25.12.2015-11.01.2016 For over two weeks, all battles had Gold Boxes worth 2016 crystals.
14.02.2016 For Valentine's Day the Gold Box had a special texture and a value of 3000 crystals.
07.03.2016 For International Women's Day the Gold Box value was tripled and the event lasted for three whole days.
01.04.2016-04.04.2016 On April Fool's day developers changed the typical Gold Boxes to "Super Gold Boxes", which had unpredictable contents. Besides, the Gold Boxes would drop five times more often than usual.

History of the Gold Box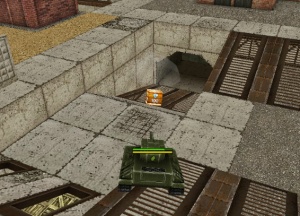 The community firstly heard of the appearance of an unusual box with crystals on December 3rd, 2009. It was announced in the Tanki Online blog that on several maps a Gold Box would appear once the battle fund reached a set number of crystals. The Gold Box instantly became the main topic of discussion in chats and in the forum. Tankers had been sharing opinions and ideas for days. The lucky ones were posting screenshots as proof of the fact that they caught a Gold Box. Over time, people started to understand when and where Gold Boxes would fall.

Originally, the box contained 1000 crystals. Back before the economy update, this was a significant amount (worth 10,000 crystals in the current economic system), especially for the lower ranks, and those who managed to get a Gold Box were extremely happy. However, there were players, mostly buyers, who wanted the value of the box to be lowered. The main argument was that, for the game economy of the time, 1000 crystals were a lot, so why should one buy crystals if he or she could just catch Gold Boxes? The 1000 Gold Box only lasted a week. On December 11 2009, developers decreased its value to 100 crystals.

Back then, the Gold box would fall at a random time within a few minutes after the fund reached 700 crystals or any multiple of that (1400, 2100, etc.). However, after Update 78, the direct link to that specific fund value was removed and up until now the Gold Box can fall at any point during the game, whenever the battle fund increases by at least 1 crystal. Some players get quite upset when the Gold Box doesn't drop at all or drops too often in a short period of time. However, it is pointless to blame the developers for making the system "rigged" — the drop chance is completely random and unpredictable.


Gold Box Hunters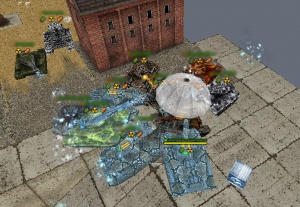 Within a few months from its first appearance, almost every player knew where and when a Gold Box would drop. The game seemed to have changed. Battles changed completely when their fund got close to 700 crystals. Many players hoping to catch a Gold Box would start to cluster around the drop zone. In all maps, the spot used to be near the centre of the map. Teams would fight to control that particular area to increase their chances of getting 100 crystals. Activating all the supplies several minutes before the drop was a normal procedure. Some would argue that there was no point in this as this practice would often cost the tankers more than 100 crystals in supplies used, but no one cared about that. Their motivations were pleasure and adrenaline.

Actually, the introduction of the Gold Box kept many of players who weren't interested in the game playing. For many of them, Tanki Online was all about catching Gold Boxes, and the number of these players gradually increased. Gold Box hunters' clubs were being created. Skype conferences with organised "Gold Box hunting" became a common practice. Catching a Gold Box is not an easy task and a lot of luck is involved if the player is alone, so working as a group greatly increased their chance for success. Most often this was a hobby for players with good equipment and a solid reserve of supplies.


Many players abandoned their main accounts and started secondary ones specifically for catching Gold Boxes and spending crystals on upgrades. Nicknames like "GOLDHUNTER" and "GOLD_IS_MINE" became quite common. Very few players knew of Gold Boxes, so it was quite easy for these users (people with multiple accounts) to catch them. The only problem was the smaller battle funds, so the search process was quite challenging.


Secret Gold Box (2011)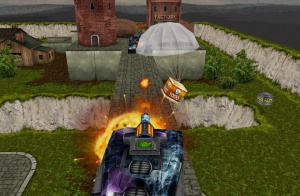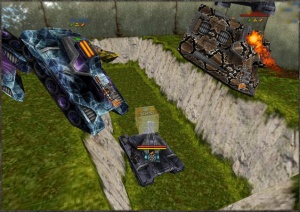 «

An outrageous incident took place to the 13th Air Transport Group today. Due to storekeeper Kubyshkin's oversight, the cargo aircrafts were loaded with the banned old type of "Gold Boxes". Each of them contains 1000 crystals instead of the normal 100 crystals!

The error emerged only after all the aircrafts of the 13th Air Transport Group left for duty. An attempt to bring them back to the base failed – the long-haul communication antenna was not operational after someone had dried laundry on it. The Air Transport Group will only return on July 26, 2011.

»
— From the News
The contest took place from July 20th to 26th, 2011. A Gold Box worth 1000 crystals appeared on a certain map after reaching a certain fund and players had only one week to figure out which map it was on. The trick was that the box did not drop at a fund multiple of 700 as usual, but at multiples of 1000, 2000 and so on, and no one knew about this beforehand. The discussions on the Forum didn't stop for days. Players were sharing ideas and some gifted artists posted intriguing photoshopped screenshots of the new Gold Box. Since it was logical to assume that the Gold Box dropped on the less popular maps, players were specifically examining the forgotten ones and crossing out the ones where nothing was found on the "Golds list".

By the end of the first day, a number of guesses have been made. Some players were wondering if it was Molotov. Many players were waiting for a 700-800 crystals fund, only to find the usual 100 crystal gold and give up – which was a mistake. Someone even posted a screenshot of the exact place of the dropping of the Gold Boxes made by Flanagun, which led the players examine "Molotov" once again. By the morning, players had already figured it out and every minute a new battle was created on "Molotov" map. The mystery was solved and the last thing to do was to catch as many Gold Boxes as possible, but that was not easy at all. First of all, it required a 1000 crystals fund, which was difficult to reach because maps could only take up to 10 players at the time and it was even more difficult if the map had restrictions for ranks, for example, up to Lieutenants or Warrant Officers (see Ranks). Even high ranked tankers had trouble catching these Gold Boxes. As for the weaker players, they didn't stand a chance against M3 Mammoths with expensive paints and tons of supplies. No one spared supplies, of course.
| | |
| --- | --- |
| The media player is loading... | The media player is loading... |
Euro 2012 Gold Box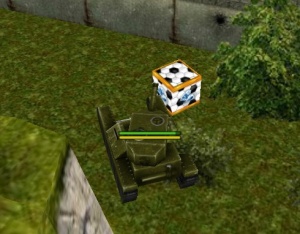 By the start of the European Football Championship 2012, the value of Gold Boxes was increased a number of times:
| | | | |
| --- | --- | --- | --- |
| June 8-20 | June 21-26 | June 27-30 | July 1 |
| 200 crystals | 300 crystals | 400 crystals | 500 crystals |
This event was active during the days of the matches. It brought more excitement into battles and the number of Gold Boxes' hunters increased. The Gold Box was redesigned to look like a football.

Over the period from June 8 to July 2, more than 330 000 Gold Boxes worth more than 90 million crystals were collected on the battlefields. The event ended on July 2 and Gold Boxes were reset to their old design and value of 100 crystals. The media player is loading...
April Fool's day Gold Box (2016)
On April Fool's day, Developers changed the typical Gold Boxes to "Super Gold Boxes", which had unpredictable contents. The event run from the 1st to the 4th of April, 2016.
| | |
| --- | --- |
| Notification | Reward |
| %USERNAME% just got 1000 crystals. Envy won't help! | 1 000 crystals |
| %USERNAME% has just got 1000 crystals. DataBase Error <!=>do DROPGOLDx2 /hacked by %USERNAME% | 1 000 crystals and two additional Gold Boxes dropped straight after the first one |
| %USERNAME% just got 5000 crystals. Envy won't help! | 5 000 crystals |
| Where did that extra zero come from??? %USERNAME% has just got 10 000 crystals! | 10 000 crystals |
| %USERNAME% has caught the standard Gold Box. 50 times. 50 000 crystals!!! | 50 000 crystals |
| %USERNAME%, show them what you are made of! All supplies activated for 5 minutes! | 5 minutes of "always active" supplies |
| A minute of immortality for %USERNAME%! This is what it feels like to be Godmode_ON. | One minute of immortality |
| %USERNAME% has received 86400 seconds of Premium and needs to pull out a calculator to figure out how many days that is. | 1 day of Premium |
| That's 48 hours of Premium for %USERNAME%. Bring out the coffee and snacks! | 2 days of Premium |
| Sleep is for old people! %USERNAME% has received 3 days of Premium Account. | 3 days of Premium |
| M-M-M-M-MONSTER KILL by %USERNAME%. | All users around the Gold Box's drop zone are destroyed and kills are credited to the user that took the Gold Box |