From Tanki Online Wiki
m

(((TE)) reformatted table)

Line 11:
Line 11:
 

Thanks to the never-ending work of its ion engines, the Ares hull - the first of its kind - can hover over the ground at a low altitude. When Ares is placed under enemy fire, it tries to return itself to a stable position, making it essentially impossible to flip - even more so than the other heavy hulls.

 

Thanks to the never-ending work of its ion engines, the Ares hull - the first of its kind - can hover over the ground at a low altitude. When Ares is placed under enemy fire, it tries to return itself to a stable position, making it essentially impossible to flip - even more so than the other heavy hulls.

 
 
−

Ares is the fastest hull among the three heavy hulls, but it is also the lightest one, meaning that it can be pushed or blocked easily by a Titan or a Mammoth. Howsoever, Ares can still push away medium or light tanks, and remain stable under fire. Its overdrive allows it to travel in a straight line with near invincibility, and takes out enemies that get in the way.<br><br>

+

Ares is the fastest hull among the three heavy hulls, but it is also the lightest one, meaning that it can be pushed or blocked easily by a Titan or a Mammoth. Howsoever, Ares can still push away medium or light tanks and remain stable under fire. Its overdrive allows it to travel in a straight line with near invincibility and takes out enemies that get in the way.<br><br>

 
 
 

===[[Titan]]===

 

===[[Titan]]===

Line 23:
Line 23:
 

[[File:hull_mammoth_m3.png|200px|link=Mammoth]]  

 

[[File:hull_mammoth_m3.png|200px|link=Mammoth]]  

 
 
−

Mammoth is incredibly slow, but deadly when paired with weapons that don't require speed to hit enemies. Its weight and power are unparalleled, and make the hull uniquely well-suited to defending a small area. It's dangerous and fast-charging overdrive, though very short range, furthers this hull's ability to function as a bastion for your team's base.

+

Mammoth is incredibly slow, but deadly when paired with weapons that don't require speed to hit enemies. Its weight and power are unparalleled, and make the hull uniquely well-suited to defending a small area. dangerous and fast-charging overdrive, though very short range, furthers this hull's ability to function as a bastion for your team's base.

 
 
 

<br>

 

<br>

Line 38:
Line 38:
 

All in all, you can be successful with any heavy hull - it just depends on your style and your goals in the battle.

 

All in all, you can be successful with any heavy hull - it just depends on your style and your goals in the battle.

 
 
−

== Side-by-side comparison of of heavy hull's stats ==

+

== Side-by-side comparison of heavy hull's stats ==

 
 
−

For a head-to-head comparison, we'll use the maxed out stats of the hulls, as they're the most balanced that way (Mk7s all have the same price and unlock rank) and that's where your hulls will eventually end up anyway. If you'd like more details on the stats of other modifications, check out the individual hull pages, but balance between hulls follows the patterns you see here at Mk7+ very closely.

+

For a head-to-head comparison, we'll use the maxed out stats of the hulls, as they're the most balanced that way (Mk7s all have the same price and unlock rank) and that's where your hulls will eventually end up anyway. If you'd like more details on the stats of other modifications, check out the individual hull pages, but balance between hulls follows the patterns you see here at Mk7+ very closely.

 
 
−

{|class="wikitable" border="1" width="100%"

+

{|class="wikitable" width="100%"

−

  |width="25%" style="background:#2b2b2b"|'''Heavy Hulls'''

+

  width="25%" style="background:#"|'''Heavy Hulls'''

−

  |width="9.375%" style="background:#2b2b2b"|<center>'''Ares'''<br>[[File:Ares.png|80px|link=Ares]] </center>

+

  width="9.375%" style="background:#"|<center>'''Ares'''<br>[[File:Ares.png|80px|link=Ares]] </center>

−

  |width="9.375%" style="background:#2b2b2b"|<center>'''Titan'''<br>[[File:hull_titan_m3.png|80px|link=Titan]] </center>

+

  width="9.375%" style="background:#"|<center>'''Titan'''<br>[[File:hull_titan_m3.png|80px|link=Titan]] </center>

−

  |width="9.375%" style="background:#2b2b2b"|<center>'''Mammoth'''<br>[[File:hull_mammoth_m3.png|80px|link=Mammoth]] </center>

+

  width="9.375%" style="background:#"|<center>'''Mammoth'''<br>[[File:hull_mammoth_m3.png|80px|link=Mammoth]] </center>

 

  |-

 

  |-

−

  |style="background:#2b2b2b"|[[File:cdffcc5b.png|20px|link=]] '''Protection (hp)'''

+

  |style="background:#"|[[File:cdffcc5b.png|20px|link=]] '''Protection (hp)'''

 

  |<center>4 000</center>

 

  |<center>4 000</center>

 

  |<center>4 000</center>

 

  |<center>4 000</center>

 

  |<center>4 000</center>

 

  |<center>4 000</center>

 

  |-

 

  |-

−

  |style="background:#2b2b2b"|[[File:6809c52f.png|20px|link=]] '''Top Speed (m/sec)'''

+

  |style="background:#"|[[File:6809c52f.png|20px|link=]] '''Top Speed (m/sec)'''

 

  |<center>7.00</center>

 

  |<center>7.00</center>

 

  |<center>6.50</center>

 

  |<center>6.50</center>

 

  |<center>6.00</center>

 

  |<center>6.00</center>

 

  |-

 

  |-

−

  |style="background:#2b2b2b"|'''Acceleration (m/sec²)'''

+

  |style="background:#"|'''Acceleration (m/sec²)'''

 

  |<center>8.00</center>

 

  |<center>8.00</center>

 

  |<center>14.00</center>

 

  |<center>14.00</center>

 

  |<center>15.00</center>

 

  |<center>15.00</center>

 

  |-

 

  |-

−

  |style="background:#2b2b2b"|'''Reverse acceleration (m/sec²){{hint|i|How quickly you can slow down and stop}}'''

+

  |style="background:#"|'''Reverse acceleration (m/sec²){{hint|i|How quickly you can slow down and stop}}'''

 

  |<center>11.00</center>

 

  |<center>11.00</center>

 

  |<center>19.00</center>

 

  |<center>19.00</center>

 

  |<center>12.00</center>

 

  |<center>12.00</center>

 

  |-

 

  |-

−

  |style="background:#2b2b2b"|'''Lateral Acceleration (m/sec²){{hint|i|Higher value means the hull is more resistant to drifting/sliding}}'''

+

  |style="background:#"|'''Lateral Acceleration (m/sec²){{hint|i|Higher value means the hull is more resistant to drifting/sliding}}'''

 

  |<center>n/a</center>

 

  |<center>n/a</center>

 

  |<center>20.00</center>

 

  |<center>20.00</center>

 

  |<center>25.00</center>

 

  |<center>25.00</center>

 

  |-

 

  |-

−

  |style="background:#2b2b2b"|[[File:285f32ef.png|20px|link=]] '''Max turning speed (deg/sec)'''

+

  |style="background:#"|[[File:285f32ef.png|20px|link=]] '''Max turning speed (deg/sec)'''

 

  |<center>50</center>

 

  |<center>50</center>

 

  |<center>90</center>

 

  |<center>90</center>

 

  |<center>90</center>

 

  |<center>90</center>

 

  |-

 

  |-

−

  |style="background:#2b2b2b"|'''Turning acceleration (deg/sec²)'''

+

  |style="background:#"|'''Turning acceleration (deg/sec²)'''

 

  |<center>120</center>

 

  |<center>120</center>

 

  |<center>90</center>

 

  |<center>90</center>

 

  |<center>90</center>

 

  |<center>90</center>

 

  |-

 

  |-

−

  |style="background:#2b2b2b"|'''Anti-inertial turn accel. (deg/sec²) {{hint|i|How quickly you can stop turning}}'''

+

  |style="background:#"|'''Anti-inertial turn accel. (deg/sec²) {{hint|i|How quickly you can stop turning}}'''

 

  |<center>360</center>

 

  |<center>360</center>

 

  |<center>360</center>

 

  |<center>360</center>

 

  |<center>360</center>

 

  |<center>360</center>

 

  |-

 

  |-

−

  |style="background:#2b2b2b"|[[File:c3f6cd78.png|20px|link=]] '''Weight'''

+

  |style="background:#"|[[File:c3f6cd78.png|20px|link=]] '''Weight'''

 

  |<center>3 600</center>

 

  |<center>3 600</center>

 

  |<center>3 800</center>

 

  |<center>3 800</center>

 

  |<center>4 000</center>

 

  |<center>4 000</center>

 

  |-

 

  |-

−

  |style="background:#2b2b2b"|[[File:6a6145fb.png|20px|link=]] '''Power'''

+

  |style="background:#"|[[File:6a6145fb.png|20px|link=]] '''Power'''

 

  |<center>800</center>

 

  |<center>800</center>

 

  |<center>1 400</center>

 

  |<center>1 400</center>

 

  |<center>1 500</center>

 

  |<center>1 500</center>

 

  |-

 

  |-

−

  |style="background:#2b2b2b"|'''Overdrive charge per battle point (%)'''

+

  |style="background:#"|'''Overdrive charge per battle point (%)'''

 

  |<center>0.7</center>

 

  |<center>0.7</center>

 

  |<center>0.5</center>

 

  |<center>0.5</center>

 

  |<center>0.6</center>

 

  |<center>0.6</center>

 

  |-

 

  |-

−

  |style="background:#2b2b2b"|'''Overdrive charge per second (%)'''

+

  |style="background:#"|'''Overdrive charge per second (%)'''

 

  |<center>0.7</center>

 

  |<center>0.7</center>

 

  |<center>0.8</center>

 

  |<center>0.8</center>
---
Revision as of 22:29, 14 May 2021
Sometimes, you just need to park in place and lay waste to anyone who approaches you. Other times, you need to take many hits on a long journey that isn't too time-sensitive. And still other times, you simply need a tank-sized brick to impede the movement and shots of your enemies. For all of these, a heavy hull is the tool of choice, but which one is best for you? Read on to learn about these three intimidating hulls.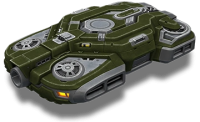 Thanks to the never-ending work of its ion engines, the Ares hull - the first of its kind - can hover over the ground at a low altitude. When Ares is placed under enemy fire, it tries to return itself to a stable position, making it essentially impossible to flip - even more so than the other heavy hulls.
Ares is the fastest hull among the three heavy hulls, but it is also the lightest one, meaning that it can be pushed or blocked easily by a Titan or a Mammoth. Howsoever, Ares can still push away medium or light tanks and remain stable under fire. Its overdrive allows it to travel in a straight line with near invincibility and takes out enemies that get in the way.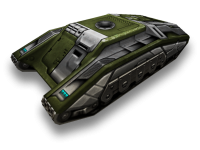 Though far from representing aesthetic perfection, Titan can be very dangerous. Titan's specialty is defending positions - whether a crowded base or an open central area, but thanks to its decent speed, it can travel reasonably well also. When fitted with long-range or medium-range weapons, Titan can be a terrific defending tank - a role that its protective dome overdrive suits perfectly.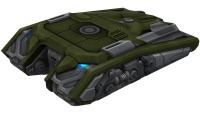 Mammoth is incredibly slow, but deadly when paired with weapons that don't require speed to hit enemies. Its weight and power are unparalleled, and make the hull uniquely well-suited to defending a small area. Its dangerous and fast-charging overdrive, though very short range, furthers this hull's ability to function as a bastion for your team's base.
Comparison
Before inspecting each tank's statistics, I'm going to also review in brief how these tanks perform in the field through personal experience and through the experience of other tankmen who have played them.
Ares is the hull of choice for those who like to carry a lot of HP on the move. Though its handling and collision performance fall noticeably short of those of the other heavy hulls, its high speed (which complements its traveling overdrive ball very well) makes up for that in the eyes of many tankers.
Titan offers an excellent balance for the heavy hull user - it has an intermediate speed, and a solid combination of weight, power, and maneuverability (to the extent that any heavy hull has any maneuverability). Its overdrive, while offensively not particularly useful, allows it and its teammates to command an area and survive bombardment with ease.
Mammoth is the king of camping: whether it's peeking out from behind a wall to snipe enemies at a distance or parking on top of a base to prevent the passage of enemies, Mammoth is as solid as you can get. Its overdrive is a useful emergency tool for taking out nearby enemies, but don't count on chasing them down if they get away.
All in all, you can be successful with any heavy hull - it just depends on your style and your goals in the battle.
Side-by-side comparison of heavy hull's stats
For a head-to-head comparison, we'll use the maxed out stats of the hulls, as they're the most balanced that way (Mk7s all have the same price and unlock rank) and that's where your hulls will eventually end up anyway. If you'd like more details on the stats of other modifications, check out the individual hull pages, but the balance between hulls follows the patterns you see here at Mk7+ very closely.
| Heavy Hulls | Ares | Titan | Mammoth |
| --- | --- | --- | --- |
| Protection (hp) | 4 000 | 4 000 | 4 000 |
| Top Speed (m/sec) | 7.00 | 6.50 | 6.00 |
| Acceleration (m/sec²) | 8.00 | 14.00 | 15.00 |
| Reverse acceleration (m/sec²) | 11.00 | 19.00 | 12.00 |
| Lateral Acceleration (m/sec²) | n/a | 20.00 | 25.00 |
| Max turning speed (deg/sec) | 50 | 90 | 90 |
| Turning acceleration (deg/sec²) | 120 | 90 | 90 |
| Anti-inertial turn accel. (deg/sec²) | 360 | 360 | 360 |
| Weight | 3 600 | 3 800 | 4 000 |
| Power | 800 | 1 400 | 1 500 |
| Overdrive charge per battle point (%) | 0.7 | 0.5 | 0.6 |
| Overdrive charge per second (%) | 0.7 | 0.8 | 1.3 |