Guide to playing in Sandbox effectively
From Tanki Online Wiki
About Sandbox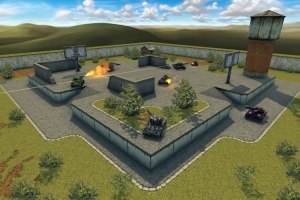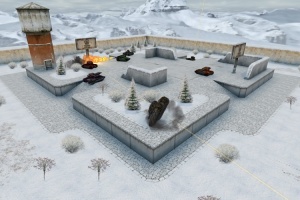 Overview: This is the classic XP/BP map. It is a very popular map for all ranks and is mainly used for 1v1, 2v2, 3v3 and 4v4 XP/BP battles at higher ranks. It is a very common map around the Warrant Officer ranks, dominating the battle list. Sandbox now supports Night mode, which is only available on a few maps.


Battle Modes: DM, TDM, CTF, CP


Size: 8 players, 4 vs 4


Tactics
DM
Try stay out of the middle, unless you are collecting drugs or going into kill someone. Use the walls, bushes and house in the corner as cover. As always, target the weakest player.
TDM
Use the walls, trees (bushes) and house to your advantage. Use high damage turrets such as Hammer, Railgun, Firebird and Smoky with an Isida backing up the attack. Try keep your distance and only go into their base if you are sure to get a few kills.
CTF
Like every other map, the key to winning a Sandbox CTF is teamwork and co-ordination. Its best to have an attacking line up rather than holding back in defence
CTF XP/BP
You have to know what you and your teammates are doing. The key to winning XP/BP battles on sandbox is a structured and smart line up. Generally put the best players in attack, preferably wasps. With the less experienced players attempting to dominate the midfield.
CP
Go Heavy. The easy way to get the points ticking up is to get hulls with heaps of armour partnered with Freeze, Firebird (can damage multiple enemies at once), Isida (Heals itself while damaging, which makes it very hard to kill. As well as healing teammates), Hammer, Thunder, Ricochet or Twins
Recommended Equipment
DM
Twins, Smoky, Hammer, Freeze, Ricochet or Firebird
Mammoth, Dictator, Viking or Titan
TDM
Railgun, Ricochet, Hammer, Firebird or Isida
Viking, Dictator, Titan or Mammoth
CP
Twins, Hammer, Freeze, Firebird or Isida
Mammoth, Titan, Dictator or Viking
CTF
Twins, Ricochet, Hammer, Freeze, Firebird, Thunder or Isida
Wasp, Hornet, Hunter, Viking