Guide to playing in Osa effectively
From Tanki Online Wiki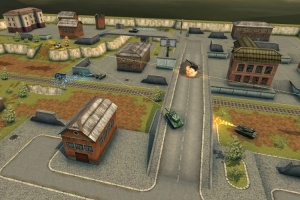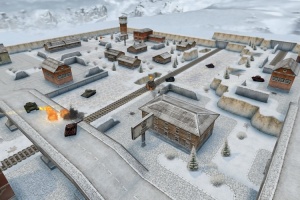 About Osa

Overview: Osa isn't a very popular map. You'd be very lucky to see an active battle at any rank. It is quite popular for parkour as it contains many hard-to-conquer buildings.
Battle Modes: DM, TDM, CTF, CP
Size: 20 players, 10 vs 10

Tactics
DM/TDM
Osa is quite a large map. There are many different spots that suit different combos. No turret or hull majorly stands out in every position but there are a few that are very strong in certain parts of the map.
Hammer and Wasp – Hammer + Wasp is incredibly strong due to the massive damage output by Hammer, the great reload time and the insane speed. This combo suits the narrow/close quarter parts of the map. Supplies will significantly help while using this combo.
Railgun and Hornet – The typical Tanki combo. Hornet and Railgun's strength comes from its infinite range, high damage per shot and high agility. This combo is best suited to the sides of Rio (Beach and Houses). While using this combo, you will want to focus on the enemies that are already battling other players as you will most likely be able to steal a kill.
Viking and Firebird – This combo is seen less often than the others. Viking has great armor and speed so it can dominate basically anywhere. As for damage, trust Firebird to finish off any enemy it comes up against. This is best suited to the middle buildings as most of the time only short ranged combat happens there. You will have to be careful of Railguns trying to shoot you from the sides as well.
CTF
Both bases in Osa are open to many different paths of attack. You will need to have more than one person in defense. A short-medium ranged turret and heavy hull and an Isida with a medium hull will generally do the trick. This will help you stay alive in strong attacks. Don't forget to place mines as well. Just don't overdo it as one death will destroy all those precious mines. As for attacking, you will want to take the path that has the best cover to get to the flag, but the quickest path back to the base. It's recommended that you use Hornet or Wasp as the other 3 hulls just don't quite have the speed needed to get in and out with the flag and outrun the other team if needed. Any turret can perform well; it just depends on what you are comfortable with and what you are trying to do. For example, Firebird and Hammer are great for clearing the area around the flag, Ricochet is good for attacking from behind cover and Freeze is best for slowing down the defense to prevent them from being able to catch the flag carrier.
CP
Hornet or Wasp is great for getting to those control points that are closer to the enemy base. When partnered with a powerful turret, such as Firebird or Hammer, you become both fast and extremely deadly. Viking is good for hunting down points that are in open spaces as it can take a few hits as well as being basically impossible to flip. Viking is best mounted with a medium turret like Smoky, Striker or Ricochet as it can help out attackers while still being covered. Long range turrets can be used to attack enemies from the safety of your base as well. These are best on heavy or medium hulls.

Recommended Equipment
DM/TDM
Firebird, Freeze, Hammer, Striker, Thunder, Magnum, Railgun or Shaft.
Wasp, Hornet, Viking, or Titan.
CTF
Firebird, Freeze, Isida, Hammer, Striker, Thunder, Smoky, Magnum or Railgun.
Wasp, Hornet, Viking or Titan.
CP
Firebird, Freeze, Isida, Hammer, Striker, Thunder, Smoky, Ricochet or Railgun.
Wasp, Hornet, Hunter or Viking.