Guide to playing in Brest effectively
From Tanki Online Wiki
About Brest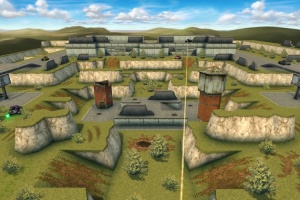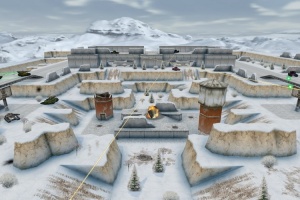 Overview: Brest is a popular map at the lower ranks, although there's no way for it to be found up above, unless organised with friends.
Battle Modes: DM, TDM, CTF CP
Size: 24 players, 12 vs 12

Tactics
DM/TDM
The most viable strategy is to equip Magnum, Shaft or Railgun, make your way to the top, which is an excellent vantage point, and pick off enemies to your heart's content. Since this strategy is very practical, you can also use a turret that damages multiple opponents, such as Firebird, Freeze and Thunder to effectively sneak up on them and take them out. The bottom of the map is cramped, which enables you to nab some kills in this territory with closer range turrets, although this is situational, as the bottom is avoided; otherwise, people become fodder for enemies up above. In addition to this, this strategy is inferior to campers up above - they can take you and your target on; and that doesn't work both ways. As I said, a Magnum will be able to effectively remain behind cover and keep shooting across the whole map.
CTF
Camping with Magnum, Shaft or Railgun is still a decent strategy, although a bit more one-dimensional in this gamemode, as it can only be an effective defender. Those looking to provide that offensive presence will almost definitely need protection from Shaft and Railgun, in order for it to go off without a hitch, although if that isn't an option, you can sneak up and take them out before taking the flag. Bearing in mind these campers will most likely be equipped with heavier hulls, it will take them time to reach their vantage points again, leaving them open to fire from your team's campers, on the assumption you have them, of course. They will be able to take the hit, but that leaves them at a disadvantage. If you're using Magnum, make sure you prioritize the enemies heading for your base first, then their base.
CP
There are seven control points in Brest; as such, some of these will be neglected, so you can potentially use a light hull to capture the neglected points, although it's possible for you to be picked off by camping Shafts and Railguns in the process - be wary of that. Of course, you can still be that camper, although you won't be as much of an asset when it comes to winning, in this case, since the kills you rack up aren't as significant. Though a Striker will have trouble hitting people, a Magnum could possibly deliver precise shots right into a swarm of enemies, taking them all out.
Recommended Equipment
DM/TDM
Railgun, Shaft, Firebird, Freeze, Magnum and Thunder
Mammoth, Titan and Viking
CTF
Railgun, Shaft, Firebird, Freeze, Magnum and Thunder
Mammoth, Titan, Viking, Hornet and Wasp
CP
Railgun, Shaft, Firebird, Freeze, Magnum and Thunder
Mammoth, Titan, Viking, Hornet and Wasp