Gold Box
From Tanki Online Wiki
(Difference between revisions)
m

Line 1:
Line 1:
 

[[File:box_g.png|right|150px|link=]]

 

[[File:box_g.png|right|150px|link=]]

−

'''Gold Box'''  - This is a bonus that is dropped during a battle. It awards the player 1000 [[Crystals|crystals]]. There are drop zones for Gold Boxes on almost every [[Maps|map]]. Most maps have several drop zones. Originally the Gold Box was dropped when battle the fund reached 700 crystals. Since Update 1.78.0 it can now appear in a battle with any fund size. The probability is 1 in 700.

+

'''Gold Box'''  - This is a bonus that is dropped during a battle. It awards the player 1000 [[Crystals|crystals]]. There are drop zones for Gold Boxes on almost every [[Maps|map]]. Most maps have several drop zones. Originally the Gold Box was dropped when battle the fund reached 700 crystals. Since Update 1.78.0 it can now appear in a battle with any fund size. The probability is 1 in .

 
 
 

==Timeline of Events==

 

==Timeline of Events==
---
Revision as of 11:30, 14 September 2014
Gold Box - This is a bonus that is dropped during a battle. It awards the player 1000 crystals. There are drop zones for Gold Boxes on almost every map. Most maps have several drop zones. Originally the Gold Box was dropped when battle the fund reached 700 crystals. Since Update 1.78.0 it can now appear in a battle with any fund size. The probability is 1 in 7000.
Timeline of Events
03.12.2009 Appearance of Gold Box with 1000 crystals.
11.12.2009 Gold Box value is decreased to 100 crystals.
04.06.2010 Drop zones for Gold Boxes are added to all maps.
19.07.2011 "Secret Gold" is launched.
28.02.2012 Only one drop zone is left in Massacre map.
08.03.2012 Notification for catching Gold Box is added.
26.04.2012 Gold Box drop logic is changed. Now it can appear at any battle fund size.
18.05.2012 For the first time (after Massacre) several drop zones are added to some maps: 2042, Boombox, Garder, Sandbox, Silence, Silence 2, Zone.
31.05.2012 Additional drop zones are added to Polygon, Sandal, Short Bridge, Madness, Iran.
08.06.2012 Gold Box value is temporarily increased because of Euro 2012.
30.10.2012 Halloween 2012. Gold Box value on Halloween map is 305 crystals.
13.02.2013 Gold Box value is multiplied by 10 times (1000 crystals) due to changes in game economics.
The Story of the Gold Box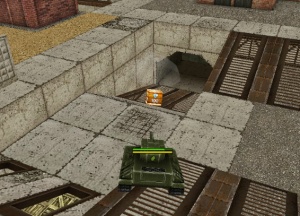 The community heard of the appearance of an unusual box with crystals on December 3rd, 2009. It was announced in the Tanki Online blog, that on several maps, the Gold Box would appear once the battle fund reached a set number of crystals. The Gold Box instantly became the main topic of discussion in chats and in the forum. Tankmen were sharing opinions and ideas for days. The lucky ones were posting screenshots as proof of the fact that they caught a Gold Box. Over time, people started to understand when and where Gold Boxes would fall.
Originally the box contained 1000 crystals. Back in the day, this was a significant amount, especially for the lower ranks, and those who managed to get a gold were extremely happy. However, there were players, mostly buyers, who wanted the value of the box to be lowered. The main argument was that for that time 1000 crystals was a huge amount of crystals for buying weapons and paints. So why should one buy crystals if he or she can just catch Gold Boxes.
The 1000 Gold Box only lasted a week. On December 11 2009, developers decreased its value to 100 crystals.
Goldhunters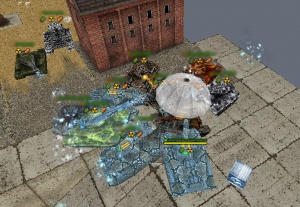 Within a few months from its first appearance, almost every player knew where and when the gold box would appear. The game seemed to have changed. Battles changed completely when their fund got close to 700 (or 1400) crystals. Many players that were hoping to catch a gold were starting to move closer and closer to the drop zone. Teams tried to get control over that particular area to increase their chances of getting 100 crystals. Activating all the supplies several minutes before the drop was a normal thing. Some say that there was no point is that as the amount of supplies spent often went over 100 crystals but no one cared about that. The reason is sheer pleasure and adrenaline.
Actually, introduction of Gold Box kept many of players who weren't interested in gameplay in the game. For many of them Tanki Online was just catching Gold Boxes, and number of these players was constantly increasing.
Many players abandoned their main accounts and started second ones specifically for catching Gold Boxes and spending crystals on upgrades. Nicknames like "GOLDHUNTER" and "GOLD_IS_MINE" were quite common. Not every beginner knew of Gold Boxes so it was quite easy for these mults to catch it. The only problem was smaller battle funds. So the process of search was quite challenging.
Videos:
| | |
| --- | --- |
| The media player is loading... | The media player is loading... |
Secret Gold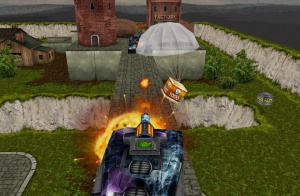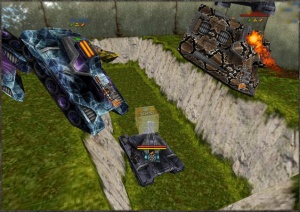 This special event took place from July 20 to 26, 2011. A 1000 crystals Gold Box was dropped on one of the maps with a specific battle fund. Players had one week to find out which map it was. The thing was that the box was dropped when the battle fund went to 1000, 2000 and so on.
The number of forum topics dedicated to Gold Boxes sky-rocketed. Players shared their opinions, especially talented ones were making fake screenshots of new boxes. Many assumed that the box will be dropped on less popular maps. Players started to form teams of goldhunters to check long forgotten maps.
By the end of the first day first theories began to emerge. "Maybe Molotov?". Many waited till battle fund went over 800, saw a usual 100 crystals box and left. Someone even posted a pic of a 1000 Gold Box and the exact place where it was dropped. People started to check Molotov. They were right. It became obvious to everyone as after the planned morning restart of servers, most of the maps made were Molotov ones. The secret was revealed. Now the goal was simple - to catch the Gold Box.
It wasn't that simple. First of all, players had to get a 1000 crystals battle fund. Considering the fact that the map was a 5 vs 5 one (or 10 players in DM), it was really hard to get that kind of fund, even harder for beginners. Playing with high ranks was problematic as well. M3 Mammoths with premium paints and tons of supplies left almost no chance to the rest of the players.
Video:
| | |
| --- | --- |
| The media player is loading... | The media player is loading... |
Euro 2012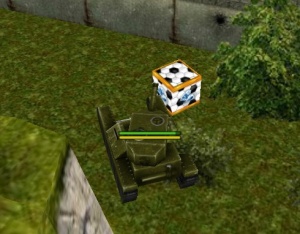 Value of gold boxes was increased due to The 2012 UEFA European Football Championship. This time it was done several times.
| | | | |
| --- | --- | --- | --- |
| June 8-20 | June 21-26 | June 27-30 | July 1 |
| 200 crystals | 300 crystals | 400 crystals | 500 crystals |
Battle became even more intense, the number of gold-hunters in the game increased sharply. The gold itself looked like a football.
More than 330,000 Gold Boxes were dropped from June 8 to July 1. Their total value was more than 90 million crystals. The whole thing ended on July 2. Gold Boxes went back to normal, right after the planned morning server restart.
Football Gold:
The media player is loading...