Flame
From Tanki Online Wiki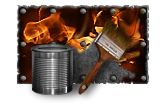 Description
A special paint for administrators.
Fire is destructive, unstoppable and it's always moving like administrators who easily change their location, from chats to forum and PM. They are everywhere. Only those who overcome their fear of fire can tame it. TO Admins can and this. The Flame coating is mixed from the hot tears of violators and the cheaters' bones crushed into fiery powder, sealed with fiery thanks from the players, instills fear and respect on the battlefields.

Attention!
This paint is only issued to Administrators managing the groups of helpers. Players who leave the position lose the paint.
Rarity
✹ Special
Interesting Facts
The author of the paint is JVdragobomba.
List of paint owners:
EN
theFiringHand
Marcus
Defender
Hate
Maf
Ninja
Goges.Enze
SuperNick95
MarTiin
Sia
Flexoo
kaisdf
Mr.Kenan
Stratosphere
RU
antonbelovodskij
Dance_Commander
DMITRIY55
F.O.R.T.U.N.A
Flanagun
GorkyTX
GVA
KishkoparovAlexey
manturov
neismit
plombirka
Yele
DE
Alexandra.Vladi
Sergeant_Tom
Tani_S
FelRigge63
Torben_BoS
Chains.of.Pain
II.Salvator.II
PL
yetj
DEMONEKxD
Oliver
The.Hidden.Enemy
Appearance