From Tanki Online Wiki
m

Line 14:
Line 14:
 

*'''Range of max damage (m)''' — The distance at which the turret deals its full damage. If the distance is greater than the max damage range, the damage constantly decreases until a tank passes the minimum damage range.

 

*'''Range of max damage (m)''' — The distance at which the turret deals its full damage. If the distance is greater than the max damage range, the damage constantly decreases until a tank passes the minimum damage range.

 

*'''Range of min damage (m)''' — The distance at which the turret's damage reaches zero and stops decreasing.

 

*'''Range of min damage (m)''' — The distance at which the turret's damage reaches zero and stops decreasing.

−

*'''Burning time (sec)''' — The period of time, starting from the moment when Firebird's attack desists, that the enemy tank suffers from afterburn and receives burning damage.

+

*'''Burning time (sec)''' — The period of time, starting from the moment when Firebird's attack , that the enemy tank suffers from afterburn and receives burning damage.

 

*'''Temperature limit''' — The maximum temperature that an enemy tank can be heated to. This affects burning time and burning damage.

 

*'''Temperature limit''' — The maximum temperature that an enemy tank can be heated to. This affects burning time and burning damage.

 

*'''Reload time (sec)''' — The total required time in seconds to replenish Firebird's energy if it has been completely exhausted.

 

*'''Reload time (sec)''' — The total required time in seconds to replenish Firebird's energy if it has been completely exhausted.

 

*'''Amount of energy''' — The total amount of energy that can be expended for shooting.

 

*'''Amount of energy''' — The total amount of energy that can be expended for shooting.

 

*'''Energy consumption (eng/sec)''' — The amount of energy used per second if Firebird is used continuously.

 

*'''Energy consumption (eng/sec)''' — The amount of energy used per second if Firebird is used continuously.

−

*'''Min burning damage (HP/sec)''' — The minimum extra damage dealt to an enemy tank per second that occurs due to heating of enemy's hull. At the moment of shooting, basic damage and burning damage are summed up. The more time you spend attacking an enemy, the higher the burning damage.

 
−

*'''Max burning damage (HP/sec)''' — The maximum extra damage dealt to an enemy tank per second that occurs due to heating of enemy's hull. At the moment of shooting, basic damage and burning damage are summed up. The more time you spend attacking an enemy, the higher the burning damage.

 
 

*'''Heating rate (temp/sec)''' — The increase in an enemy tank's temperature per second.

 

*'''Heating rate (temp/sec)''' — The increase in an enemy tank's temperature per second.

−

*'''Cooling rate (temp/sec)''' — The time it takes for an enemy tank to return to its normal temperature after being fully heated. The tank receives steadily decreasing burning damage during this period.

 
 

*'''Cone angle (deg)''' — The conic, outward range in degrees that the flame spreads from the tip of the turret. Damage can not be dealt to an opponent outside of this cone.<br><br><br>

 

*'''Cone angle (deg)''' — The conic, outward range in degrees that the flame spreads from the tip of the turret. Damage can not be dealt to an opponent outside of this cone.<br><br><br>

 

{|class="wikitable" border="1"

 

{|class="wikitable" border="1"

Line 86:
Line 83:
 

  |-

 

  |-

 

  |style="background:#2b2b2b"|[[File:03ef3ff7.png|20px|link=]] '''Burning time (sec)'''

 

  |style="background:#2b2b2b"|[[File:03ef3ff7.png|20px|link=]] '''Burning time (sec)'''

−

  |<center>2</center>

+

  |<center></center>

−

  |<center>5.71</center>

+

  |<center>.</center>

−

  |<center>12.06</center>

+

  |<center>12.</center>

−

  |<center>16.82</center>

+

  |<center>16.</center>

 

  |<center>20</center>

 

  |<center>20</center>

 

  |-

 

  |-

Line 102:
Line 99:
 

  |-

 

  |-

 

  |style="background:#2b2b2b"|[[File:7dcd6fc2.png|20px|link=]] '''Reload time (sec)'''

 

  |style="background:#2b2b2b"|[[File:7dcd6fc2.png|20px|link=]] '''Reload time (sec)'''

−

  |<center>6.024</center>

+

  |<center>6</center>

−

  |<center>6.024</center>

+

  |<center>6</center>

−

  |<center>6.024</center>

+

  |<center>6</center>

−

  |<center>6.024</center>

+

  |<center>6</center>

−

  |<center>6.024</center>

+

  |<center>6</center>

 

  |-

 

  |-

 

  |style="background:#2b2b2b"|'''Amount of energy'''

 

  |style="background:#2b2b2b"|'''Amount of energy'''

Line 121:
Line 118:
 

  |<center>200</center>

 

  |<center>200</center>

 

  |<center>200</center>

 

  |<center>200</center>

−

|-

 
−

|style="background:#2b2b2b"|'''Min burning damage (HP/sec)'''

 
−

|<center>1</center>

 
−

|<center>1</center>

 
−

|<center>1</center>

 
−

|<center>1</center>

 
−

|<center>1</center>

 
−

|-

 
−

|style="background:#2b2b2b"|'''Max burning damage (HP/sec)'''

 
−

|<center>30</center>

 
−

|<center>30</center>

 
−

|<center>30</center>

 
−

|<center>30</center>

 
−

|<center>30</center>

 
 

  |-

 

  |-

 

  |style="background:#2b2b2b"|'''Heating rate (temp/sec)'''

 

  |style="background:#2b2b2b"|'''Heating rate (temp/sec)'''

Line 142:
Line 125:
 

  |<center>0.2</center>

 

  |<center>0.2</center>

 

  |<center>0.2</center>

 

  |<center>0.2</center>

−

|-

 
−

|style="background:#2b2b2b"|'''Cooling rate (temp/sec)'''

 
−

|<center>0.05</center>

 
−

|<center>0.05</center>

 
−

|<center>0.05</center>

 
−

|<center>0.05</center>

 
−

|<center>0.05</center>

 
 

  |-

 

  |-

 

  |style="background:#2b2b2b"|'''Cone angle (deg)'''

 

  |style="background:#2b2b2b"|'''Cone angle (deg)'''
---
Revision as of 09:45, 26 November 2016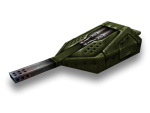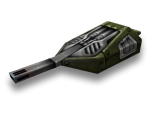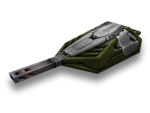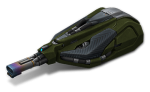 Firebird deals damage through both a jet of flame and the resulting burn that occurs upon contact, capable of ailing opponents even after the weapon has stopped firing. Firebird, like Freeze, can deal damage to several tanks within close proximity simultaneously. For a novice player, the main advantage of Firebird is that aim isn't really necessary; all that is required is to point the stream of fire in the general direction of a foe.


Description in Garage
A good weapon for short-range battle. Fires a stream of napalm that burns tanks within its damage radius. Burning opponents continue to take damage even after the Firebird's attack stops. Can thaw frozen tanks and is a great choice for fast and medium hulls.


Table of characteristics
Damage (HP/sec) — The amount of damage dealt to an enemy tank per second.
Rotation speed (deg/sec) — This is the maximum speed that the turret can rotate at.
Rotation acceleration (deg/sec²) — The acceleration of the turret reaching its maximum rotation speed.
Range of max damage (m) — The distance at which the turret deals its full damage. If the distance is greater than the max damage range, the damage constantly decreases until a tank passes the minimum damage range.
Range of min damage (m) — The distance at which the turret's damage reaches zero and stops decreasing.
Burning time (sec) — The period of time, starting from the moment when Firebird's attack begins, that the enemy tank suffers from afterburn and receives burning damage.
Temperature limit — The maximum temperature that an enemy tank can be heated to. This affects burning time and burning damage.
Reload time (sec) — The total required time in seconds to replenish Firebird's energy if it has been completely exhausted.
Amount of energy — The total amount of energy that can be expended for shooting.
Energy consumption (eng/sec) — The amount of energy used per second if Firebird is used continuously.
Heating rate (temp/sec) — The increase in an enemy tank's temperature per second.
Cone angle (deg) — The conic, outward range in degrees that the flame spreads from the tip of the turret. Damage can not be dealt to an opponent outside of this cone.



М0

М1

М2

М3

М3+

Available from

Recruit

Master Sergeant

Major

Marshal

Micro-upgrades

Price of Modification

150

+7 100

+94 600

+232 150

+911 750

Alterations

Upgradable Parameters

Damage (HP/sec)

280

395.29

592.94

708.24

840

Rotation speed (deg/sec)

90

108.53

140.29

158.82

180

Rotation acceleration (deg/sec²)

90

108.53

140.29

158.82

180

Range of max damage (m)

5

6.03

7.79

8.82

10

Range of min damage (m)

17

18.65

21.47

23.12

25

Burning time (sec)

4

7.3

12.9

16.2

20

Temperature limit

0.2

0.36

0.65

0.81

1

Non-upgradable Parameters

Reload time (sec)

6

6

6

6

6

Amount of energy

1 000

1 000

1 000

1 000

1 000

Energy consumption (eng/sec)

200

200

200

200

200

Heating rate (temp/sec)

0.2

0.2

0.2

0.2

0.2

Cone angle (deg)

20

20

20

20

20