Eternity
From Tanki Online Wiki
(Difference between revisions)
 

Line 7:
Line 7:
 

It was available in the shop only on October 31<sup>st</sup>, 2015.

 

It was available in the shop only on October 31<sup>st</sup>, 2015.

 
 
 
+
 
+
 
+
 

===Price===

 

===Price===

−

 
 

From [[File:IconsPremium_04.png|link=Ranks#Corporal|20px]] [[Ranks#Corporal|Corporal]] to [[File:IconsPremium_10.png|link=Ranks#Sergeant-Major|20px]] [[Ranks#Sergeant-Major|Sergeant-Major]] - '''50 000''' [[File:crystal.png|link=]]

 

From [[File:IconsPremium_04.png|link=Ranks#Corporal|20px]] [[Ranks#Corporal|Corporal]] to [[File:IconsPremium_10.png|link=Ranks#Sergeant-Major|20px]] [[Ranks#Sergeant-Major|Sergeant-Major]] - '''50 000''' [[File:crystal.png|link=]]

 
 
Line 16:
Line 18:
 
 
 

From [[File:IconsPremium_23.png|link=Ranks#Brigadier|20px]] [[Ranks#Brigadier|Brigadier]] to [[File:IconsPremium_30.png|link=Ranks#Generalissimo|20px]] [[Ranks#Generalissimo|Generalissimo]] - '''500 000''' [[File:crystal.png|link=]]

 

From [[File:IconsPremium_23.png|link=Ranks#Brigadier|20px]] [[Ranks#Brigadier|Brigadier]] to [[File:IconsPremium_30.png|link=Ranks#Generalissimo|20px]] [[Ranks#Generalissimo|Generalissimo]] - '''500 000''' [[File:crystal.png|link=]]

 
+
 
+
 
+
 
 
 
+
 

===Available At===

 

===Available At===

 
 
Line 22:
Line 28:
 
 
 

'''''However, this paint is still achievable by getting one from opening [[Containers]].'''''

 

'''''However, this paint is still achievable by getting one from opening [[Containers]].'''''

 
+
 
 
 

=== Appearance ===

 

=== Appearance ===

 
 
−

[[File:Eternity_paint.png|500px|link=]]

+

Eternity_paint.png|500px|link=

 

[[Category:Paints]]

 

[[Category:Paints]]
---
Latest revision as of 02:27, 27 September 2019
Description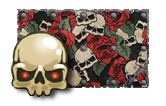 An extremely rare paint which could only be purchased by players with an active Premium Account. Having it equipped will make your tank look like a real rock star.
It was available in the shop only on October 31st, 2015.
Price

From Corporal to Sergeant-Major - 50 000

From Warrant Officer 1 to Warrant Officer 5 - 100 000

From Third Lieutenant to Colonel - 250 000

From Brigadier to Generalissimo - 500 000

Rarity

Epic
Available At

Corporal (No longer available.)
However, this paint is still achievable by getting one from opening Containers.
Appearance