Dictator
From Tanki Online Wiki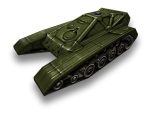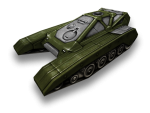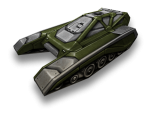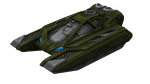 Description in Garage
Because of its improved active defence system and usage of the newest composite materials, Dictator's armour effectively absorbs energy from the impact of almost any calibre gun. With Dictator you can fight on the front line of any battle. While it is one of the fastest and best protected hulls in the game, Dictator is also large, which makes it an easy target.
Table of characteristics

Protection (hp) — the tank's health. Damage dealt by a turret is subtracted from a tank's protection. Once the protection drops to zero, the tank is destroyed.
Weight — affects the tank's stability, i.e. impact force of hits, recoil of its own turret, and partly, ability to move other tanks (this parameter does not affect the tank's speed).
Top speed (m/sec) — maximum speed the tank can reach while moving in a straight line.
Acceleration (m/sec²) — affects the time it takes a tank to reach its maximum speed, as well as its ability to push other tanks.
Reverse acceleration (m/sec²) — anti-inertial acceleration that comes into force when a tank is moving in one direction and the player presses the button for moving in the other direction. It is in effect until the speed drops to zero. After that, normal acceleration becomes active again.
Lateral acceleration (m/sec²) — responsible for damping of lateral speed. The smaller this parameter, the easier it is for the tank to drift. A higher Lateral Acceleration makes it more difficult for the tank to move sideways.
Turning speed (deg/sec) — the maximum speed at which the tank can turn.
Turning acceleration (deg/sec²) — affects the time it takes a tank to get to its maximum turning speed.
Anti-inertial turning acceleration (deg/sec²) — works like reverse acceleration but for left-right turns instead of moving forward/backwards.
| | | | | | |
| --- | --- | --- | --- | --- | --- |
| | М0 | М1 | М2 | М3 | М3+ |
| Available from | Private | Warrant Officer 3 | First Lieutenant | Generalissimo | Micro-upgrades |
| Price of modification | 200 | +26 700 | +81 800 | +223 000 | +869 803 |
| Full price | 200 | 26 900 | 108 700 | 331 700 | 1 201 503 |
| Protection (hp) | 105,8824 | 170,5882 | 200,0000 | 270,5882 | 300,0000 |
| Weight | 2 038,2353 | 2 458,8235 | 2 650,0000 | 3 108,8235 | 3 300,0000 |
| Top speed (m/sec) | 6,0735 | 6,8824 | 7,2500 | 8,1324 | 8,5000 |
| Acceleration (m/sec²) | 9,1765 | 11,1176 | 12,0000 | 14,1176 | 15,0000 |
| Reverse acceleration (m/sec²) | 11,2353 | 13,8235 | 15,0000 | 17,8235 | 19,0000 |
| Lateral acceleration (m/sec²) | 8,2353 | 10,8235 | 12,0000 | 14,8235 | 16,0000 |
| Turning speed (deg/sec) | 66,3235 | 80,8824 | 87,5000 | 103,3824 | 110,0000 |
| Turning acceleration (deg/sec²) | 100,8824 | 110,5882 | 115,0000 | 125,5882 | 130,0000 |
| Anti-inertial turning acceleration (deg/sec²) | 182,9412 | 215,2941 | 230,0000 | 265,2941 | 280,0000 |