From Tanki Online Wiki
m

m (((ME)) Old info and typos)

Line 15:
Line 15:
 

[[File:Shop004.jpg|260px|link=]]<br><br>

 

[[File:Shop004.jpg|260px|link=]]<br><br>

 

After you confirm the purchase, you will be charged the number of required crystals and the selected item will appear in your Garage.

 

After you confirm the purchase, you will be charged the number of required crystals and the selected item will appear in your Garage.

 
+
 
 
 

==How to get crystals==

 

==How to get crystals==

Line 29:
Line 30:
 

<br>Crystals rewarded in [https://en.tankiwiki.com/Matchmaking_System matchmaking battles] are awarded according to your and your team's performance. During [https://en.tankiwiki.com/PRO_Battles PRO battles], you can see battle fund, determined by the number of tanks destroyed and points scored, in the bottom-right corner of the screen:<br><br>

 

<br>Crystals rewarded in [https://en.tankiwiki.com/Matchmaking_System matchmaking battles] are awarded according to your and your team's performance. During [https://en.tankiwiki.com/PRO_Battles PRO battles], you can see battle fund, determined by the number of tanks destroyed and points scored, in the bottom-right corner of the screen:<br><br>

 

[[File:Crystals5.png|link=]]

 

[[File:Crystals5.png|link=]]

 
+
 
 
 

=== Missions ===

 

=== Missions ===

Line 35:
Line 37:
 
 
 

Apart from the rank-up special misson, sometimes during events, special missions will appear that can reward crystals. If you have a premium account, there is a special mission every day that allows you to claim 2500 crystals.

 

Apart from the rank-up special misson, sometimes during events, special missions will appear that can reward crystals. If you have a premium account, there is a special mission every day that allows you to claim 2500 crystals.

 
+
 
 
 

=== Challenges ===

 

=== Challenges ===

Line 40:
Line 43:
 

Every two weeks, a new challenge begins. Some of reward tiers include crystals.

 

Every two weeks, a new challenge begins. Some of reward tiers include crystals.

 
 
−

=== Taking part in [[Contests|contests]]===

+

 

 
+

=== Taking part in Contests===

 
+
 

The administration regularly organizes contests which you can take part in and win prizes. Follow the news!

 

The administration regularly organizes contests which you can take part in and win prizes. Follow the news!

 
+
 
 
 

=== Obtaining crystals in the Shop ===

 

=== Obtaining crystals in the Shop ===

Line 52:
Line 58:
 

[https://tankionline.com/en/crystals/ How to purchase crystals]

 

[https://tankionline.com/en/crystals/ How to purchase crystals]

 
 
−

=== From Containers ===

 
−

Crystals can be obtained as a reward from nearly all types of [[Containers]].

 
 
 
 

=== Getting crystals for ranks ===

 

=== Getting crystals for ranks ===

Line 60:
Line 64:
 
 
 

[[File:referals_new_en.jpg|771px|link=]]

 

[[File:referals_new_en.jpg|771px|link=]]

 
+
 
 
 

=== Obtaining Them From Containers ===  

 

=== Obtaining Them From Containers ===  

−

When opening a [[Containers|Container]], Coinbox, Skin Container, or Ultra Container, there is a chance that you may just receive crystals. [https://en.tankiwiki.com/Missions#Weekly_Containers Weekly Containers] always contain crystals.

+

{{main|}}

−

 

+

, crystals.

−

===System of referral links===

 
−

{{main | Referral links}}

 
−

Referrals are players that you invited into the game.

 
−

 

 
−

You get crystals when your referrals rank up. Also, you get 10% of the number of crystals they buy in the game.

 
 
 
−

Note: Referral links no longer work, though any referrals you got before the conversion of the game to HTML5 will continue to give you crystals.

 
 
 
 

== Interesting Facts ==

 

== Interesting Facts ==
---
Revision as of 01:23, 16 May 2021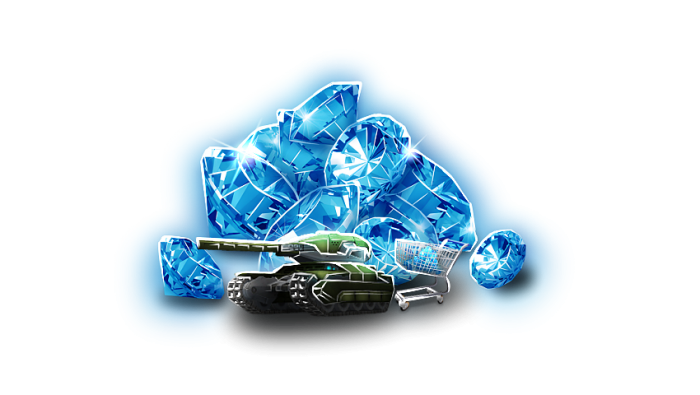 Crystals: the in-game currency
Crystals are the game's primary unit of currency. Currently, crystals are used to buy and upgrade hulls, turrets, drones, modules and augments.

Supplies, paints, gifts and the occasional surprise items - often associated with holidays or special days in the game - can also be bought with crystals. There are several ways to get crystals.

At the top of the screen, you can see how many crystals you have:

For example, you need 2 000 crystals to buy "Swamp" paint.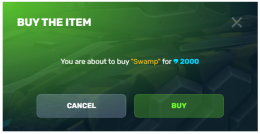 After you confirm the purchase, you will be charged the number of required crystals and the selected item will appear in your Garage.
How to get crystals
In battle
From gold boxes that are purposely dropped on the battlefield by users or randomly dropped by the system
From Crystal Boxes that drop instead of Supply Boxes in lower-ranked battles
As a reward for scoring points in team battles: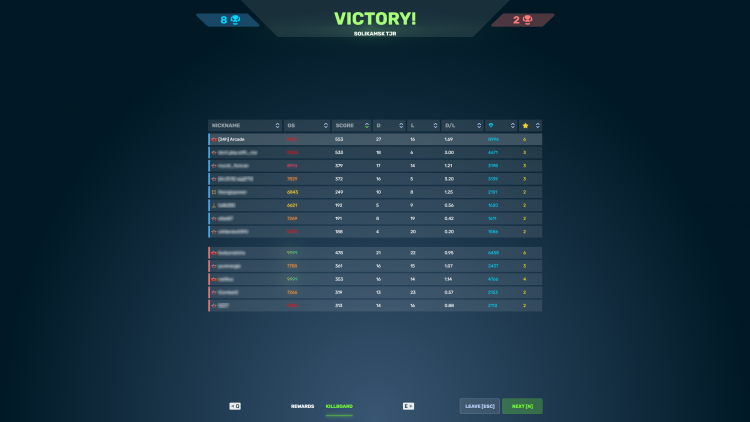 Crystals are distributed depending on the number of tanks destroyed and points earned during the battle as well as the rank of the players inside the battle.

Crystals rewarded in matchmaking battles are awarded according to your and your team's performance. During PRO battles, you can see battle fund, determined by the number of tanks destroyed and points scored, in the bottom-right corner of the screen: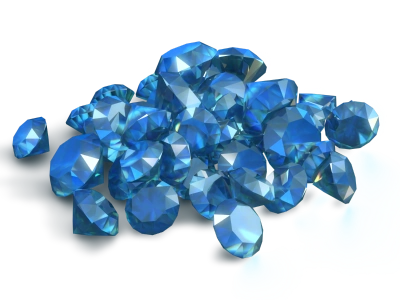 Missions
Crystals can be rewarded for completing Daily Missions in the game. There is a 37% chance of getting crystals, so if you are unlucky today, try changing a mission, or complete the mission and try again tomorrow!
Apart from the rank-up special misson, sometimes during events, special missions will appear that can reward crystals. If you have a premium account, there is a special mission every day that allows you to claim 2500 crystals.
Challenges
Main article: Challenges
Every two weeks, a new challenge begins. Some of reward tiers include crystals.
Taking part in Contests
The administration regularly organizes contests which you can take part in and win prizes. Follow the news!
Obtaining crystals in the Shop
You can buy crystals by clicking on the Shop tab in the Lobby: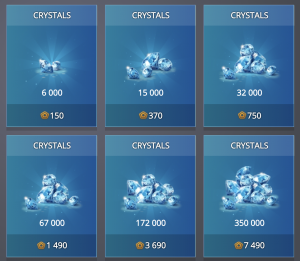 Sometimes, you can get a free crystals pack in the Showcase which contains 100 or 1000 crystals.
When redeeming a Promo Code, you could possibly receive a sum of crystals as a reward.
Crystals can be bought or obtained for free from special offers in the Showcase
Getting crystals for ranks
You also get a certain amount of crystals by completing the rank-up special mission. The actual amount of crystals obtained depends on which rank you achieve. Check out the table below for more information: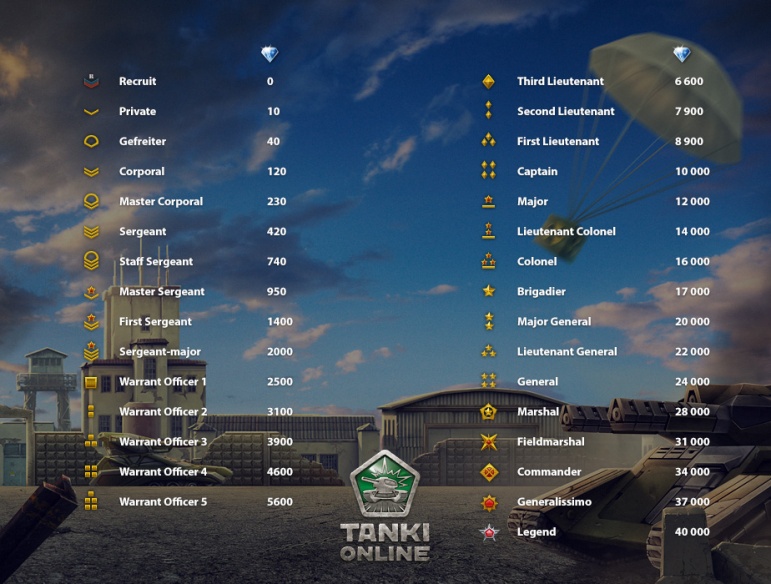 Obtaining Them From Containers
When opening any currently obtainable type of container, it is possible to receive crystals.
Interesting Facts
Until November 20, 2014, there was another way to get crystals - collecting boxes with crystals (not gold) right in the battle. The denomination of the boxes was different: 1, 5, 10, 20, 50, 100 crystals.
As a result of an experiment, the then-final decision was made to remove the boxes with crystals, and send the released crystals directly to the battle fund.
On June 4th, 2020, crystal boxes were returned to battles for ranks Recruit-Sergeant Major. The boxes drop in place of supplies other than the Repair kit and add 10 Crystals and 10 experience to the account of the player that picked them up.