Crystals
From Tanki Online Wiki
(Difference between revisions)
m

(Added Interesting Facts)

Line 8:
Line 8:
 
 
 

==Crystals: the in-game currency==

 

==Crystals: the in-game currency==

−

Crystals are the game's unit of currency. Currently, crystals are used to buy and upgrade hulls, turrets and modules.<br>

+

Crystals are the game's unit of currency. Currently, crystals are used to buy and upgrade hulls, turretsand modules.<br>

 
 
 

Supplies, paints, passes, gifts and the occasional surprise items - often associated with holidays or special days in the game - can also be bought with crystals. There are several ways to get crystals.<br>

 

Supplies, paints, passes, gifts and the occasional surprise items - often associated with holidays or special days in the game - can also be bought with crystals. There are several ways to get crystals.<br>

Line 16:
Line 16:
 

For example, you need 2 000 crystals to buy "Swamp" [[Paints|paint]].<br><br>

 

For example, you need 2 000 crystals to buy "Swamp" [[Paints|paint]].<br><br>

 

[[File:Shop004.jpg|260px|link=]]<br><br>

 

[[File:Shop004.jpg|260px|link=]]<br><br>

−

After you confirm the purchase, you will be charged the amount of required crystals and the selected item will appear in your Garage.

+

After you confirm the purchase, you will be charged the of required crystals and the selected item will appear in your Garage.

 
 
 

==How to get crystals==

 

==How to get crystals==

Line 40:
Line 40:
 

Referrals are players that you invite into the game.  

 

Referrals are players that you invite into the game.  

 
 
−

You get crystals when your referrals rank up. Also, you get 10% of the amount of crystals they buy in the game (double crystal cards are not included).

+

You get crystals when your referrals rank up. Also, you get 10% of the of crystals they buy in the game (double crystal cards are not included).

 
 
 

=== Taking part in [[Contests|contests]]===

 

=== Taking part in [[Contests|contests]]===

−

The administration regularly organises contests which you can take part in and win prizes. Follow the news!

+

The administration regularly contests which you can take part in and win prizes. Follow the news!

 
 
 

=== Buying crystals ===

 

=== Buying crystals ===

Line 58:
Line 58:
 

=== Obtaining Them From Containers or Promo Codes ===

 

=== Obtaining Them From Containers or Promo Codes ===

 

When opening a [[Containers|Container]], there is a chance that you may just receive crystals. Likewise, when redeeming a [[Promo Codes|Promo Code]], you could possibly receive a sum of crystals as a reward.

 

When opening a [[Containers|Container]], there is a chance that you may just receive crystals. Likewise, when redeeming a [[Promo Codes|Promo Code]], you could possibly receive a sum of crystals as a reward.

 
+
 
+
 
+
 
+
---
Revision as of 21:29, 26 October 2019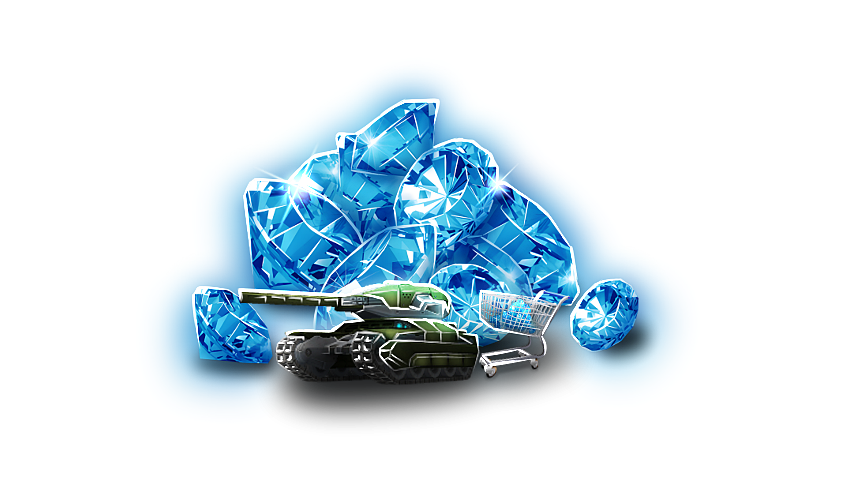 Crystals: the in-game currency
Crystals are the game's unit of currency. Currently, crystals are used to buy and upgrade hulls, turrets, and modules.

Supplies, paints, passes, gifts and the occasional surprise items - often associated with holidays or special days in the game - can also be bought with crystals. There are several ways to get crystals.

At the top of the screen, you can see how many crystals you have:

For example, you need 2 000 crystals to buy "Swamp" paint.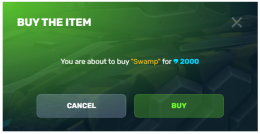 After you confirm the purchase, you will be charged the number of required crystals and the selected item will appear in your Garage.
How to get crystals
In battle
From gold boxes that are purposely dropped on the battlefield by users or randomly dropped by the system
From battle funds in team battles: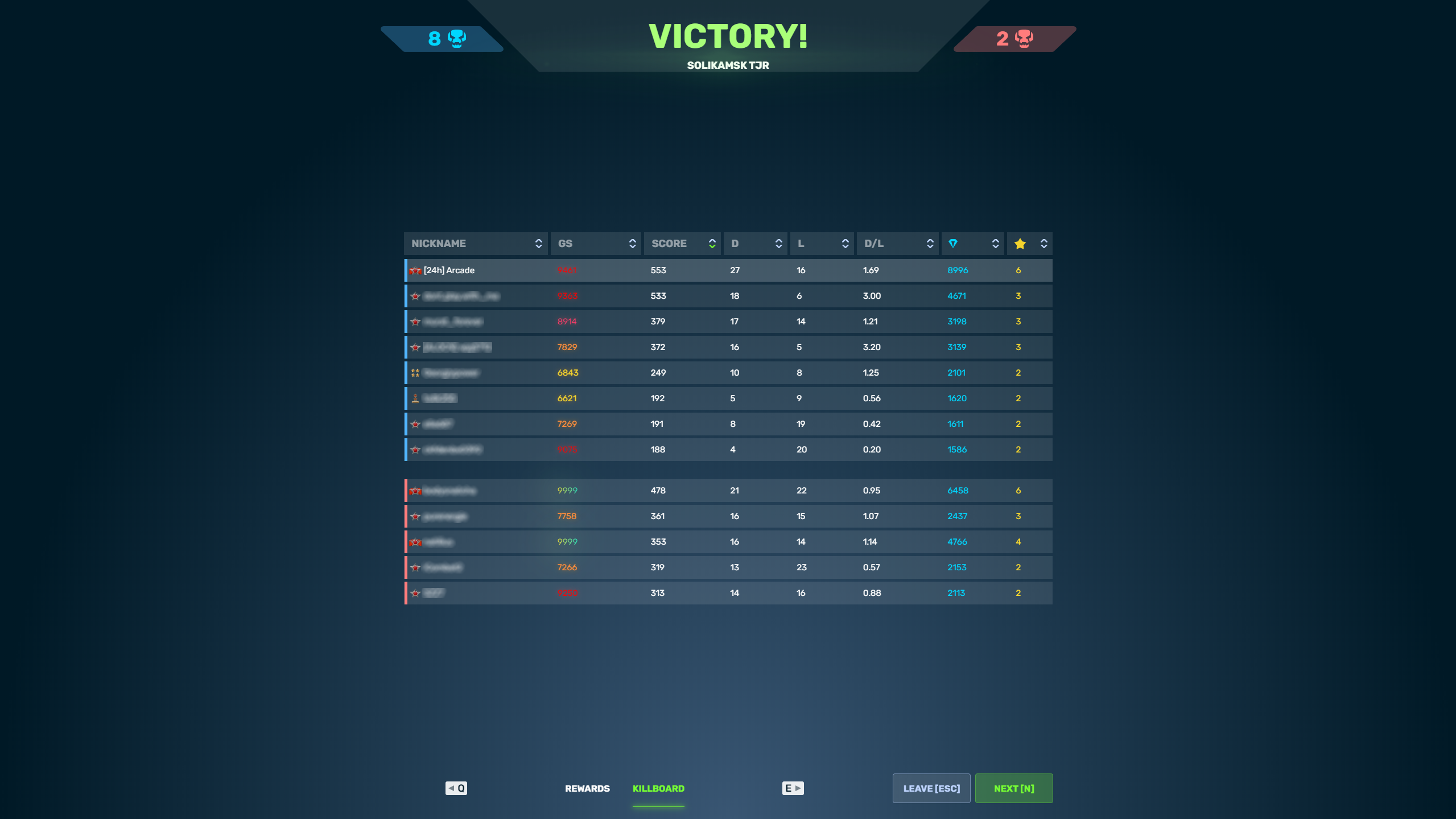 Or in individual battles: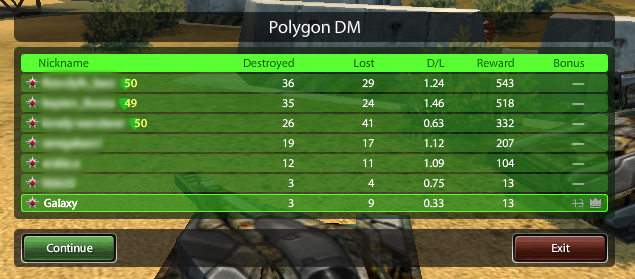 Crystals are distributed depending on the number of tanks destroyed and points earned during the battle.

During the battle, you can see battle fund in the bottom-right corner of the screen: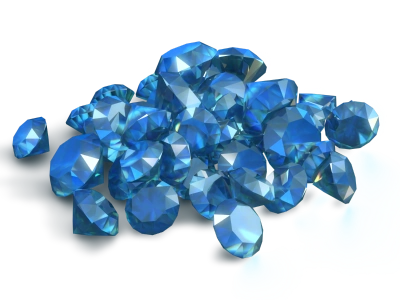 Daily Missions
Crystals can be rewarded for completing Daily Missions in the game. There is a 37% chance of getting crystals, so if you are unlucky today, complete the mission and try again tomorrow!
System of referral links
Referrals are players that you invite into the game.
You get crystals when your referrals rank up. Also, you get 10% of the number of crystals they buy in the game (double crystal cards are not included).
The administration regularly organizes contests which you can take part in and win prizes. Follow the news!
Buying crystals
You can buy crystals by clicking on a button at the top of your screen in the Lobby.



Getting crystals for ranks
You also get a certain amount of crystals every time you rank up. The actual amount of in-game currency obtained depends on which rank you achieve. Check out the table below for more information: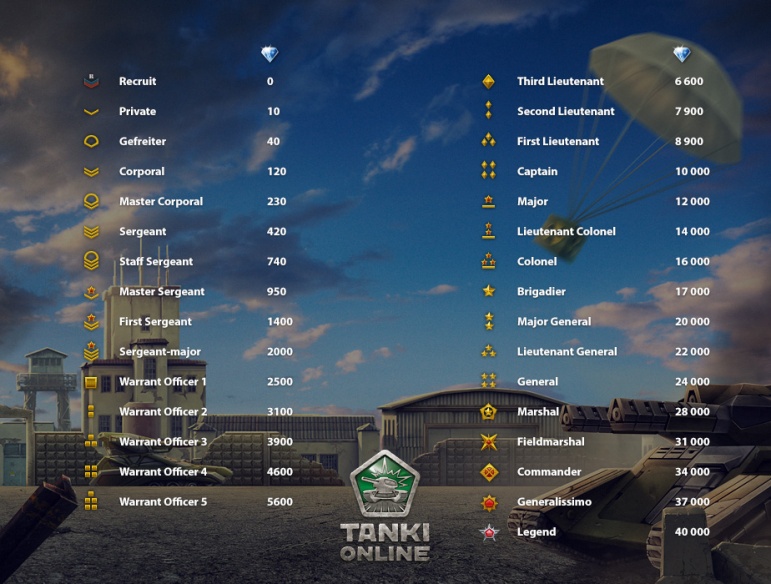 Obtaining Them From Containers or Promo Codes
When opening a Container, there is a chance that you may just receive crystals. Likewise, when redeeming a Promo Code, you could possibly receive a sum of crystals as a reward.
Interesting Facts
Until November 20, 2014, there was another way to get crystals - collecting boxes with crystals (not gold) right in the battle. The denomination of the boxes was different: 1, 5, 10, 20, 50, 100 crystals.
As a result of the experiment, the final decision was made to remove the boxes with crystals, and send the released crystals directly to the battle fund.