From Tanki Online Wiki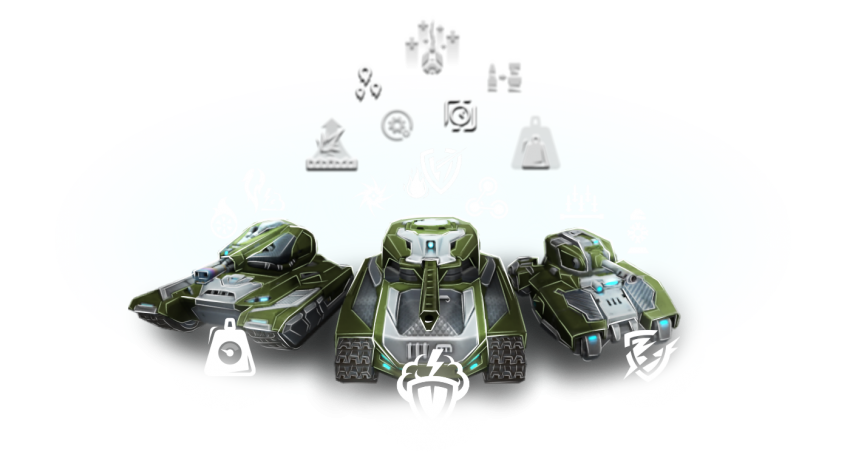 Augments are modifiers that allow a player to alter gameplay features of turrets and hulls while keeping them within the overall game's balance. For example, an augment can weaken one characteristic in favor of strengthening another one.
Important Information
Already bought/unlocked augments won't disappear at any time, though parameters may change as needed for game balance.

Such changes will be announced and can be found on the Updates page.

Augments can be obtained in the following ways:

Obtained from Containers (Rare and Epic augments)
Obtained from Ultra Containers (Rare, Epic, Legendary, and Exotic augments).
Bought in special Showcase offers.
Earned as a reward for completing Challenges, usually with a Battle Pass.

Augments have a separate setting under the Pro Pass battle creation system, and can be turned on or off independently from other parameters such as Micro-upgrades.
You can see augments of other players equipped in battle by pressing Tab.
General Information
A total of 178 augments are currently in the game, 87 of which are for turrets and 91 for hulls.
You can equip an augment or un-equip an augment and get back to standard settings at any time.
Changing an augment during a battle will cause self-destructing and a three-minute pause for changing other augments (just like changing hulls, turrets, and other items).
Changing a hull augment starts a three-minute pause for changing hulls, and likewise changing a turret augment starts a three-minute pause for changing turrets.
Only two augments can be equipped at any given time: one hull augment and one turret augment.
Augments
The following tables contain all the current augments. Some of these augments modify specific turret's parameters to alter the turret's or hull's performances during a battle, leading to an increase or a decrease on a specific parameter's value for a turret or hull, thus modifying that turret's or hull's performances, but always remaining in between the overall game balance's boundaries.

In the following tables you will find specific color-codes, as follow:
This marker is associated with a positive effect on a turret's or hull's performances produced by an augment
This marker is associated with a negative effect on a turret's or hull's performances produced by an augment

Augments for Turrets
Augments for Firebird
Name
Description
Effects
High-pressure pump

149 000
Improved hit distance for mid-range targets: the stream of fire will shoot slightly further, and maximum hit distance is increased. Requires a more precise aiming.

Minimum damage range: +10%
Maximum damage range: +100%
Cone angle: -75%

Compact fuel tanks

245 000
Especially for the fans of the "put it on fire and roll away" tactic: fast increase in temperature and burning time due to the increased rate of fuel consumption.

Maximum temperature limit: +100%
Heating rate: +100%
Energy consumption: +50%

Incendiary mix

245 000
Thermite mixture will burn through tank armor, dealing increased damage, but without igniting the target. No heating effect.

Damage: +50%
Energy consumption: -50%
Overheat effect removed
Augments for Freeze
Name
Description
Effects
High-pressure pump

149 000
Improved hit distance for mid-range targets: the stream of freon will shoot slightly further, and maximum hit distance is increased. Requires a more precise aiming.

Minimum damage range: +10%
Maximum damage range: +100%
Cone angle: -75%

Corrosive mix

245 000
Swapping cooling agent with acid mixture, which eats through even the most sturdy armor in mere seconds. No freezing effect.

Damage per second: +10%
Freeze effect removed

Shock freeze

245 000
Quickly and effectively turn tanks into solid and immobile pieces of ice. In conditions of a limited space in the turret, several battle mechanisms had to be removed, which lowered damage and energy consumption.

Freezing rate: +200%
Energy consumption: -50%
Regular Damage: -30%
Critical damage added: +43% of regular

Toxic Mix

Swaps the cooling agent with toxic mixture. Damage is decreased, but an opponent affected by the mix cannot use armor for some time.
AP duration: 1s
Regular Damage: -45%
Critical damage added: +82% of regular
Freezing rate: -50%
Augments for Isida
Name
Description
Effects
Broadband radiators

149 000
Broadband radiators with a shortened range for easier aiming.

Cone angle: +200%
Range: -25%

Support nanobots

245 000
Part of the destroyer-nanobots were reconfigured into a repair mode. Improved healing in exchange for lower damage.

Healing per tick: +100%
Regular Damage per tick: -50%
Max critical healing chance: +100%

Nanomass reactor

245 000
After receiving a signal that the target was destroyed, reactor converts the collected nanomass and recharges energy levels of the turret. Operational converter noticeably increases radiators' energy consumption.

Destroying an enemy reloads the energy tank
Energy consumption when attacking: +50%
Augments for Hammer
Name
Description
Effects
Slugger

149 000
Increased pellet density in combination with a reduced turret rotation speed allows to hit ranged targets better.

Vertical scatter angle: -50%
Horizontal spread angle: -50%
Rotation speed: -30%

Dragon's Breath

245 000
Features pellets by the striking name of «Dragon's Breath» that ignite enemy tanks on critical damage shots. Takes more time to reload in order to meet fire protection requirements.

Critical hits ignite the target: +9% per pellet
Clip reload: +10%

High-capacity ammo clip

245 000
Special permanently fixed ammo clip for 5 projectiles, included in standard equipment for assault tanks.

Ammunition per clip: +2

Duplet

245 000
Replacement of the internal construction of the turret with an adaptive mechanism from a classic double-barreled rifle. Allows to rapidly fire 2 shots, with almost no delay, and to quickly reload. Ideal for busting tanks into concrete.

Shot reload: -85%
Ammunition per clip: -1
Clip reload: +50%

Vertical scatter angle: +100%
Horizontal spread angle: +50%

Adaptive reload

245 000
Instant refill of the current ammo clip after destroying an enemy. With enough luck you can pump out kills with factory efficiency. Otherwise, you'll have to contend with an empty ammo clip for a long time.

Destroying an enemy adds 3 shots to clip
Clip reload: +10%

Armor-Piercing Shot

A perfect farewell gift. The last shot in the clip destroys the armor of any tank which was hit.
AP duration after last shot: 7s
Blunderbuss

The number of shots in the magazine has been reduced to just one, but this single shot packs a powerful punch - the number of pellets and critical shot chances are increased. However, the bullet spread is increased, but with a lucky and skilled maneuver, you can blow away several enemies in one shot.
More pellets per shot
Increased critical chance
Ammunition per clip: -2
Pellet spread increased
Augments for Twins
Name
Description
Effects
Stable plasma

149 000
Shots of stabilized plasma keep their form better and do not explode upon hitting a tank or an obstacle. Such shots can't deal splash- and self-damage.

Self-damage removed
Impact force: +10%
Splash damage removed
Projectile speed: -15%

Plasma accelerators

245 000
Changing settings of plasma accelerators allows to be at a safer distance from the enemy in battle. Projectiles fly further and faster, but the fire rate is reduced.

Projectile speed: +100%
Minimum range: +100%
Reload: +20%

Heavy plasmagun

245 000
Turret modification in the tradition of the famous BFG. Fires big balls of plasma, which travel slowly, but deal more damage. Be cautious of the self-damage from splash!

Damage: +35%
Projectile speed: -35%
Augments for Ricochet
Name
Description
Effects
Destabilized plasma

149 000
Balls of unstable plasma disperse into clots after the slightest touch from any obstacle, hitting all enemies and the shooter themselves in a small radius.

Splash damage added
Self damage added
Bouncing/ricochet effect disabled

Minus-field stabilization

245 000
Additional stabilization of the minus-field before each shot allows to fire effectively at a longer range. Projectiles travel further and faster, but the fire rate is reduced.

Projectile speed: +100%
Minimum range: +100%
Shot reload: +15%

Plasma-torch

245 000
Modification that turns the turret into a short range plasmagun. Noticeably increases the rate of fire due to the radically reduced flying speed and damage of the rounds. Also, unstable plasma can't richochet more than once.

Shot reload: -50%
Damage: -25%
Projectile speed: -35%
Maximum number of ricochets: =1

Berserk

245 000
In this special assault mode firing the turret will consume energy faster, but each enemy tank destroyed will re-fill the energy tank.

Destroying an enemy adds 100% to energy
Energy used per shot: +20%

Super-smart Minus-Field

It is not certain how this super-smart minus-field is smarter with this augment, but after ricocheting, rounds pierce the enemy's armor, leaving no chance of survival.
AP duration after ricochet shot: 2s
Augments for Smoky
Name
Description
Effects
Assault rounds

96 000
Rounds with increased impact strength will make it easier to throw off the enemy's aim. Such rounds can't deal critical damage.

Projectile speed: +200%
Impact force: +35%
Critical chance: -100%

High-precision aiming system

149 000
High-quality barrel and aiming correction mechanism noticeably increase damage. The use of the highly accurate equipment led to increase in reloading time.

Critical damage: +10%
Reloading: +40%
Projectile speed: -25%
Damage: +32%

Supercumulative rounds

245 000
Supercumulative shots appear in the ammo clip even more rare than the "regular" cumulative rounds, but the damage from such rounds is also much greater. The damage from critical shots is increased because of the reduced critical rate.

Critical damage: +50%
Critical chance: -60%

Incendiary rounds

245 000
Replacement for the standard cumulative shots with rounds filled with an incendiary compound. Critical hits deal regular damage, but also ignite the target.

Critical hits ignite the target: +50%

Critical damage: =75% of regular damage

Cryo rounds

245 000
Replacement for the standard cumulative shots with freon rounds. Critical hits will deal less damage, but fully freeze the target.

Target's temperature: -100%
Critical damage: -15%

Autocannon

245 000
Automated charging conveyor belt highly increases the firing rate. Regular shots lose most of their effectiveness, but critical hits happen much more often.

Reload: =0.5s
Recoil: -33%
Regular shot damage: -75%
Impact force: -66%

Armor-Piercing Rounds

Replaces common rounds with armor-piercing ones. Critical damage is decreased, but an opponent becomes armorless against the next shots.
AP duration: 3s
Critical damage: -25%
Paralyzing Rounds

Replacement for the standard cumulative shots with paralyzing rounds. Critical hits will deal decreased damage but will immobilize the target.
Stun duration: 3s
Critical damage: -50%
Critical chance: -50%
EMP Rounds

Replacement for the standard cumulative shots with EMP rounds. Critical hits will deal decreased damage but will disable the target's activated supplies.
EMP duration: 5s
Critical damage: -15%
Rubberized Rounds

These rubber-encased shells may hit enemies and even deal critical damage after ricocheting. However, the maximum number of ricochets is limited and shell speed is decreased.
Maximum number of projectile bounces: +2
Minimum ricochet angle: 5°
Projectile speed: -25%
Explosive Rounds

Replacement for the standard Armor-Piercing shots with explosive rounds. Such rounds can hit multiple targets at once with splash damage, but the damage radius is not that large due to the turret's small caliber. Cumulative shots are not changed and deal critical damage only to one target.
Splash radius (max damage): 1m
Splash Radius (mid damage): 4m
Splash Radius (min damage): 7m
Mid splash damage: 90%
Min splash damage: 10%
Self damage at close range

Sorted Ammunition

An engineer named Schrödinger succeeded in perfecting a mechanism to load ammunition in a clever way. This augment guarantees that every fourth shot will deal critical damage. How it works and how the engineer envisaged all the misses of the shooter still remains a mystery.
Max critical chance: =100%
Critical chance step: 100%
Initial/Min critical chance: =200%

Augments for Striker
Name
Description
Effects
Remote rocket explosives

149 000
Rockets are provided with a contactless trigger and radio emitter. Double-press on the fire button, while the rocket is still in the air, will immediately explode it. Be cautious while firing single shots!

Rockets will explode upon double-pressing fire button
Maximum projectile speed: =400m/s


Missile launcher "Hunter"

245 000
Modification for the fans of a high accuracy shooting. Provides an almost instant target acquisition while aiming, but has only one rocket per launch.

Maximum projectile speed: +100%
Aiming time: -80%
Projectile angular velocity: +100%
Reloading after salvo: -40%
Rockets in salvo: -3


Missile launcher "Cyclone"

245 000
Modification for those who hunt heavy tanks. Doubles the number of rockets per launch, but while aiming target acquisition time is also increased.

Rockets in salvo: +4
Pause between rockets in salvo: =0.15s
Aiming time: +25%

Missile launcher "Uranium"

245 000
An augment for tankers who love big explosions. Your rockets will deal more damage, but they will travel more slowly, and you will only fire 2 rockets per salvo.

Rockets in salvo: -2
Damage: +50%
Reload after salvo: -40%
Maximum projectile speed: =125m/s
Reload: +15%

Armor-Piercing Missiles

The perfect augment for bounty hunters who want to destroy one very powerful target. Only one fast-targeting armor piercing rocket per launch. Any tank hit by this rocket will not be able to use armor for some time.
AP duration: 5s
Aiming time: -50%
Rockets in salvo: -3
Augments for Vulcan
Name
Description
Effects
Shooting speed regulator

149 000
Decreased firing speed allows for the barrels to cool down better, but it also decreases damage. The barrels wind up and wind down faster. This configuration increases tactical flexibility of the weapon and allows for longer uninterrupted fire.

Barrel startup: -85%
Barrel slowdown: -85%
Firing speed: -15%

Reinforced aiming transmission

245 000
Optimization of the aiming transmission for a faster horizontal aim. Due to optimization, vertical aiming transmission is less effective.
Turret slowdown rate: -100%
Vertical autoaim: -15%
Incendiary band

245 000
Modification for the fans of showering enemies with bullet fire, non-stop. While overheating from continuous fire, these rounds will ignite and put the target on fire.

Shots ignite the target
Maximum heating per projectile: +0.07%
Ignites only when self-heating
Projectile speed: -50%

Rubberized rounds

These rubber-encased shells significantly increase bounce probability and number of ricochets when firing. This enables you to attack your enemies from unexpected positions and easily mislead them. However, the increased drag from air resistance has a negative impact on the speed of such rounds.
Maximum number of projectile bounces: +4
Minimum ricochet angle: 10°
Projectile speed: -25%
Augments for Thunder
Name
Description
Effects
Small caliber charging machine

149 000
Using small caliber rounds in combination with the charging machine allows to reduce the reload time. Small caliber rounds deal less damage.

Reload: -20%
Regular Damage: -20%

Subcaliber rounds

245 000
Replacement for the frag round with a penetrating ammo type and huge kinetic energy. Such rounds don't explode upon hitting a tank or an obstacle and cannot damage the shooter themselves.

Reload: -9%
Self damage removed
Impact force: +25%
Projectile speed: +50%
Splash damage removed

"Sledgehammer" rounds

245 000
Rounds with a thick lead casting lose piercing ability very quickly, but the automated charging machine allows for a noticeable increase in the firing rate.

Reload: -25%
Maximum damage range: -95%
Projectile speed: -50%
Augments for Railgun
Name
Description
Effects
Round stabilization

96 000
The aiming system computes a more predictable trajectory for shots. These rounds will not deal critical damage but will retain power after piercing their target.

Penetration: =100%
Regular damage: +33%
Critical hit removed

Reinforced aiming transmission

149 000
Optimization of the aiming transmission for fast horizontal aim. Due to optimization, vertical aiming transmission is less effective.

Turret rotation speed: +40%
Turret rotatory acceleration: +35%
Vertical autoaim: -20%

Round destabilization

245 000
A handful of bolts and copper coils is inserted into the accelerator - with interesting results. This slight alteration adds even more chaos into the distribution of the final power of the shot. The critical damage is increased while the default damage is negligible.

Impact force: +20%
Critical damage: +30%
Regular damage: =100hp
Critical Chance: =70%

Electromagnetic accelerator "Scout"

245 000
This modification will help you in dynamic one-on-one battles. The accelerated preparation for shots and quick reload will become an unpleasant surprise for the enemy, but critical damage is reduced.

Shot reload: -50%
Shot warmup time: -20%
Critical hit damage: -40%

Large caliber rounds

245 000
The newest development of the ammo industry — plutonium rounds that deal devastating damage. Getting ready to fire these rounds and the reload takes longer.
Regular and Critical Damage: +20%
Shot reload: +60%
"Death Herald" compulsator

245 000
Bounty hunters will greatly appreciate this modification, which when equipped enables the turret to instantly reload after destroying an enemy. Base reload speed is reduced.

Destroying an enemy fully reloads the turret
Shot warmup time: +10%

Hyperspace rounds

245 000
No tank — be it an ally or an enemy, is an obstacle for these hyperspace rounds - it is simply another chance to accelerate. Damage from such shells increases each time they penetrate a tank.


Penetration: +100%
Regular damage: +40%
Impact force: -25%
Critical hit removed


Super Armor-Piercing Rounds

It is not enough to just pierce an enemy tank's armor — the enemy should remember this forever. Special rounds destroy armor for some time, long enough for one more fatal shot. Piercing the armor of multiple tanks in a row applies the AP effect to all of them.
AP duration: 7s
Regular Damage: +40%
Critical Damage: -20%

Incendiary Rounds

Literally heats shells inside the barrel before shooting. Critical rounds set fire to the target.


Critical hits ignite the target: +30%
Max tanks set on fire: 2
Critical damage: -30%
Shot warmup time: +20%



Stun Rounds

An improved process of concentrating energy before firing allows critical hits to stun targets shots for a short time when they are hit. Lets you confuse opponents and assist in the defence of your base. Takes more time to heat up the barrel before shooting.
Stun Duration on critical: 5s
Critical Damage: -33%
Shot warmup time: +20%

Cryo Rounds

A variant of the large caliber Railgun* but with cryo rounds. Critical hits decrease the temperature of targets that they hit.

*Unlike LCR, this augment does not make reload longer or increase damage.

Target's temperature: -75%
Critical hit damage: -30%
Shot warmup time: +20%
EMP Rounds

When critical shots hit a tank, they apply the EMP status effect, disabling activated supplies. The effect doesn't last long.*

*The duration of this EMP is by far the longest currently in the game, however.

EMP Duration: 10s
Critical damage: -30%
Shot warmup time: +20%

Augments for Magnum
Name
Description
Effects
Reinforced gun carriage

149 000
Converts the turret rotation mechanism to the mechanism of changing the elevation angle. It becomes possible to lower or raise the gun barrel but the only way to rotate your turret horizontally is by rotating your hull.

Ability to elevate turret vertically
Inability to rotate turret horizontally
Projectile gravitation: -50%

Automated gunpowder loading mechanism

245 000
Converts the turret rotation mechanism to the mechanism of changing the elevation angle and makes power accumulation faster. At the same time it becomes harder to avoid overshooting or undershooting due to not having the required level of power
Ability to elevate turret vertically
Inability to rotate turret horizontally
Amplification time: -33%
Reload time +10%
Mortar

245 000
Converts the turret rotation mechanism to the mechanism of changing the elevation angle and fires mines instead of shells. When hitting a tank the mine explodes, and when it misses, the mine remains at the spot where it landed meaning somebody can drive onto it. Damage from mine-rounds is less than from regular shells.

Ability to elevate turret vertically
Inability to rotate turret horizontally
Lay mines (mine lifetime 30 seconds)
Fixed damage: -10%
Critial damage: -10%

Harpoon

245 000
Changes shot angle to 3%, changing Magnum from artillery launcher to be like any other turret. Splash damage is decreased.
Projectile gravitation: -11%
Fixed shot angle: 3º
Splash damage at a distance of 5 meters -10%
Critical Damage can only be dealt on direct hits
Armor-Piercing Core

Fougasse projectiles have an ultra-dense armor-piercing core. A direct hit destroys the target's armor. Doesn't affect other targets in splash damage radius.
AP duration on direct hit: 7s
Augments for Gauss
Name
Description
Effects
Electromagnetic salvo

Replaces the standard explosive projectile with an EMP projectile that deactivates any active supplies of enemy tanks hit by the electromagnetic salvo. The projectile loses its splash damage effect in normal shooting mode, and damage is reduced while using the electromagnetic accelerator. However, the projectile travels at a higher speed and recharges much faster.
EMP duration after sniping shot: 5s
EMP radius: 14m
Sniping reload -50%
Sniping damage -25%

Arcade projectile shot speed +50%
Arcade shot splash damage removed
Arcade shot self damage removed
Armor-Piercing Salvo

The special projectile's polarization destroys the target's armor.
AP duration: 5s
AP Radius: 6m
Augments for Shaft
Name
Description
Effects
Short-band emitter

149 000
Modification for tankers that prefer close-range battles and who are used to precise turrets. Increases damage and reloading time in Arcade mode.

Minimum arcade damage: +20%
Arcade reload time: +25%
Energy consumed per arcade shot: +20%
Critical damage: +20%
Regular arcade damage: +20%

Heavy capacitors

245 000
Replacement for standard capacitors with a heavy type. The shot is charged slower, but the final damage is noticeably increased.

Maximum aiming damage: +25%
Charge rate in aiming mode: -33%

Light capacitors

245 000
Replacement for standard capacitors with a light type. The shot is charged faster, but the final damage is noticeably reduced.

Charge rate in aiming mode: +100%
Horizontal aiming speed: +100%
Maximum aiming damage: -25%

Rapid-fire mode

245 000
Assault modification that allows firing in Arcade mode with a quick series of shots, 3 in each. At the same time the energy tank capacity is enough for one series of shots.

Arcade shot reload: =0.375s
Energy per arcade shot: =375
Rate of energy recovered: -50%


Armor-Piercing Sight

Special sight which lets you destroy a target's armor with any sniper mode shot. Makes the next shot at the target very sensitive or maybe even fatal.
AP duration after sniper shot: 5s
Universal Turret Augments
Name
Description
Effects
Adrenaline

245 000
This augment increases your turret's damage in proportion to the decrease in your tank's health points. The less health points you have, the higher amount of damage your turret inflicts. Also boosts critical damage by the same amount.
Melee turret's damage: +0-39%
Close-range turret's damage: +0-36%
Medium-range turret's damage: +0-33%
Long-range turret's damage: +0-30%
Low HP % required in order to activate
Augments for Hulls
Universal Hull Augments
Name
Description
Effects
Heat Resistance

245 000
Partially protects your tank from the damage and effect of heat, making it harder to burn. Does not affect direct damage from Firebird.
Overheat effect resistance: 50%
Cold Resistance

245 000
Partially protects your tank from the effect of cold, making it harder to slow down. Does not affect direct damage from Freeze.
Freeze effect resistance: 50%
Heat Immunity

4 990
Makes your tank immune to heat damage, such as that inflicted by Vulcan's overheating, or the persistent burn after-effect from Firebird. However, Firebird will still be able to deal direct damage to your tank.
Overheat effect resistance: 100%
Cold Immunity

4 990
Makes your tank immune to the slow-down effects of cold, such as that inflicted by the Freeze turret. However, Freeze will still be able to deal direct damage to your tank.
Freezing effect resistance: 100%
EMP Immunity

4 990
Makes your tank immune to the effects of Electromagnetic Pulses. This includes Hunter's Overdrive, which will be unable to deactivate your Supplies.
Supplies are not removed by EMP
Supply cooldowns are not reset by EMP
Stun Immunity

4 990
Makes your tank immune to stun effects, preventing your enemies from immobilizing you. While stuns are rare, protection from them could be decisive at a crucial moment.
Player does not lose control of the tank
Player does not drop the flag or ball
Supply and overdrive activation not blocked
Lightweight Construction

4 990
Significantly decreases your hull's weight. While not particularly useful in a combat scenario, creative tankers might want to take advantage of this feature for "unconventional" tank stunts.
Ideal for parkour
Any hull's weight is 1000 units
Heavyweight Construction

4 990
Significantly increases your hull's weight, making it more resistant to pushback. Acceleration may be affected, but the added momentum has useful applications for ramming tanks.
Light hull's weight: +200%
Medium hull's weight: +150%
Heavy hull's weight: +100%
Hull acceleration: -33%
AP Immunity

4 990
This augment completely saves you from armor-piercing status effect. Any tank with this augment won't lose its armor received from modules, supplies, and other sources after the an enemy tries to apply the armor-piercing status effect.
AP effect resistance: 100%
Special Augments
Name
Description
Effects
Special Protection

A special kind of protection that is to be exclusively used in special scenarios... hence the name.
Stun effect resistance: 100%
EMP effect resistance: 100%
AP effect resistance: 100%
Overheat effect resistance: 50%
Freeze effect resistance: 50%