From Tanki Online Wiki
m

Line 256:
Line 256:
 

|width=15% align="center"|'''M1'''

 

|width=15% align="center"|'''M1'''

 

|width=30% align="center"|Horizontal aiming is faster, but at the expense of vertical aiming.

 

|width=30% align="center"|Horizontal aiming is faster, but at the expense of vertical aiming.

−

|width=22% align="center"|'''Turret turning slowdown:''' <span style="color:green">'''-70%'''</span> [[File:Plus.png|link=]]<br>'''Auto-aim upwards:''' <span style="color:red">'''-30%'''</span> [[File:Minus.png|link=]]<br>'''Auto-aim downwards:''' <span style="color:red">'''-30%'''</span> [[File:Minus.png|link=]]

+

|width=22% align="center"|'''Turret turning :''' <span style="color:green">'''%'''</span> [[File:Plus.png|link=]]<br>'''Auto-aim upwards:''' <span style="color:red">'''-30%'''</span> [[File:Minus.png|link=]]<br>'''Auto-aim downwards:''' <span style="color:red">'''-30%'''</span> [[File:Minus.png|link=]]

 

|-

 

|-

 

|width=15% align="center"|'''Shell stabilization'''<br><br>[[File:Shell stabilization.png|link=]]

 

|width=15% align="center"|'''Shell stabilization'''<br><br>[[File:Shell stabilization.png|link=]]
---
Revision as of 17:20, 29 October 2017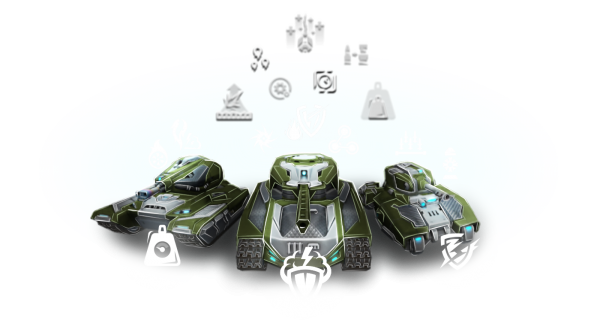 Alterations are modifiers that allow a player to alter gameplay features of turrets while keeping them within the overall game's balance. For example, an alteration can weaken one characteristic in favor of strengthening another one.
Important Information
23 alterations are available for purchase at the moment; for most turrets, only two alterations are available, except Railgun that sports three.
There are no alterations for XT items yet.
Alterations for standard items cannot be equipped with XT items.
Alterations are not displayed when pressing R or V.
Alterations now have a separate setting under PRO Pass battle creation system, instead of being bunched under Micro-upgrades. Now they can be turned on or off independently.
Developing alterations for hulls is not planned.
Possibly, in the future, players will be able to see alterations of other players equipped in battle.
Prices of M0 and M3 alterations are unknown.
General Information
Each alteration unlocks as soon as you unlock the modification of a turret.
M1 alterations cost 50k crystals, M2 alterations cost 100k crystals.
Already bought/unlocked alterations won't disappear when you get next modification of a turret.
You can equip an alteration or un-equip an alteration and get back to standard settings at any time.
You can rent an alteration for 5000 crystals per day (24 hours) in order to test it and decide whether you want to buy it.
Changing an alteration during a battle will cause self-destructing and 5 minute pause for changing other alterations (like changing hulls, turrets and other items).
Alterations of various rank can be stacked upon one another. Alterations of the same rank, however, cannot stack, and must be used individually.
Alterations
The following tables contain all the current alterations. Some of these alterations modify specific turret's parameters to alter the turret's performances during a battle, leading to an increase or a decrease on a specific parameter's value for a turret, thus modifying that turret's performances, but always remaining in between the overall game balance's boundaries.

In the following tables you will find specific colour-codes, as follow:
GREEN TEXT — green text is associated to an increase of a specific parameter's value
RED TEXT — red text is associated to a decrease of a specific parameter's value
In addition to the colour-codes, you will also find specific effects' markers, as follow:
— this marker is associated to a positive effect on a turret's performances produced by an alteration
— this marker is associated to a negative effect on a turret's performances produced by an alteration

Obtaining alterations
Each alteration can be purchased at a fixed price which is different for every level of its modification. In addition to that, you can rent an alteration to try it out and then decide whether it's worth buying or not.
M0
M1
M2
M3

Purchase

?
50 000
100 000
?

Rental

5 000 (24h)
List of alterations
Name
icon
Available from modification
Description
Effects
High pressure pump


M1
Deal damage and burn targets within further range. Cone angle can make it harder to attack targets on a different level of elevation.
Cone angle: -70%
Range of max damage: +100%
Compact tanks


M2
Faster fuel ejection to increase flame temperature and combustion time, resulting in accelerated fuel consumption.
Energy consumption: +50%
Max temperature: +150%
Rate of heating: +100%
Alterations for Freeze
Name
icon
Available from modification
Description
Effects
High pressure pump


M1
Deal damage and freeze targets within further range. Cone angle can make it harder to attack targets on a different level of elevation.
Cone angle: -70%
Range of max damage: +100%
Corrosive mix


M2
Replace the refrigerating medium with a highly corrosive acid for extra damage. Freezing effect will be removed.
Freezing effect is off
Damage per second: +10%
Alterations for Isida
Name
icon
Available from modification
Description
Effects
Broadband emitters


M1
Short range emitters for easier aiming.
Range: -30%
Cone angle: +200%
Support nanobots


M2
Nanobots settings are switched to support mode for additional healing time. Damage potential is reduced.
Healing time: +5 seconds
Damage: -50%
Alterations for Hammer
Name
icon
Available from modification
Description
Effects
Slugger


M1
Tight pellet spread with a slower rotation speed for better performance within range.
Vertical spread range: -50%
Horizontal spread range: -50%
Turret Rotation: -70%
High capacity drum


M2
Extended ammo capacity for great burst damage. Increased reload time requires better tactical maneuvering.
Clip reload time: +35%
Ammo per clip: +2
Shot reload time: +10%
Alterations for Twins
Name
icon
Available from modification
Description
Effects
Plasma core accelerators


M1
Long range settings for keeping a safe distance between you and your enemy.
Reload Time: +20%
Projectile speed: +100%
Range of min damage: +100%
Stable plasma


M1
Plasma ball stabilization removes explosive effect on impact. Removes self-damage as well as splash damage.
Self-damage removed
Splash-damage removed
Name
icon
Available from modification
Description
Effects
Minus-field stabilization


M1
Long range settings for keeping a safe distance between you and your enemy.
Reload Time: +20%
Projectile speed: +100%
Range of min damage: +100%
Unstable plasma


M2
Plasma ball destabilization increases explosive effect on impact. Projectiles lose the ability to bounce, but splash damage is added.
Ricochet effect removed
Splash damage added
Alterations for Smoky
Name
icon
Available from modification
Description
Effects
Assault ammunition


M1
Knock off your enemy's aim more easily.
No critical damage
Impact force: +30%
Precision targeting system


M2
Extended ammo capacity for great burst damage. Increased reload time requires better tactical maneuvering.
Min damage: +50%
Max damage: +20%
Critical hit damage: +20%
Reload time: +40%
Alterations for Striker
Name
icon
Available from modification
Description
Effects
—
—
—
—
Alterations for Vulcan
Name
icon
Available from modification
Description
Effects
Faster horizontal tracking


M1
Horizontal aiming is faster, but at the expense of vertical aiming.
Turret turning slowdown: -70%
Auto-aim upwards: -30%
Auto-aim downwards: -30%
Modified firing rate


M2
The firing rate is modified to optimize barrels spinning time. This results in more tactical flexibility and prolonged sustained fire. Damage is reduced.
Barrel startup time: -50%
Barrel slowdown time: -50%
Overheat resistance: +50%
Damage: -25%
Alterations for Thunder
Name
icon
Available from modification
Description
Effects
Armor-piercing ammo


M1
Replace standard explosive shells with armor- piercing ammo. Removes self-damage as well as splash damage.
Splash damage removed
Self-damage removed
Lightweight ordinance autoloader


M2
Damage and firing rate optimized for short range encounters.
Min damage: -20%
Max damage: -20%
Reload Time: -20%
Alterations for Railgun
Name
icon
Available from modification
Description
Effects
Faster horizontal tracking


M1
Horizontal aiming is faster, but at the expense of vertical aiming.
Turret turning speed: +35%
Auto-aim upwards: -30%
Auto-aim downwards: -30%
Shell stabilization


M2
Every shot deals consistent damage — no lucky shots, but no unlucky ones either.
Max damage: -25%
Min damage: +50%
High-caliber ammo


M2
Greatly improved damage per shot. Reloading takes longer but damage is worth it.
Reload Time: +50%
Min damage: +40%
Max damage: +40%
Alterations for Magnum
Name
icon
Available from modification
Description
Effects
—
—
—
—
Alterations for Shaft
Name
icon
Available from modification
Description
Effects
Assault emitters


M1
Additional fast shot damage increases survivability in close range encounters.
Reload time: +20%
Min damage: +25%
Heavy capacitors


M2
Slow energy build up results in better damage output.
Horizontal aiming speed (sniping): -30%
Power-up time: +100%
Max sniping damage: +30%