From Tanki Online Wiki
Thanks to the never-ending work of its engines the Ares hull can hover over the ground at a low altitude. When Ares is placed under enemy fire, it tries to return itself to a stable position. If the roll limit exceeds a certain maximum, the engines will fail and Ares will flip.

The uniqueness of the hull movement is that it does not turn, but strafes in a given direction. The hull will perfectly fit mobile gameplay. On a PC, there are two different possibilities to control the hull: keyboard and mouse and only keyboard. When used with just a keyboard and mouse controls disabled, the tank is controlled like any other tank. However, when using the keyboard and mouse, the hull moves forward, backward, and strafes to the side. Strafe direction depends on the current camera position, as does forward, backward, left, and right keys. The hull also turns with the camera.

BFG is the name of Ares's unique Overdrive. This overdrive shoots a plasma ball which flies slowly and finally explodes when it hits a static obstacle, dealing splash damage. As it is flying, the plasma ball strikes tanks that are within range of the ball, healing allied tanks and dealing damage to enemy tanks while ignoring their protections. The ball of plasma is shot down by Hunter's EMP, explodes when contacting an enemy Ares' plasma ball, and is neutralized when a Titan's protective shield generator is activated. Wasp's N2-bomb has no effect.


Description in Garage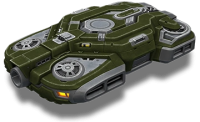 Heavy hull. Remains stable even when driving under fire. Its overdrive shoots a projectile that attacks enemy tanks with lightning and heals allies.

The hovertank «Ares» became the first hull with an anti-gravity feature. The impressive weight and proportions of the first-generation antigravs predetermined the «Ares» entry into the heavy hulls category. The anti-gravity effect of the engine keeps the hull in a stable position, compensating for uneven surfaces and recoil when firing. To turn the hovertank in a battle, you need to try really hard. The uncompromising stability of «Ares» made it possible to build in a super-powerful weapon, which could not be used on other hulls: for prototypes, the first shot simply tore off the turret. Tankers say that this is the very same BFG-cannon. We do not know what they are talking about, but just in case, we ask you not to share this information.


Ares

Мk1 |

Мk2 |

Мk3 |

Мk4 |

Мk5 |

Мk6 |

Мk7 |

Мk7+

Rank Available From

Price of Modification

100

1 000

12 000

29 000

61 000

87 000

130 000

388 000

Overdrives

Upgradable Parameters

Protection (hp)

2 000.00

2 294.12

2 588.24

2 823.53

3 117.65

3 294.12

3 529.41

4 000.00

Top Speed (m/sec)

5.40

5.64

5.87

6.06

6.29

6.44

6.62

7.00

Turning speed (deg/s)

40.00

41.47

42.94

44.11

45.59

46.47

47.65

50.00

Turning acceleration (deg/s²)

100.00

102.94

105.88

108.24

111.18

112.94

115.29

120.00

Weight

1 950.00

2 236.76

2 523.53

2 752.94

3 039.71

3 221.76

3 441.18

3 900.00

Power

800.00

829.00

859.00

882.00

912.00

929.00

953.00

1 000.00

Acceleration

7.00

7.15

7.29

7.41

7.56

7.65

7.76

8.00

Reverse acceleration (m/s²)

11.00

11.59

12.18

12.65

13.24

13.59

14.06

15.00

Hull turn stabilization acceleration

280.00

291.76

303.53

312.94

324.71

331.76

341.18

360.00

Non-upgradable Parameters

Anti-inertial turning acceleration (deg/s²)

180.00

180.00

180.00

180.00

180.00

180.00

180.00

180.00

Overdrive charge from points

700.00

700.00

700.00

700.00

700.00

700.00

700.00

700.00

Overdrive charge over time

700.00

700.00

700.00

700.00

700.00

700.00

700.00

700.00
Table of Characteristics
Protection (hp) — tank's health. Damage dealt by a turret is subtracted from a tank's protection. Once the protection gets to zero, the tank explodes.
Top speed (m/sec) — maximum speed the tank can get to on a straight.
Lateral acceleration (m/sec²) — responsible for damping of lateral speed. The less this parameter is, the easier the tank can drift. The higher it is, the more difficult it is for a tank to move sideways.
Turning speed (deg/sec) — the maximum speed at which the tank can turn.
Turning acceleration (deg/sec²) — affects the time it takes a tank to get to its maximum turning speed.
Anti-inertial turning acceleration (deg/sec²) — works like reverse acceleration but for left-right turns instead of moving forward/backward.
Weight — affects tank's stability, i.e. impact force of hits, the recoil of its own turret, and partly, ability to move other tanks (this parameter does not affect tank's speed).
Power (m/sec²) — affects the time it takes a tank to get to its maximum speed and ability to push other tanks.
Reverse acceleration (m/sec²) — anti-inertial acceleration that comes into force when a tank is moving in one direction and a player presses the button of moving to another direction. It works until speed gets to zero. After that, the usual acceleration starts working.
Skins
Ares XT

Interesting Facts
The long-awaited Ares hull appeared in the game with the 616 release on August 14th, 2020. It was the first non-tracked hull in the game.
Ares's XT skin was released with the hull and is available in Ultra Containers with the garage description of "A legendary hovering hull in a very special appearance! In the creation of this elite XT skin for Ares, the latest technology, an unknown alloy with classified chemical composition, and a lot of pure gold were used in order to make this skin even more exclusive and elegant. As a general rule, owners of this elite Ares XT skin are busy tankers who don't like being disturbed. If you see one of them in a battle, take a picture from a distance and don't use flash!"
Ares's hull is just like a magnet. It detonates mines and picks up supply drops just like any other hull.
---
---