Alien
From Tanki Online Wiki
(Difference between revisions)
Line 1:
Line 1:
−

__NOTOC__ __NOEDITSECTION__ {{RandomText}}

+

__NOTOC__ __NOEDITSECTION__

 

{{see also|Paints|Modules|Ranks|Micro-upgrades of "Alien" Legacy Module}}<br>

 

{{see also|Paints|Modules|Ranks|Micro-upgrades of "Alien" Legacy Module}}<br>

 
 
Line 7:
Line 7:
 
 
 

Rumor has it that this camouflage is a replica of the cover of an alien ship that was knocked down in the last century by the forces of <WARNING: This information is classified — Further inquiries on the matter will be met with deadly force.>  

 

Rumor has it that this camouflage is a replica of the cover of an alien ship that was knocked down in the last century by the forces of <WARNING: This information is classified — Further inquiries on the matter will be met with deadly force.>  

 
+
 
 
 
+
 
+
 

===Price===

 

===Price===

 
 
 

'''150 000''' [[File:crystal.png|link=]]

 

'''150 000''' [[File:crystal.png|link=]]

 
+
 
+
 
+
 
+
 
 
 

===Available From===

 

===Available From===

 
 
 

[[File:IconsNormal_09.png|link=Ranks#First_Sergeant|40px]] '''[[Ranks#First_Sergeant|First Sergeant]]'''

 

[[File:IconsNormal_09.png|link=Ranks#First_Sergeant|40px]] '''[[Ranks#First_Sergeant|First Sergeant]]'''

 
+
 
+
 
+
 
+
 
 
 

=== Appearance ===

 

=== Appearance ===
---
Revision as of 04:55, 8 September 2019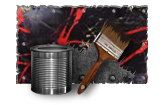 Description
Rumor has it that this camouflage is a replica of the cover of an alien ship that was knocked down in the last century by the forces of <WARNING: This information is classified — Further inquiries on the matter will be met with deadly force.>
This paint is available for purchase. Currently, it can be purchased in the garage at the rank of First Sergeant or above.
Price

150 000

Rarity

✹ Rare
Available From
Interesting Facts
The paint used to have protection from Isida, Thunder, and Freeze.
July 14, 2016, the paint lost its resistance due to the Paint Separation update.
Appearance