Youtuber TO (paint)
From Tanki Online Wiki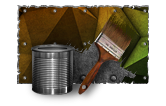 Description
Rare paint given only to the true masters of Tanki Youtube.

Attention! The paint is given to channel authors who participate in Youtuber TO program and whose channels have twenty thousand subscribers or more.
Rarity
✹ Special
Interesting Facts
Paint appeared in the game at the end of June 2016.
Previously, the paint was known as Cobalt and a trophy given to the winners of the TO Clan tournament held on the TOclan platform. Players who lost their winner status lost their paint too.
Prior to July 14, 2016, the paint had 20% resistances from all weapons in the game.
Appearance