From Tanki Online Wiki
X Noir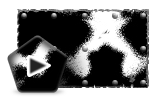 | | | |
| --- | --- | --- |
| Type | | Garage paint |
| Price in Garage | | 11 000 |
| Rarity | | ▨ Legendary |
Availability
| | | |
| --- | --- | --- |
| Available from | | Recruit |
| Currently obtainable | | Yes |
| Found in Containers | | Yes |
| Purchasable in Garage | | Yes |
Description in Garage
A birthday-themed tribute to the 1944–54 Film Noir era. This animated paint evokes the gritty and brooding setting of those old detective movies. It makes a clear statement, "Don't mess with me... you wouldn't like it".

X Noir is an animated paint in Tanki Online. It can be purchased in the Garage for 11 000 tankoins or obtained randomly by opening a Container.

Interesting facts
This paint was added to the game on June 1st, 2019.
The paint could be received as a reward for reaching the paid Tier 26 of the June 2019 Challenge.
X Noir was added to the possible rewards pool of containers with the release of the July 2019 Challenge.
It is speculated that interpretations of the inkblot-like patterns on this paint can reveal the secrets of one's past, but for some reason, all they seem to reveal to me is how clumsy I am when driving wasp.
Appearance