War Winner
From Tanki Online Wiki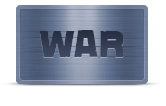 Description
This paint is given to the winners of the global War event. Actions in the War happen on the Tanki world map. The owner of this paint is a very active tanker who is a good team player and knows how to apply good tactics.
The winner's paint is temporary. With the start of the next war with the map-voting system, it will be removed from the accounts of the current owners.
Rarity
✹ Special
Available From

Recruit
Intresting Facts
Paint appeared on December 25th 2019.
Appearance