Wales
From Tanki Online Wiki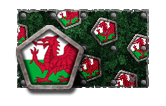 Description
This is a fan's paint. Follow the Football World Cup. If the team you have chosen wins, we will refund 50% of all crystals you will have spent between June 13 and July 12. Second place gets 30% refund, and third gets 20%. More information can be found here.
Rarity
✹ Uncommon
Interesting Facts
This paint was added into the game for the first time on 10th July 2014, in honour of the 2014 FIFA World Cup.
The paint was used as part of the European Cup event in 2016.


Appearance