From Tanki Online Wiki
Veteran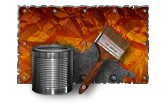 | | | |
| --- | --- | --- |
| Type | | eSports paint |
| Rarity | | ▨ Special |
Availability
| | | |
| --- | --- | --- |
| Available from | | Recruit |
| Currently obtainable | | Yes |
| Found in Containers | | No |
| Purchasable in Garage | | No |
Description in Garage
A paint that was given to legendary tankers who earned their fame in years of cybersport trainings and victories. The dark gold color stresses experience and wisdom, while a texture similar to Champion tells everyone that the owner of Veteran is not just a fighter, he's a winner.
Veteran is a paint in Tanki Online. It is awarded to the winners of certain eSports activities.

Interesting facts
A bonus paint awarded to well-known participants in the cybersport movement.
The current list of owners of the Veteran paint can be found here.
Paint appeared on June 18, 2013 (Update 163).
The paint is issued by the legendary, famous and titled e-sportsmen who deserve it for years of training and victories.
This paint is issued by the organizers of e-sports.
With the release of new protective paints on January 29 and February 6, 2015, the paint acquired protection from the Hammer, Vulcan, and mines.
Before the separation of paints and protections (07/14/2016), the paint had the protection of 20% from all turrets and mines.
Starting January 11, 2017, all paint owners will receive a "PRO Battle" subscription.
Appearance