From Tanki Online Wiki
Tundra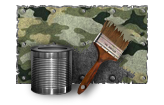 | | | |
| --- | --- | --- |
| Type | | Garage paint |
| Price in Garage | | 5 000 |
| Rarity | | ▨ Common |
Availability
| | | |
| --- | --- | --- |
| Available from | | Recruit |
| Currently obtainable | | Yes |
| Found in Containers | | No |
| Purchasable in Garage | | Yes |
Description in Garage
Gives your tank an intimidating, battle-hardened look. Nobody will dare mess with you.
Tundra is a paint in Tanki Online. It can be purchased from the rank of

Recruit in the Garage for 5 000 crystals.

Interesting facts
Tundra was one of the original paints in the game, along with the other basic paints, Digital, Electra, Jaguar, and a few others. It was second highest in popularity only behind Digital, for its relatively cheap price of 3000 (pre-rebalance) crystals, and high protection against both Smoky and Railgun.
Prior to the Paint Separation Update, Tundra was worth 35,500 crystals and was purchasable at the rank of Warrant Officer 4.
Legacy paint description:
A paint that somewhat protects against Smoky, but does a much better against Railgun. Essential in long-range battles. Sports a natural masking texture that makes the tank harder to spot.
Appearance