Tic-tac-toe
From Tanki Online Wiki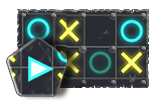 Description
Don't be surprised, if during a heated battle someone will invite you to play Tic-tac-toe. You're probably facing a professional, who left plenty of opponents defeated in the dust.

This paint could be obtained by reaching 700 stars in the "Star Hunt" event which took place October 16-22, 2018. Currently it can only be unlocked by opening containers.
Interesting Facts
This paint was added into the game on 16th October 2018, as part of a Star Week event. Simultaneously it was added to Containers permanently.
Tic-tac-toe was given to all players who got 700 or more Stars during the Star Hunt event that took place October 16-22, 2018.


Appearance